By Pedro Monarrez
I was born and raised in Los Angeles, CA and I went on to earn Bachelors and Master's degrees in geology from nearby California State University, Fullerton. Being from Los Angeles, it is only fitting that I was introduced to geology via Hollywood and the volcano disaster movie Dante's Peak. Soon after beginning my geology endeavor at Cal State Fullerton, my interests switched from volcanoes to fossils due to a rather stimulating earth history course I was required to take. I have not looked back since.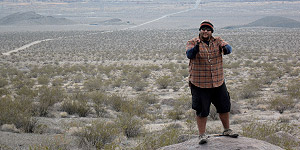 As an undergraduate, I spent a summer as an intern for the NSF funded Research Experiences for Undergraduates on conservation paleobiology at the University of North Carolina in Wilmington. It was during that summer where I first learned of the far-reaching affects the closure of the Isthmus of Panama had on the diversity of marine mollusks. After my summer in North Carolina, I went on to conduct research on the recovery of the end-Permian mass extinction by examining Middle Triassic mollusks from Nevada. For my Master's thesis, I went further back in geologic time and focused on the effects of climate change on brachiopod communities during the Mid-Carboniferous. In addition to my thesis, I helped document failed biotic recoveries of the end-Permian mass extinction during the Early Triassic from California.
Through my research experiences, I have developed research questions that I would like to address throughout my career. All of the questions revolve around understanding how external factors such as environmental change influenced marine invertebrate communities, specifically biotic interactions. For instance, I am interested in understanding how environmental change has affected predation and competition in biotic communities and how these effects have influenced evolutionary paleoecology of marine invertebrates through time.
The geology of the Panama Canal is a prime example of past environmental change. The PCP-PIRE internship has allowed me to gain valuable insight into a dynamic period in Panama's history, the Miocene, and learn how changing environments affected the contemporaneous fauna and what that can tell us about the past geography from exposures along the canal. My career goal is to earn a doctoral degree in paleontology. Being a part of a project of this magnitude with so many potential far-reaching effects is such a wonderful opportunity for my own growth as an aspiring research scientist.
---
Por Pedro Monarrez
Nací y fui criado en Los Ángeles, California, e hice una licenciatura y una maestría en Geología en la Universidad Estatal de California, Fullerton. Siendo de Los Ángeles, es lógico que la geología se me presentara a través de Hollywood y la película el Pico de Dante. Poco después de empezar Geología en Cal State Fullerton, mis intereses cambiaron de los volcanes a los fósiles, debido a un curso de Historia de la Tierra que estaba obligado a tomar. No he mirado atrás desde entonces.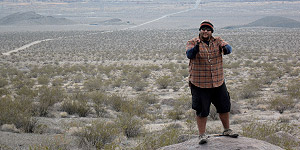 Como estudiante, pasé un verano como pasante financiado por la NSF (National Science Foundation), a través del programa Experiencias de Investigación para Estudiantes Universitarios en paleobiología de la conservación en la Universidad de Carolina del Norte en Wilmington. Fue durante aquel verano en que me enteré de los grandes efectos que el cierre del istmo de Panamá tuvo en la diversidad de moluscos marinos. Después de mi verano en Carolina del Norte, pasé a realizar una investigación sobre la recuperación de la extinción en masa de finales del Pérmico mediante el estudio de los moluscos del Triásico Medio de Nevada. Para mi tesis de maestría, fui más atrás en el tiempo geológico y me centré en los efectos del cambio climático en las comunidades de braquiópodos durante el Carbonífero medio. Además de mi tesis, ayudé en la documentación de recuperaciones bióticas fallidas de la extinción masiva de finales del Pérmico durante el Triásico Temprano de California.
A través de mis experiencias de investigación, he desarrollado preguntas de investigación a las que me gustaría referirme a lo largo de mi carrera. Todas las preguntas giran en torno a la comprensión de cómo factores externos como el cambio ambiental ha influido en las comunidades de invertebrados marinos, específicamente interacciones bióticas. Por ejemplo, estoy interesado en la comprensión de cómo el cambio ambiental ha afectado a la depredación y la competencia de las comunidades bióticas y cómo estos efectos han influido en paleoecología evolutiva de invertebrados marinos en el tiempo.
La geología del Canal de Panamá es un buen ejemplo de los cambios ambientales pasados. La pasantía con PCP-PIRE me ha permitido obtener información valiosa sobre un período dinámico en la historia de Panamá, el Mioceno, y aprender cómo los cambios del entorno afectaron la fauna contemporánea y lo que nos puede decir acerca de la geografía pasada a través de los afloramientos a lo largo del Canal. Mi objetivo profesional es obtener un doctorado en paleontología. Ser parte de un proyecto de esta magnitud, con tantos potenciales efectos de largo alcance es una oportunidad maravillosa para mi propio crecimiento como un aspirante a científico de investigación.