By Isabel Acero | Parque Explora, Medellin-Colombia
"to the museum people go to admire"
D'Ors, 1989
One of the reasons why you work in a museum is because you are interested in the objects and stories behind them. Working in a science center requires to think beyond the object by its own sake. It means to get rid of the idea of a traditional museum and think about a museum that comes alive through visitors' experiences. It requires us to focus on the total museology principles: minds on, hands on and hearts on, as the basis for a successful exhibit without putting aside conceptual relevance.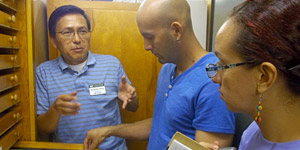 In an interactive museum, despite machines representing concepts, multimedia, displays and games, objects are important as objects. The naturalized animals, skeletons, insects, fur, feathers and nests also have a role in an interactive museum. What is the benefit for a science museum to have an explanation of a natural phenomenon without a natural object that connects the public with it? These objects create a real connection between the visitor and the phenomenon. Objects may give clues to the visitor about his or her relationship with the natural world or they can simply trigger amazement.
Parque Explora is a science and technology interactive center, where mechanical and electronic displays are more salient. However it has succeeded in complementing its spaces with animal, mineral and anthropological collections. This permits greater visibility for thematic content while contributing to the conservation of local natural heritage.
Biological specimens play a role throughout the museum in the permanent and traveling exhibits, education workshops and more. Therefore it is necessary to strength collections management. Related skills have mostly been acquired and nurtured by local institutions with extensive experience. One of the main objectives of my visit to the Florida Museum of Natural History was to learn the basics for the development of a collections plan. This plan will lead the acquisition and maintenance of specimens or objects, educational programs, research and dissemination.
At the Florida Museum of Natural History I met scientists, students, trainees, volunteers and interns; wonderful people who generously shared their knowledge with me. I found lots of specimens stored in hundreds of drawers, which made me think of the immense variety of life in the planet and how little we know about it. I found a museum that breathes knowledge, experiences and smiles for visitors.
Something that caught my attention was to find scientists that open their doors to people like me and allow me to get to know what they do without any problems. Learning about their research, offices and daily lives made me think about the importance of these institutions in society. It also made me think about how we do things in a country like Colombia and what we have in common with a country like the U.S. New knowledge in piles of papers on the walls are meaningless if later they do not become exhibits, graphics and models for the public to admire and enjoy. This place has a unique spirit. At Parque Explora we can get infected by it to generate new proposals as mediators of knowledge between science and the public.
There are many lessons learned from this visit. With all the knowledge gained, new challenges wait for me now. Many thanks to the Florida Museum of Natural History for hosting me and Parque Explora for trusting me.
Reference:
Wagensberg, J. 2001. Principios fundamentales de la museología científica moderna. Cuaderno Central, 55: 22 – 24.
---
Por Isabel Acero. Divulgadora científica, Parque Explora. Medellín – Colombia
"al Museo se va a admirar"
D'Ors, 1989
Uno de los motivos por los cuales uno trabaja en un museo es porque le interesan los objetos y las historias detrás de ellos. Trabajar en un museo interactivo de ciencias, significa además, pensar más allá del objeto por el objeto, significa cambiar la mirada del museo clásico por el museo que vibra con las manos del visitante y apuntar siempre a los principios de la museología total: minds on, hands on y hearts on como la base de una exhibición exitosa sin salirnos de la pertinencia conceptual.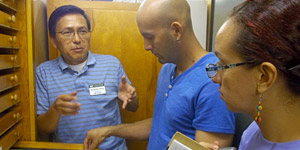 En un museo interactivo, a pesar de las máquinas que representan conceptos, de las multimedias, las pantallas, los juegos, los objetos son importantes en tanto objetos. Los animales naturalizados, esqueletos, insectos, pieles, plumas, nidos… tienen también su papel en un museo interactivo. ¿De qué le sirve a un museo de ciencias tener una explicación de un fenómeno de la naturaleza sin tener un objeto natural que conecte al público con ella? Estos son objetos que pueden crearle una conexión real al visitante con el fenómeno, pueden darle pistas de la relación de él con el mundo natural o puede sencillamente asombrarlo.
Los especímenes biológicos en el Parque Explora cumplen un papel protagónico en los diferentes escenarios como: las exposiciones permanentes, las temporales, los talleres para programas educativos…. Aunque sea un centro interactivo de ciencia y tecnología, donde prima la exhibición de módulos de origen mecánico y electrónico, ha logrado complementar sus espacios con colecciones de origen animal, mineral y antropológico; permitiendo una mayor visualización de los contenidos temáticos y a la vez contribuyendo con la conservación del acervo natural local.
Por eso es necesario fortalecer los procesos de formación respecto a la gestión de colecciones, ampliando los saberes alrededor del área. Estos conocimientos en su mayor parte han sido adquiridos y nutridos por instituciones con una amplia experiencia en la ciudad. Uno de los principales objetivos de mi visita al Museo de Historia Natural de La Florida, consistió en obtener elementos para el desarrollo de un plan de colecciones que direccione además de la consecución y mantenimiento de especímenes u objetos, los programas educativos, la investigación y su divulgación.
En el Museo de Historia Natural de la Florida me encontré con científicos, estudiantes, aprendices, voluntarios, pasantes… personas maravillosas que me brindaron sus conocimientos desinteresados. Me encontré con montones de especímenes almacenados en cientos de gavetas, que me hacían pensar en la variedad de seres vivos tan inmensa que tiene este planeta y en lo poco que sabemos de ella. Me encontré con un museo que respira conocimientos, experiencias y sonrisas para los visitantes.
Algo que me llamó mucho la atención fue encontrar científicos con las puertas abiertas para que entren personas como yo y conozcan lo que hacen sin ningún problema. Conocer sus investigaciones, oficinas, su cotidianidad me lleva a pensar en la importancia de estas instituciones en la sociedad, me lleva a comparar lo que hacemos en un país como Colombia y lo que tenemos en común con un país como Estados Unidos. Los nuevos conocimientos escritos en montones de papeles en las paredes no tienen sentido si no se convierten luego en exhibiciones, gráficos y modelos para que el público los admire y disfrute. Este lugar tiene un espíritu único y en el Parque Explora podemos contagiarnos de él para generar nuevas propuestas como mediadores de conocimiento entre la ciencia y el público.
Son muchos los aprendizajes obtenidos de una visita como estas, ahora me esperan nuevos retos con todos los conocimientos que obtuve.
Muchas Gracias al Museo de Historia Natural de la Florida por recibirme y al Parque Explora por confiar en mí.
Referencia:
Wagensberg, J. 2001. Principios fundamentales de la museología científica moderna. Cuaderno Central, 55: 22 – 24.