by Chanika Symister
Dr. Benjamin Passey is an Assistant Professor at John Hopkins University in the Department of Earth and Planetary Sciences. His research interests include Geochemistry, Paleoecology and Paleoclimate. He uses geochemical and ecological tools via fieldwork and modeling to help extract and interpret information from modern environments and from the geological record.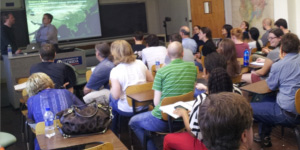 Dr. Passey visited PCP-PIRE on February 23 and 24. His guest lecture at our stable isotope class was titled "Solid-state Reordering of C-O Bonds in Calcite, and Implications for Clumped-isotope Thermometry of the Shallow Crust and Paleoclimate Archives." Lauren Toth (PhD student Marine PaleoLab-Florida Institute of Technology) shared her experience in the class: "Having the opportunity to learn about new research techniques, like the clumped isotope analysis done in Dr. Passey's lab, is always a thought-provoking experience. Dr. Passey's work is at the cutting-edge of stable isotope science and I was grateful to learn about this exciting new technique first-hand."
He also led a lunchtime pizza discussion as well as an open brainstorming session where Dr. Yang Wang and Burcu Ciner from Florida State University shared their isotopic findings with faculty and staff from the Florida Museum of Natural History and the University of Florida Geological Science Department. Dr. Passey later lead a seminar entitled "Clumped Isotope Thermometry of Soil Carbonates and Application to the Neogene Monsoon Evolution in Northern China." Nicole Cannarozzi (PhD Environmental Archeology/ Zooarcheology- University of Florida) shared her experience with us: "I am really excited about the prospect of adding new techniques of clumped isotopes to my research!"
Dr. Passey reflected on his time here at UF. He said that the graduate and PhD students had great questions for him and he thought that his visit was very successful. He really enjoyed the format of the events and thought that it was a great way to bring together persons affiliated with different STEM content fields. He was thrilled to know that persons were interested in his techniques and hoped that the knowledge that he imparted could be beneficial to answering some of their research questions.
---
by Chanika Symister
El Dr. Benjamin Passey es profesor asistente en la Universidad John Hopkins en el Departamento de Ciencias de la Tierra y Planetarias. Sus intereses de investigación incluyen Geoquímica, Paleoecología y Paleoclima. A través del trabajo de campo y modelamiento, usa herramientas geoquímicas y ecológicas para ayudar a extraer e interpretar información sobre ambientes modernos y del registro geológico.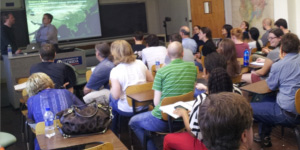 El Dr. Passey visitó el PCP-PIRE el 23 y 24 de febrero. Su charla como invitado en nuestra clase de isotopos estables se tituló "Solid-state Reordering of C-O Bonds in Calcite, and Implications for Clumped-isotope Thermometry of the Shallow Crust and Paleoclimate Archives." Lauren Toth (estudiante de PhD en el PaleoLab Marino del Instituto de Tecnología de la Florida) compartió su experiencia en la clase: "Tener la oportunidad de aprender sobre nuevas técnicas de investigación, como el análisis de isótopos agrupados realizado por el laboratorio del Dr. Passey, es siempre una experiencia que invita a la reflexión. El trabajo del Dr. Passey está a la vanguardia de la ciencia de los isótopos estables y estoy agradecida de aprender de primera mano esta nueva técnica."
El también lideró una discusión durante el almuerzo así como una sesión de lluvia de ideas donde la Dr. Yang Wang y Burcu Ciner de la Universidad Estatal de la Florida compartieron sus hallazgos en isótopos con profesores y personal del Museo de Historia Natural de la Universidad de la Florida y el Departamento de Ciencias Geológicas. Dr. Passey lideró más tarde el seminario titulado "Termometría de isótopos agrupados de carbonatos de suelo y aplicación a la evolución de los monzones del Neógeno en el norte de China." Nicole Cannarozzi (estudiante de PhD en Arqueología ambiental/Zooarqueología-Universidad de la Florida) compartió su experiencia: "Estoy muy emocionada sobre la posibilidad de agregar las nuevas técnicas de isótopos agrupados a mi investigación."
El Dr. Passey reflexionó sobre su tiempo acá en UF. Dijo que los estudiantes de posgrado realizaron excelentes preguntas y cree que su visita fue muy exitosa. Disfrutó el formato de los eventos y cree que fue una buena manera de reunir personas con diferentes intereses dentro de los campos de las ciencias. También estuvo muy emocionado de saber que las personas estaban interesadas en sus técnicas y espera que el conocimiento impartido sea benéfico para responder preguntas de investigación.