By Jorge Luis Pino
The first symposium on Panama's paleontology "Advances in the understanding of vertebrate paleontology in Panama: Interchanges and Neotropical connections" was held August 16-18 at the Smithsonian Tropical Research Institute and the University of Panama. Several topics were discussed related to geology and the vertebrate fossil discoveries made in Panama, focusing on the ones made from the Panama Canal area. The knowledge produced in recent years by PCP-PIRE project researchers was also discussed. Students and faculty from the Biology department at the University of Panama and Marine Biology students at the International Maritime University of Panama attended the symposium.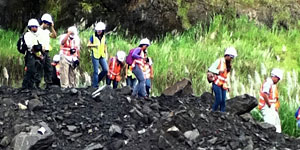 This activity was completely organized by a team of Panamanians and was financially supported by SENACYT and PCP-PIRE. STRI, the University of Panama and the Biomuseo also supported the event. This first symposium was possible thanks to the participation of speakers from FLMNH, the Museum of Natural History and Science of New Mexico, STRI and the Museum of Natural Sciences in Panama.
There was a field trip in addition to the lectures. Twenty-five students visited the Cucaracha geological formation in the Canal area and the Gatun formation in Colon. These sites have yielded important data of fossil vertebrates and past climate, as well as on the formation of the Isthmus of Panama. In these activities, the Panamanian students had the opportunity to learn about the work done in the field and interact with paleontologists.
Given that there is a lack of scientists in Panama with doctoral degrees in Paleontology, SENACYT members motivated students to establish links with researchers participating in the symposium and to get involved in scientific activities such as lab and field work. Through my interaction with students and faculty from the University of Panama, I clearly identified a strong interest in participating in paleontological activities with researchers. To date these activities have been limited in research centers.
---
Por Jorge Luis Pino
El primer simposio sobre paleontología de Panamá titulado "Avances en el conocimiento de la paleontología de vertebrados en Panamá: Intercambios y conexiones Neotropicales" fue realizado del 16 al 18 de Agosto en el Instituto Smithsonian de Investigaciones Tropicales y la Universidad de Panamá. Allí se trataron aspectos de geología y descubrimientos de vertebrados fósiles realizados en Panamá, haciendo énfasis en aquellos encontrados en el área del Canal de Panamá, y también en el conocimiento generado en los últimos años por investigadores del proyecto PCP-PIRE. Entre los asistentes se encontraban estudiantes de licenciatura en Biología y profesores de la Universidad de Panamá, y estudiantes de licenciatura en Biología Marina de la Universidad Marítima Internacional de Panamá.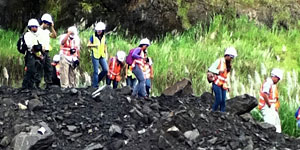 Esta actividad fue totalmente organizada por un grupo de panameños y recibió el apoyo económico de la SENACYT y del PCP-PIRE. STRI, la Universidad de Panamá y el Biomuseo también apoyaron el evento. Este primer simposio fue posible gracias a la participación de los expositores del FLMNH, el Museo de Historia Natural y Ciencias de Nuevo México, STRI y el Museo de Ciencias Naturales de Panamá.
Además de conferencias, se realizó una gira de campo en donde veinticinco estudiantes tuvieron la oportunidad de visitar las formaciones geológicas Cucaracha, en el área del Canal, y Gatún en Colón. En estos lugares se han colectado datos importantes sobre los vertebrados y el clima del pasado, así como también sobre la formación del istmo de Panamá. En estas actividades, los estudiantes panameños tuvieron la oportunidad de conocer sobre el trabajo realizado en campo e interactuar con paleontólogos.
Representantes de la SENACYT motivaron a los estudiantes para que establecieran nexos con los investigadores que estaban presentes durante al simposio y para que se involucrasen en estas actividades científicas, pues en Panamá carecemos de científicos con títulos de doctorado en Paleontología. A través la interacción que tuve con estudiantes y profesores de la Universidad de Panamá, pude percibir su interés de participar en actividades relacionados con paleontología las cuales históricamente han sido poco representadas en centros de estudio locales.