by Luz Helena Oviedo
Carlos Iglesias, a professor at the "Universidad Autónoma de Chiriqui" in Panama is visiting the Florida Museum of Natural History. He is working as a volunteer with Dr. Richard Hulbert identifying, labeling and organizing Early Miocene fossil horses, cervids, camels and canids.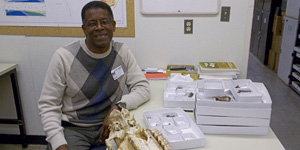 Carlos' interest in paleontology increased following his participation in the workshop "Ancient and Modern Biodiversity in Panama" held last October and supported by the Florida Museum of Natural History, the University of Florida, the Universidad Autónoma de Chiriquí, the National Secretary of Science, Technology and Innovation and the Smithsonian Tropical Research Institute.
During the workshop's field trip, participants collected fossils that later became part of the new paleontology exhibit in the Fauna Room at the University. This room is a small museum created by Carlos' initiative. This museum has Panama's invertebrate and vertebrate collections. During the workshop, Aaron Wood-PCP PIRE postdoc determined that one vertebrae previously believed to be from whale was actually that of an extinct manatee.
This experience motivated Carlos to visit FLMNH to learn more about paleontology, "this museum may have lots of things that I don't know what they are!" Thus, Aaron Wood put Carlos in contact with Richard Hulbert, vertebrate paleontology collection manager, and later with Bruce MacFadden. Carlos is now working on the collection and "learning, everything is new to me."
Carlos also volunteered at the Natural History Museum of Los Angeles in 2010 on entomology and taxidermy of birds and mammals.
---
por Luz Helena Oviedo
Carlos Iglesias, profesor de la Universidad Autónoma de Chiriquí está visitando el Museo de Historia Natural de la Florida trabajando como voluntario con el Dr. Richard Hulbert en la identificación, etiquetado y organización de fósiles de caballos, cérvidos, camellos y cánidos del Mioceno temprano.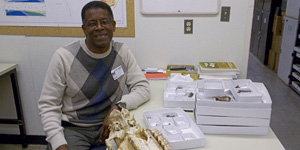 El interés de Carlos por la paleontología aumentó a raíz de su participación en el taller "Biodiversidad Antigua y Moderna de Panamá" realizado el pasado mes de Octubre con el apoyo del Museo de Historia Natural de la Florida, la Universidad de la Florida, la Universidad Autónoma de Chiriquí, la Secretaría Nacional de Ciencia, Tecnología e Innovación y el Instituto Smithsonian de Investigaciones Tropicales.
En la gira de campo realizada al final del taller, los participantes colectaron los fósiles con los que se creó la sección de paleontología de la Sala de Fauna de la universidad. Esta sala es un pequeño museo creado por iniciativa de Carlos. Este museo contiene colecciones de invertebrados y vertebrados de Panamá. Allí, Carlos tenía dos vertebras de ballena, de las cuales una fue identificada por Aaron Wood-PCP PIRE postdoc, como una vertebra de una especie de manatí ya extinta.
Esto motivó a Carlos a visitar el Museo de la Florida para aprender más de paleontología, "cuántas cosas habrá en este museo que yo no sé que son!". De este modo, Aaron Wood contactó a Carlos con el "collection manager" de paleontología de vertebrados-Richard Hulbert y más adelante con Bruce MacFadden. Carlos ahora se encuentra trabajando en la colección y "aprendiendo, todo es nuevo para mi".
Carlos también participó como voluntario en el Museo de Historia Natural de Los Ángeles en el 2010 en las áreas de entomología y taxidermia de aves y mamíferos.