Los Santos, Chiriquí and Colón provinces
by the Florida Museum Invertebrate Paleontology Division
The All Hands meeting in Panama City provided an excellent reason for several members of the PCP-PIRE to duck out of their offices and labs for a couple weeks of fieldwork in various parts of Panama. These included visits to Los Santos, Chiriquí and Colón provinces, in addition to continued collecting in the immediate Panama Canal area.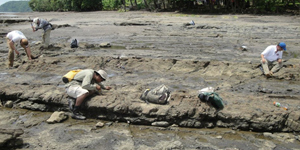 Prior to the meeting Austin Hendy and Roger Portell, as well as paleobotanist Steve Manchester, newly minted PCP-PIRE post-doc Aaron Wood and STRI interns Jorge Moreno and Carlos De Gracia hit the road to explore fossiliferous areas of Los Santos and Chiriqui provinces. Our first stop was to continue the search for "Oligocene" petrified woods around the town of Ocú, in central Los Santos Province, about five hours west of Panama City. The wood can be found in abundance alongside farms and in gardens and stonewalls, but actual outcrop so far had eluded us. On this trip, with the help of some local guides, we found many more beautiful specimens (often gathered together in plowed fields), as well as at least scrappy exposures of weathered host sediments and the underlying volcanic rocks. We located one new quarry in adjacent strata that yielded a significant collection of not only leaves and seeds, but also many marine invertebrates, indicating that the Ocú region was low-lying and near the coast about the time that the Ocú forests were growing. Biostratigraphic dating of microfossils collected at this quarry will provide critical insight into when the Ocú woods and those collected from the Tonosi Formation (further south) lived.
Our field trip proceeded south to the coastline of the Azuero Peninsula, where an extensive basin of the Eocene Tonosi Formation crops out in beach exposures, road cuts and farmers' fields. We devoted most of our efforts at Playa Bucarao, a spectacular succession of shallow marine sediments exposed in a wave-cut platform that is only accessible at low-tide. At this site we aimed to strengthen our collections of fossil seeds that Fabiany Herrera and Steve Manchester have been researching, expand our collection of well-preserved molluscs and search more methodically for vertebrate remains. This locality is yielding some of Panama's oldest vertebrates and on this trip surrendered a crocodile femur, turtle scutes, shark teeth, as well as other fish teeth and cranial elements. Austin continued measuring the section and collecting samples for microfossil biostratigraphy, while Roger focused on collecting specimens of Aturia, an ancestor of the modern Nautilus (cephalopod), that is abundant at this site. We also visited a farm near Cañas, where exposed limestone contained abundant echinoids, rare crabs, shark teeth, and wood fragments. Austin and Roger plan to describe the marine invertebrate fauna of the Tonosi Formation in the near future, in addition to discussing the nature and significance of Panama's Aturia fossil record.
Roger and Austin continued westward to the city of David, in Panama's Chiriqui Province, where the PCP-PIRE team has recently begun paleontological reconnaissance. The rocks exposed to the east and north of David are of the Galique Formation, which appears to be intermediate in age between the Culebra and Gatun formations we have been studying in the Panama Canal. Courtesy of AES Panama we were able to access outcrops at Presa Baragon, north of Gualaca, and make large collections of rich mollusc and crab assemblages. The Galique Formation appears to have a diverse Early-Middle Miocene fauna, which has never been described, and therefore is a critical new element to Panama's Neogene fossil record.
All in all, it was a very successful trip. We collected some of Panama's oldest vertebrates, came to understand much more about the stratigraphic and paleoenvironmental context of the Ocú woods, collected specimens and data that will support future publications on the Tonosi Formation and added significant material to our collections from what is essentially a stratigraphic gap in Panama's marine invertebrate fossil record.
---
Provincias de Los Santos, Chiriquí y Colón.
por la División de Paleontología de Invertebrados del Museo de Florida
La reunión All-Hands en Ciudad de Panamá brindó una excelente razón a varios integrantes del PCP-PIRE para escabullirse de sus oficinas y laboratorios, y hacer trabajo de campo en varias partes de Panamá durante dos semanas. Este trabajo incluyó las provincias de Los Santos, Chiriquí y Colón, además de seguir colectando en el área del Canal de Panamá.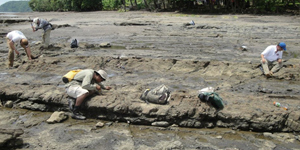 Antes de la reunión, Austin Hendy, Roger Portell, el paleobotánico Steve Manchester, el recién llegado al proyecto, Aaron Wood, y los pasantes de STRI Jorge Moreno y Carlos De Gracia, salieron de viaje a explorar áreas fosilíferas en las provincias de Los Santos y Chiriquí. Nuestra primera parada estuvo destinada a continuar la búsqueda de maderas petrificadas del "Oligoceno" alrededor de Ocú, en la provincia central de Los Santos, ubicada a cinco horas al oeste de Ciudad de Panamá. La madera puede ser encontrada en abundancia a lo largo de granjas, jardines y muros de piedra, pero los afloramientos reales se nos habían escapado hasta ahora. Con la ayuda de algunos guías locales encontramos muchos más especímenes magníficos en este viaje (frecuentemente encontrados juntos en campos arados), así como afloramientos mejor preservados de sedimentos erosionados y las rocas volcánicas subyacentes. Localizamos una nueva cantera en estratos adyacentes que llevaron a una colección significativa no solo de hojas y semillas, sino también de invertebrados marinos; indicando que la región de Ocú era baja y estaba cerca de la costa en el tiempo que los bosques estaban creciendo. La datación bioestratigráfica de los microfósiles colectados en esta cantera proveerá conocimiento crítico acerca de cuándo vivieron las maderas de Ocú y aquellas colectadas en la Formación Tonosí (más al sur).
Nuestra salida de campo siguió hacia el sur en la línea costera de la Península de Azuero, donde una extensa cuenca de la Formación Tonosí del Eoceno aflora en la playa, en cortes de carretera y en cultivos. La mayoría de nuestros esfuerzos estuvieron en la Playa Bucaro, una espectacular sucesión de sedimentos marinos poco profundos expuestos en una plataforma cortada por las olas, a la que sólo se puede acceder en marea baja. En este sitio nos enfocamos a fortalecer las colecciones de semillas de fósiles que Fabiany Herrera y Steve Manchester han estado investigando, a ampliar nuestra colección de moluscos bien preservados, y a buscar más metódicamente restos de vertebrados. Esta localidad ofrece algunos de los vertebrados más viejos de Panamá y en este viaje encontramos un fémur de cocodrilo, un caparazón de tortuga, varios dientes de tiburones, y dientes de peces y elementos craneales.
Austin continuó midiendo la sección y colectando muestras para bioestratigrafía de microfósiles, mientras Roger se enfocó en colectar especímenes de Aturia, un ancestro del Nautilus moderno (cefalópodo), que es abundante en este sitio. También visitamos una granja cerca de Cañas, donde la caliza expuesta contiene abundantes equinodermos cangrejos raros, dientes de tiburones y fragmentos de madera. Austin y Roger planean describir los invertebrados de la fauna marina de la formación Tonosí en el futuro cercano, además de discutir la naturaleza y la importancia del registro fósil de la Aturia de Panamá.
Roger y Austin continuaron hacia el oeste a la ciudad de David en la provincia panameña de Chiriquí, donde el equipo del PCP-PIRE inició recientemente el reconocimiento paleontológico. Las rocas expuestas al este y norte de David son de la Formación Galique, la cual parece ser intermediara en edad a las formaciones Culebra y Gatún que hemos estudiado en el Canal de Panamá. Con la cortesía de AES Panamá, pudimos tener acceso a los afloramientos de la Presa Baragón, al norte de Gualaca, y hacer una colección grande de moluscos y cangrejos. La Formación Galique parece tener una diversa fauna del Mioceno temprano-medio, la cual nunca ha sido descrita, y por lo tanto es un elemento crítico en el registro fósil del Neógeno de Panamá.
Poniendo todo en consideración, fue un viaje muy exitoso. Colectamos algunos de los vertebrados de Panamá más viejos, entendimos mucho más sobre la estratigrafía y el contexto paleo-ambiental de las maderas de Ocú, especímenes colectados y los datos que soportarán futuras publicaciones de la Formación Tonosí, y sumamos material importante a nuestras colecciones de lo que es esencialmente una brecha estratigráfica en el registro fósil de los invertebrados marinos de Panamá.