By Jorge Luis Pino
Collaboration between the PCP-PIRE and the National Secretary for Science and Technology of Panama (SENACYT) led to the visit of two Panamanians to the Florida Museum of Natural History (FLMNH). Martin Martinez, taxidermist of the Museo de Ciencias Naturales in Panama City (MCN), and Judith Carrion, Biology undergrad student from the University of Panama, visited the FLMNH facilities from May 16th to 28th. The goal of this visit was to be trained in curatorial activities that will allow them to improve current preservation activities in the MCN.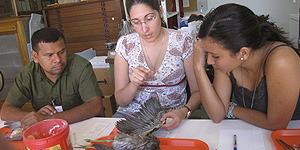 During their visit, Martin and Judith visited several collections including Mammalogy, Ornithology, Vertebrate Paleontology, Invertebrate Paleontology, Archaeology, Ichthyology, Lepidoptera and the Herbarium, where collection managers instructed them about general curatorial activities performed in their respective collections, processing of specimens and maintenance of collection databases.
But the experience could not be complete without experiencing the voucher-specimens journey, from the moment specimens are field-collected, processed, cataloged and finally archived in the collection. So Martin and Judith took a field trip to the famous Thomas Farm where they dug for 18 million-year-old fossils and listened as graduate student Aldo Rincon explained how fossil material is treated before it reaches the collection in the museum. Back in the museum facilities, Martin and Judith also participated in the cleaning the collected fossil-material, prepping mammals, birds and butterfly voucher specimens.
"I was impressed by the beetle colony. 'Chuleta', those little animals eat everything." Martin commented regarding one of the new techniques they learned.
Martin and Judith also toured the FLMNH exhibit space where staff exhibit-designer Dale Johnson explained approaches used for stimulating and engaging museum visitors with the exhibits and the manner in which the research collection integrates with the museum exhibit hall.
The participation of graduate/undergraduate students, associated researchers, collection managers and faculties in several of the scheduled activities provided a great environment that facilitated the exchange of research and cultural experiences. "People working here are very committed to research and they are willing to collaborate with other people," said Judith about her experience.
As a result of this visit, Martin and Judith were trained in museum-curatorial activities and the whole experience improved their perspective about the interactions between scientific research and scientific collections and how research is translated to the general public through museum exhibits. This visit not just fulfilled PIRE goals, which include building international collaborations and develop scientific strengths but opened the door for future collaboration between MCN/SENACYT and the FLMNH.
---
Por Jorge Luis Pino
Gracias a la colaboración entre el PCP-PIRE y la Secretaria Nacional de Ciencia y Tecnología de Panamá (SENACYT) se realizó la visita de dos panameños al Museo de Historia Natural de la Florida (FLMNH). Martin Martínez, taxidermista del Museo de Ciencias Naturales en Ciudad de Panamá (MCN), y Judith Carrión, estudiante de Biología de la Universidad de Panamá, visitaron las instalaciones del FLMNH del 16 al 28 de mayo. La visita tuvo como propósito mejorar las actividades de preservación realizadas actualmente en el MCN, a través del entrenamiento en este tipo de procesos.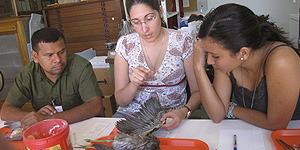 Durante su visita, Martin y Judith visitaron varias colecciones incluyendo las de mastozoología, ornitología, paleontología de vertebrados e invertebrados, arqueología, ictiología, lepidóptera y el herbario. Allí los administradores de las colecciones, les explicaron las actividades de curación realizadas en cada una de sus colecciones, así como también el procesamiento de los especímenes y el mantenimiento de las bases de datos.
Esta experiencia no podría estar completa sin experimentar todo el procesamiento de los especímenes, desde su colección en campo, pasando por su respectivo procesamiento, catalogación y posterior archivo en la colección. Para lograr esto, Martin y Judith asistieron a una gira de campo a la famosa localidad Thomas Farm, donde excavaron fósiles de más de 18 millones de años en donde el estudiante de posgrado Aldo Rincón, les explicó cómo los fósiles son excavados y tratados antes de llegar a las colecciones. De vuelta a las instalaciones del museo, Martin y Judith también participaron en la preparación del material fósil colectado y prepararon especímenes de referencia de mamíferos, aves y mariposas.
'Me impresionó la colonia de los escarabajos. Chuleta, esos animalitos se comen toda la carne, me pareció novedoso", comenta Martin en relación a una de las nuevas técnicas aprendidas.
Martin y Judith también visitaron el área dedicada a las exhibiciones, donde Dale Johnson, diseñadora del museo, les explicó las diferentes formas de estimular y atraer visitantes, y la manera en la cual las colecciones de referencia se integran con el museo de exhibiciones.
La participación en las diferentes actividades programadas de estudiantes de posgrado y pregrado, investigadores asociados, administradores de colección y profesores, propiciaron un ambiente adecuado que facilitó el intercambio de experiencias de investigación y culturales. "Las personas que trabajan acá están muy comprometidas con la investigación y están dispuestas a colaborar con otras personas", dice Judith sobre su experiencia.
Como resultado de esta visita, Martin y Judith no sólo recibieron entrenamiento en actividades curatoriales de museo, sino que la experiencia en su totalidad mejoró su perspectiva acerca de las interacciones entre las investigaciones científicas y las colecciones de referencia, así como también la manera en que la investigación es traducida a la población a través de las diferentes exhibiciones en el museo. Esta visita no solo cumple con los objetivos del PIRE los cuales incluyen el establecimiento de colaboraciones a nivel internacional y el desarrollo de fortalezas científicas, sino que también representa un camino para futuras colaboraciones entre MCN/SENACYT y el FLMNH