By Chanika Symister
Mr. Gary Liljeren is the official photographer for the All Hands meeting in Panama to be held next month. His enjoyment of photography and valuable experiences overseas prompted him to volunteer for the project.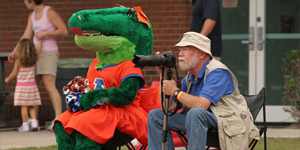 When Gary was nine, his dad allowed him to test his capturing skills with a Kodak Brownie camera. It was a rectangular box made by Kodak in the 30's. Gary's inquisitive personality coupled with this new addition began a lifetime love of technical subjects as well as the application of art into photography.
Gary obtained a psychology degree with minors in computer science and mathematics from Iowa State University. While in college he worked with various departments applying the abilities of the computer to solve their data collection and processing needs. This was at a time when there were very few "off the shelf" computer programs.
During his four year service to the US Air Force, Gary served as a computer programmer and systems analyst stationed in Washington, D.C. Gary had the opportunity to work with some USAF financial programming projects and, during the last half of the tour, programmed applications in the data sampling of Air Force personnel. The early Air Force experience in programming was handy many years later when the internet came of age. Gary was an early user of email and he considers himself an 'internet junkie'. As more people gravitated towards the internet, the transition from the programming languages of years earlier to the HTML code used to make web sites was an easy one. Gary then decided to begin creating websites for himself and others.
Gary also worked in the insurance and securities field for years as an agent and securities broker. In the fall of 1997, he attended a seminar on 'finding your passion and doing it'. Gary took this motto to heart and maximized his efforts into the education and training end of the insurance field. Today, he owns a company that provides online insurance education in all 50 states. He also still does a few live classes regularly in Florida for persons who wish to become licensed as life or health insurance agents.
Despite Gary's wide range of interests, he still enjoys photography. As technology improved and digital cameras grew in popularity, Gary has evolved into what might be called a 'semi-pro' with the compensation for his efforts always in the enjoyment of the hobby. Gary has taken on a number of photo projects in the USA, the Caribbean, and England and now is very pleased to be working with the PCP PIRE Project as a volunteer photographer.
---
Por Chanika Symister
Gary Liljeren es el fotógrafo oficial de la reunión "All Hands" en Panamá, durante el mes de septiembre. Su gusto por la fotografía y sus valiosas experiencias en el exterior, lo llevaron a participar como voluntario en nuestro proyecto. A los nueve años, su padre le permitió probar sus habilidades con una cámara Kodak Brownie, una caja rectangular hecha por Kodak en los años treinta. Gracias a la personalidad curiosa de Gary, y a este nuevo complemento, empezó un amor de toda una vida lleno de temas técnicos y de la aplicación del arte en la fotografía.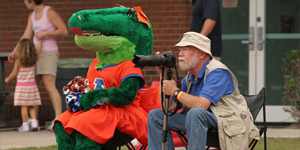 Gary obtuvo un título en sicología con asignaturas en ciencias de la computación y matemáticas de la Universidad Estatal de Iowa. Durante sus estudios, trabajó en varios departamentos aplicando sus habilidades en computación en la recopilación de datos y necesidades de procesamiento. Esta era una época donde había pocos programas de computador producidos en masa.
Durante sus cuatro años de servicio en Fuerza Aérea de los EE.UU, fue programador y analista de sistemas basado en Washington, D.C. Allí tuvo la oportunidad de trabajar en proyectos de programación financiera con la Fuerza Aérea y durante la última mitad de ese periodo, programó aplicaciones en muestras de datos del personal. Esta experiencia fue útil años después con la llegada de la internet. Gary fue uno de los primeros usuarios del correo electrónico y se considera un adicto a la internet. A medida que más personas se inclinaron por la red, se facilitó la transición desde los lenguajes de programación de años anteriores al código HTML, utilizado para hacer los sitios web. Gary decidió entonces comenzar a crear sitios Web para el mismo y para otros.
Gary también trabajo en el área de seguros y valores, en la cual fue agente y corredor por años. En el otoño de 1997, asistió a un seminario dedicado a 'encontrar su propia pasión y seguirla'. Gary llevó este lema al corazón y maximizó sus esfuerzos en la educación y entrenamiento en el campo de los seguros. Hoy, es dueño de una compañía proveedora de servicios educativos por internet en el área de los seguros, con presencia en los 50 estados. Gary aún dicta algunas clases presenciales en Florida para las personas que desean obtener su licencia como agentes de seguros de vida o salud.
A pesar de la gran variedad de intereses de Gary, el aún disfruta de la fotografía. A medida que la tecnología mejora y las cámaras digitales se multiplican, Gary ha evolucionado en lo que se pudiera llamar un 'semi-profesional, encontrando la compensación a sus esfuerzos en el goce de la afición. Gary ha tomado parte en una serie de proyectos fotográficos en los EE.UU., el Caribe, e Inglaterra; y ahora está muy contento de estar trabajando con el proyecto PCP PIRE como fotógrafo voluntario.