by Alex Hastings
In 2009, graduate student Aldo Rincon discovered the most complete and oldest fossil crocodilian skull from Central America. This fossil was found in the Miocene-aged (~19 million years ago) Culebra Formation of the Panama Canal Zone and represents a new extinct genus and species. The new fossil skull has characteristics of both alligators and caimans, and fills a missing link between these two major groups of modern crocodilians. Modern caimans live exclusively in the New World Tropics, while modern alligators live in the subtropics of North America. Before this discovery, most primitive caimans had been found at high latitude, suggesting a temperate environment for the origin of these now only tropical crocodilians. Analysis of this new species suggests the origin of caimans took place instead in the tropics and further indicates primitive caimans likely persisted in Central America for ~47 million years.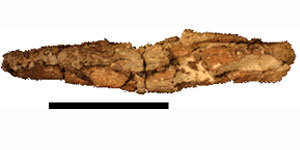 In addition to this new primitive caiman relative, a second fossil caiman skull was recovered in 2011 from the younger Cucaracha Formation by Aldo Rincon and Utahna Denetclaw. This new caiman also represents a new extinct genus and species, but instead had a close relationship with other fossil caimans of South America. Together with fossils of the extinct giant caiman Purussaurus, it now appears that at least some crocodilians were able to disperse from South America to Panama during the Miocene despite the fact that the two land masses were separated by at least 200 km of saltwater. This is particularly surprising considering all modern caimans and alligators are intolerant of saltwater.
Lastly, several fossils indicate the long-snouted crocodilian Gavialosuchus (best known from the Miocene of Florida) was also present alongside these ancient caimans. Gavialosuchus was dominantly a fish-eater, and would likely have not competed with the caimans for their more generalized prey. Altogether these fossils from the Panama Canal Zone are showing a very different blending of continental affinities from the purely North American heritage of the mammals. For crocodilians, Panama was instead a location for the mixing of species from both North and South America, long before the Great American Biotic Interchange.
---
por Alex Hastings
En el 2009, el estudiante de posgrado Aldo Rincón descubrió el fósil de cocodrilo más completo y antiguo de América Central. Este fósil fue encontrado en la Formación Culebra (de edad Mioceno ~19 Ma) en la zona del Canal de Panamá y representa un nuevo género y especie. El nuevo cráneo fósil tiene características de cocodrilo y caimán, constituyendo el eslabón perdido entre estos dos grandes grupos de cocodrilos modernos. Los caimanes actuales viven exclusivamente en los trópicos, mientras que los cocodrilos viven en los subtrópicos de Norte América. Antes de este descubrimiento, los caimanes más primitivos habían sido encontrados en latitudes altas, sugiriendo un ambiente templado para el origen de estos cocodrilos hallados únicamente en los trópicos actuales. Sin embargo, análisis de esta nueva especie sugieren que los caimanes se originaron en los trópicos, permaneciendo en América Central por ~47 millones de años.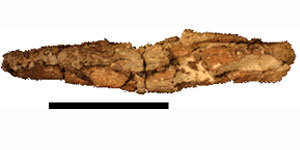 Además de este nuevo caimán primitivo, un segundo cráneo fósil de caimán fue recuperado en 2011 en la Formación Cucaracha por Aldo Rincón y Utahna Denetclaw. Este nuevo caimán también representa un nuevo género y especie, pero a diferencia del anterior, posee una relación más cercana con otros fósiles de caimanes encontrados en Sur América. Los anteriores, junto con los fósiles del caimán gigante extinto Purussaurus, parecen indicar que al menos algunos cocodrilos tuvieron la capacidad de dispersarse desde Sur América hasta Panamá durante el Mioceno, sin importar el hecho de que las dos masas continentales estuvieran separadas por lo menos por 200 km de mar. Este hecho es particularmente sorprendente al considerar que todos los caimanes y "alligators" modernos son intolerantes al agua salada.
Por último, varios restos fósiles indican que el cocodrilo Gavialosuchus de hocico largo (identificado en el Mioceno de Florida) también estuvo presente al lado de estos caimanes antiguos. Gavialosuchus comía principalmente peces, y no habría competido con los caimanes por sus presas. De esta manera, los fósiles de la zona del Canal de Panamá muestran una mezcla muy diferente de afinidades continentales, a diferencia de la herencia puramente norteamericana de los mamíferos. Para los cocodrilos, Panamá fue un lugar para la mezcla de especies de Norte y Sur América, mucho antes de que se llevara a cabo el gran intercambio biótico de las Américas.