by Jorge Luis Pino
Organized by the PCP-PIRE, the workshop "Ancient and Modern Biodiversity in Panama" was held October 13th -15th at the Universidad Autónoma de Chiriquí (UNACHI) in western Panama. The workshop was aimed at UNACHI faculty and undergraduate students studying Biology and the Natural Resources. Nearly 80 students participated in the workshop, which informed them about the research activities PCP-PIRE and other collaborating institutions are developing in Panama.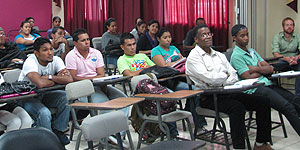 Aldo Rincon, Aaron Wood, Carlos De Gracia, Carson Phillips, Catalina Pimiento, John Kilmer and myself gave presentations on biodiversity. During and after each conference session, professors, students and the PCP-PIRE members had the opportunity to network, which was one of the goals of the workshop.
The workshop culminated with a field trip. Twenty-five students had the opportunity to observe and learn about the geology of a very unique rock formation present in Punta Burica. Students also had the opportunity to search and dig for invertebrate marine fossils in a sedimentary rock deposit.
The workshop was a unique experience for Panamanian students since Paleontology is a field that has not been developed in local institutions. However, these types of activities between PCP-PIRE and local universities in Panama offer a perfect scenario for developing collaborations to train Panamanian students in this or other fields of study.
After the field trip, fossils collected in Punta Burica were displayed at the Week of Science Fair (October 17-21). This activity is held annually at UNACHI. Students who participated in the workshop showcased the fossils at this event and were able to share their knowledge with visitors, including teachers and students from local high schools.
This workshop was supported by The Florida Museum of Natural History, the University of Florida, the Universidad Autónoma de Chiriquí, the National Secretary of Science, Technology and Innovation and the Smithsonian Tropical Research Institute.
---
por Jorge Luis Pino
Oel 13 al15 de Octubre se llevó a cabo el seminario "Biodiversidad Antigua y Moderna de Panamá" en la Universidad Autónoma de Chiriquí (UNACHI) en la región occidental de Panamá. Este seminario, organizado por el PCP-PIRE, estuvo dirigido a estudiantes de licenciatura de las escuelas de Biología y Recursos Naturales, así como a profesores de esta universidad. En la actividad participaron alrededor de ochenta estudiantes los cuales pudieron conocer a través de las presentaciones las diferentes actividades de investigación científica que el PCP-PIRE y otras instituciones colaboradoras están realizando en Panamá.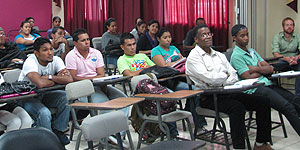 Diversas conferencias sobre investigaciones puntuales presentadas en un contexto de biodiversidad fueron presentadas por: Aldo Rincon, Aaron Wood, Carlos De Gracia, Carson Phillips, Catalina Pimiento, John Kilmer y Jorge Pino. Durante y luego de cada sesión de conferencias, se pudo notar una gran interacción entre profesores y estudiantes de la UNACHI y los miembros del PCP-PIRE, los cuales aprovecharon al máximo nuestra estadía en Panamá.
La sesión de conferencias culminó con una gira de campo en donde veinticinco estudiantes tuvieron la oportunidad de observar y aprender en campo diferentes aspectos generales de geología y conocer sobre la formación geológica del área de Punta Burica. Allí también tuvieron la oportunidad de observar y excavar fósiles de invertebrados marinos presentes en depósitos de roca sedimentaria.
Esta es una experiencia poco común para nuestros estudiantes en Panamá debido a que la paleontología es un campo que aún no hemos desarrollado. Sin embargo, este tipo de acercamiento entre el PCP-PIRE y universidades panameñas brinda un buen escenario para desarrollar colaboraciones encaminadas a capacitar a estudiantes panameños en este y otros campos de estudio.
Luego de la gira de campo, los fósiles colectados en Punta Burica se mostraron en la Feria de la Semana de la Ciencia (17-21 de Octubre). Esta actividad es realizada anualmente en UNACHI. Los estudiantes que participaron en el seminario y la gira de campo mostraron y diseminaron este conocimiento a estudiantes y profesores visitantes de escuelas secundarias de la región.
Este seminario contó con apoyo del Museo de Historia Natural de Florida, la Universidad de Florida, la Universidad Autónoma de Chiriquí, la Secretaría Nacional de Ciencia, Tecnología e Innovación y el Instituto Smithsonian de Investigaciones Tropicales.