On this Fossil Friday I would like to present a protoceratid, Paratoceras coatesi.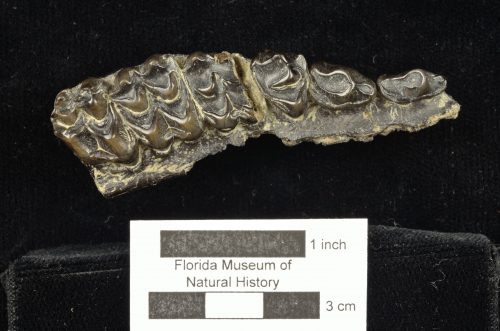 The specimen shown here is a right maxilla with the second through fourth premolars (P2-P4) and three molars (M1-M3). It was found at the Centenario Bridge (Cucaracha Formation) and is early Miocene in age.
Protoceratids are extinct artiodactyls that are closely related to camels but whose later forms resembled deer in that they had horns. Although protoceratid fossils are fairly common in Panama, especially in localities such as the Gaillard Cut (Cucaracha Formation), specimens with cranial morphology, an important taxonomic identifier, have not yet been found in Panama.
References:
MacFadden, B. J. North American Miocene Land Mammals from Panama. (2006). Journal of Vertebrate Paleontology 26(3): 720-734.
Prothero, D. R. (1998). Protoceratidae. In C. M. Janis, K. M. Scott, L. L. Jacobs (Eds.), Evolution of Tertiary Mammals of North America (pp. 431-8). Cambridge, England: Cambridge University Press.