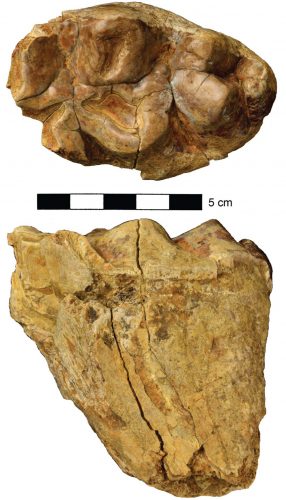 On this week's Fossil Friday I would like to show you a gomphothere tooth from Lake Alajuela (Alajuela Formation). Gomphotheres are extinct members of the mammalian Order Proboscidea (modern-day elephants are also members of this order). This specimen was found by Dr. John Turner in 1959 when he was a high school student. He discovered the tooth when he was at the Madden Boy Scout Camp (Lake Alajuela was formerly known as Lake Madden. The age of the specimen is difficult to discern, but it is likely mid- to late Miocene/early Pliocene in age. This specimen is the first known evidence of a pre-Pleistocene proboscidean in Panama.
To learn more about this specimen, read the paper detailing its discovery and taxonomy here.
Reference
MacFadden, B. J., Morgan, G. S., Jones, D. S., Rincon, A. F. 2015. Gomphothere proboscidean (Gomphotherium) from the late Neogene of Panama. Journal of Paleontology, 89(2): 360-365. doi: 10.1017/jpa.2014.31.