Take an eight-legged walk on the wild side with Spiders Alive! This exciting exhibit dives into the world of spiders, scorpions and their relatives with more than a dozen LIVE species from around the world on display. Discover the unique traits and characteristics of this diverse group of animals in this interactive, family-friendly experience!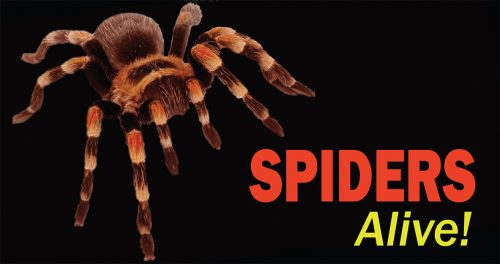 $8 adults | $7.50 Fla. residents, seniors & non-UF college students | $5.50 ages 3-17 | FREE for UF students & Museum members.

Live arachnids (spiders) highlight the ecological importance of these animals that include black widows, orb weavers and bird eaters. Large touchable models reveal more about spider anatomy and their differences from insects while rare fossils display species from the past, including one that's 100 million years old. Videos showcase a variety of unique animal behaviors, such as a diving bell spider living underwater and a southern black widow spinning silk. Separate fact from myth and learn about ancient spiders, conservation, venom and more.
A full list of species displayed in the exhibit is coming soon!
Exhibit On Display: Jan. 28-Sept. 4, 2023
Spiders Alive! is owned and operated by Peeling Productions, originally designed and produced by the American Museum of Natural History and sponsored in part by Visit Gainesville/Alachua County, University of Florida Student Government and the Florida Division of Cultural Affairs.
---
The Florida Museum may photograph or video visitors for educational and promotional purposes. Attendance to a Florida Museum event constitutes the attendee's consent regarding the possibility of appearing in Museum marketing materials.