The Florida Museum and First Magnitude Brewing invite you to a fundraiser to help support butterfly conservation. As part of the event, First Magnitude will release a specialty German-style lager called Migration Märzen.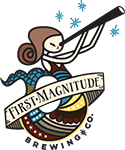 This lager will feature a robust, toasty character and a classic copper hue. With a light malt sweetness and a clean, dry finish, this take on the Oktoberfest style is the perfect thirst quencher to celebrate the annual fall journey of the iconic Monarch butterfly.
$10 includes $1 off all beers; $15 includes signature glass and $1 off all beers; T-shirts will also be available.
All proceeds will directly support imperiled butterfly recovery efforts in Florida.
Save the Date on Facebook
---
The Florida Museum may photograph or video visitors for educational and promotional purposes. Attendance to a Florida Museum event constitutes the attendee's consent regarding the possibility of appearing in Museum marketing materials.