Art and science unite to show the biodiversity of the Gulf of Mexico and the effects of oil spills. This interactive art installation invites viewers to explore the series of steamer trunks of specimens, paintings, photos and sculptures with local biologists and the artist Sean Miller.
Each trunk addresses an aspect of regional biodiversity, including invertebrates, reptil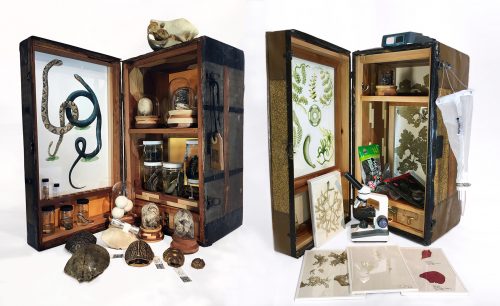 es, mammals, algae and more. The Drifting Cabinets displays are refurbished with custom lighting and retrofitted with inlaid wood recycled from regional architecture as well as trees lost during hurricane activity throughout the Gulf.
While the event activities are free, there is an admission charge for the Permian Monsters and Butterfly Rainforest exhibits.
The display features videos by Chip Lord, Kristin Lucas, Leah Floyd and Cristina Molina, art by Bethany Taylor and live music by Dan Stepp. Participating scientists include Suzanne Fredericq, Joseph Ryan, Lisa Anne Taylor and Chase Pirtle.
Presented in partnership with the University of Florida College of the Arts.

---
The Florida Museum may photograph or video visitors for educational and promotional purposes. Attendance to a Florida Museum event constitutes the attendee's consent regarding the possibility of appearing in Museum marketing materials.