A Celebration of Wings, Wildlife and Biodiversity!
ButterflyFest | Oct. 12, 2019
Plant Sale | Oct. 11-13, 2019
ButterflyFest is an annual festival to celebrate backyard wildlife with an emphasis on pollinators! From native butterfly releases, live animals, workshops and plant sales to vendors, entertainment and food, all activities are fun-for-all-ages!
Save the date on Facebook
ButterflyFest is dedicated to increasing awareness of Florida's butterflies as fun, fascinating ambassadors to the natural world. Activities will promote inquiry and provide a call to action for the conservation and preservation of backyard wildlife and habitats. This year's theme is coming soon.

Hours
Festival: Saturday, Oct. 12 | 10 a.m.-4 p.m.
3-Day Plant Sale: 
Friday, Oct. 11 | 10 a.m.-5 p.m.
Saturday, Oct. 12 | 10 a.m.-5 p.m.
Sunday, Oct. 13 | 11 a.m.-5 p.m.
Admission
While the Butterfly Rainforest and Crocs exhibits require an admission price, the festival and ButterflyFest activities are FREE!
Butterfly Rainforest exhibit admission is $14 for adults ($12 Fla. residents) and $7 for ages 3-17. Admission is free for Museum members and UF students with a valid Gator 1 card. Some vendors may charge for their services.
Note: The Museum does not have an ATM on-site.
Parking
Free parking is available in the large Cultural Plaza parking lot and garage adjacent to the Museum. Campus decal restrictions are not enforced on weekends.
Activities are ongoing on Saturday from 10 a.m. to 4 p.m.:
Refreshments, Vendors & Plant Sale (Outside)
Educational Groups (Various Locations Inside)
Children's Area (Outside)
(Subject to change. 2019 activities coming soon!)
Saturday Oct. 12, 2019
| | | | |
| --- | --- | --- | --- |
| Time | Type | Event | Location |
| 10:30 a.m. | Workshop | Monarchs and Their Migration | Front Classroom |
| 11:30 a.m. | Workshop | Butterfly Gardens Have an Impact | Front Classroom |
| 12:30 p.m. | Activity | Pollinator Parade | Outside |
| 1 p.m. | Activity | Native Florida Butterfly Release | Outside |
| 2:30 p.m. | Workshop | Identifying Butterflies in the Field & Wings Over Florida | Front Classroom |
| 3:30 p.m. | Activity | Native Florida Butterfly Release | Outside |
(Subject to change)
The Museum will be open on Sunday from 1-5 p.m.
Check out the 2018 ButterflyFest Facebook Photo Challenge Winners!
The Florida Museum is hosting the seventh annual ButterflyFest Facebook Photo Challenge! The challenge is designed to educate and promote awareness of biodiversity and wildlife through photography.
Capture your best picture and enter by 11:59 p.m. EDT on Monday, Sept. 23 for your chance to win prizes! Anyone, at any age, can enter this free challenge.
The Museum will post the top 10 images from entries received on its Facebook page Sept. 30, and the public will select the overall winner online via the most 'likes.' In addition, there will be a Judges' Award given to the judging panel's favorite image.
The winning photographers will be recognized during ButterflyFest.
Pollination Station
Interactive stations will give children the opportunity to simulate the pollination process of four key pollinators: bats, birds, bees and butterflies. Kids will gather in groups to learn about the actions of these pollinators while discovering how they impact and contribute to our daily lives.
Join us for a chance to win prizes and explore pollination through hands-on activities. This area is open throughout the festival on the lawn next to the parking garage.
Pollinator Parade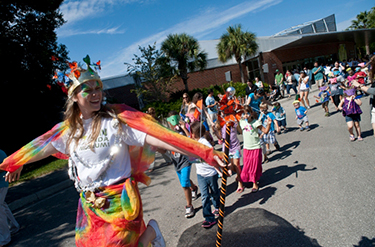 Saturday, Oct. 12, 2019 | 12:30 p.m. (Children's Area)
Wear your own pollinator costume for all Museum visitors to see as we celebrate these amazing animals during the annual Pollinator Parade! This is your chance to join bees, butterflies, bats and birds as we pledge to ensure the future of pollinators. The parade will begin in the Children's Area.
Want to have a table at this year's ButterflyFest? Contact Chelsea Collison at 352-273-2062 or ccollison@flmnh.ufl.edu.
2019 groups coming soon! Sample list below.
Gators Ready for Exceptional Birding Experiences
The 2019 ButterflyFest vendor applications are closed. Thank you for applying!
Sample 2018 vendor list below.
Food
Merchandise
Anu Arts n Crafts: Mixed-media artwork
Baubles Bangles and Beads by RJ Morgan: Wire wrapped gemstone jewelry
Bookish Apothecary: Handmade soaps
Boulder Designs by Creations in Concrete: Designer landscape boulders, benches and columns
CetteVie Photography: Wildlife and nature photography, cards, bookmarks, magnets and jewelry
Cross Creek Honey: Florida floral varieties of honey, beeswax candles, bath treats and other beeswax goods
Designs by Fur: Unique home decor accents and gifts, hanging mobiles, geodes and amethyst crystals
Easy Journey Entertainment: Face painting
Fabulous Faces Entertainment: Airbrush face painting
Juniper Lane Co: Handmade pet bandanas and bow ties
LeahCMYK: Hoop embroidery and illustrated art
Natelle Draws Stuff: Jewelry, accessories, bags, purses, art prints, cards and stickers
Nique's Boutique: Yarn and material creations, including sewn/quilted purses and bags, towels, wash cloths, crocheted coasters, stuffed animals and toys
Purple Star Clay: Clay jewelry, figurines and collectibles. Original art and prints.
Samm Wehman Art: Custom pet portraits and hand-painted pet and wildlife themed art on repurposed materials, ceramic figures, greeting cards, framed prints and stickers
Simone's Natural Notions: Natural and handmade soaps, soy wax candles and herbal eye pillows
The Painting Sister: Painted wooden items including framed mirrors, bowls and jewelry
The Paper Pig Studio: Handmade paper art including framed wall art, shadow boxes, envelopes and cards
The Tee Shop: On-demand t-shirt screenprinting
UF Entomology & Nematology Student Organization (UF ENSO): T-shirts
Valhalla Spa Organics: Small organic beekeeper with local raw honey, handmade lotion bars, lip balm and beeswax candles
Museum Gift Shops – Collectors and Butterfly

Make sure to stop by the Museum Collectors Shop and Butterfly Gift Shop for unique natural history, science and butterfly-themed items. The perfect spot to get your wings for the Pollinator Parade! Members receive a 10 percent discount on all purchases in the Museum Gift Shops.
Payment Options
The Museum does not have an ATM, so visitors are encouraged to bring cash if they would like to purchase items from festival vendors (as they may or may not offer other payment options).
Volunteer opportunities are offered annually for ButterflyFest, including assisting with the plant sale, nonprofit tables, activities and more! There are wide varieties of jobs available. Volunteers must be 18 and older with the exception of current Museum Junior Volunteers.
Questions? Contact the Volunteer Coordinator, Amy Hester at 352-273-2055 or email volunteers@flmnh.ufl.edu.
Sponsors
For information on becoming a ButterflyFest sponsor, please contact Kara Schwartz at 352-273-2047 or email kschwartz@flmnh.ufl.edu.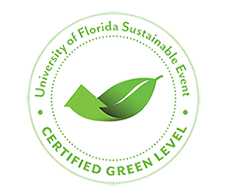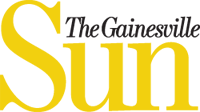 ---
The Florida Museum may photograph or video visitors for educational and promotional purposes. Attendance to a Florida Museum event constitutes the attendee's consent regarding the possibility of appearing in Museum marketing materials.