A Celebration of Wings, Wildlife and Biodiversity!

ButterflyFest Oct. 8, 2017
Plant Sale Oct. 6-8, 2017
ButterflyFest is an annual fun-for-all-ages festival to celebrate backyard wildlife with an emphasis on pollinators!
ButterflyFest is dedicated to increasing awareness of Florida's butterflies as fun, fascinating ambassadors to the natural world. Activities will promote inquiry and provide a call to action for the conservation and preservation of backyard wildlife and habitats.
Hours
Admission
While the Butterfly Rainforest exhibit requires an admission price, the festival and ButterflyFest activities are FREE!
Butterfly Rainforest exhibit admission is $13 for adults ($11 Fla. residents) and $6 for ages 3-17. Admission is free for Museum members and UF students with a valid Gator 1 card. Some vendors may charge for their services.
Note: The Museum does not have an ATM on-site.
Parking
Free parking is available in the large Cultural Plaza parking lot and garage adjacent to the Museum. Campus decal restrictions are not enforced on weekends.
(Subject to change)
From native butterfly releases, live animals, workshops and plant sales to vendors, entertainment and food, all activities are fun-for-all-ages! Activities are ongoing on Sunday from 11 a.m. to 4 p.m.:
Ongoing all-day events on Sunday from 11 a.m. to 4 p.m.:
Refreshments, Vendors & Plant Sale (Outside)
Educational Groups (Various Locations Inside)
Children's Area (Outside)
Saturday Oct. 7, 2016
Sunday Oct. 8, 2016
(Sample schedule from 2016.)
| | | | |
| --- | --- | --- | --- |
| Time | Type | Event | Location |
| 8-9:30 a.m. | Workshop ($) | Picture Perfect Photography Workshop | Butterfly Rainforest |
| 11:30 a.m. | Workshop | Intro to the Great Florida Birding & Wildlife Trail and Wings Over Florida | Front Classroom |
| 12:30 a.m. | Workshop | Identifying Butterflies in the Field | Front Classroom |
| 12:30 p.m. | Activity | Pollinator Parade | Outside |
| 1 p.m. | Activity | Native Florida Butterfly Release | Outside |
| 2 p.m. | Workshop | Butterfly Hotspots for Wings Over Florida on the Great Florida Birding & Wildlife Trail | Front Classroom |
| 3 p.m. | Workshop | Landscaping for Butterflies and Other Pollinators | Front Classroom |
| 3:30 p.m. | Activity | Native Florida Butterfly Release | Outside |
The Museum will be open on Sunday from 11 a.m. until 5 p.m.
($) – Not free. Pre-registration required. See link for more details.
The Florida Museum is hosting the fifth annual ButterflyFest Facebook Photo Challenge! The challenge is designed to educate and promote awareness of biodiversity and wildlife through photography.
Capture your best picture and enter by 11:59 p.m. EDT on Monday, Sept. 18 for your chance to win prizes! Anyone, at any age, can enter this free challenge.
The Museum will post the top 10 images from entries received on its Facebook page Sept. 25, and the public will select the overall winner online via the most 'likes.' In addition, there will be a Judge's Award given to the judging panel's favorite image.
The winning photographers will be recognized during ButterflyFest.
Pollination Station
Interactive stations will give children the opportunity to simulate the pollination process of four key pollinators: bats, birds, bees and butterflies. Kids will gather in groups to learn about the actions of these pollinators while discovering how they impact and contribute to our daily lives.
Join us for a chance to win prizes and explore pollination through hands-on activities. This area is open throughout the festival on the lawn next to the parking garage.
Pollinator Parade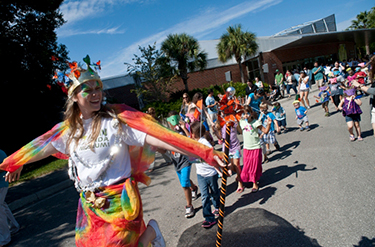 Sunday, Oct. 8, 2017 | 12:30 p.m. (Children's Area)
Wear your own pollinator costume for all Museum visitors to see as we celebrate these amazing animals during the annual Pollinator Parade! This is your chance to join bees, butterflies, bats and birds as we pledge to ensure the future of pollinators. The parade will begin in the Children's Area.
Want to have a table at this year's ButterflyFest? Contact Chelsea Collison at 352-273-2062 or ccollison@flmnh.ufl.edu.
Gators Ready for Exceptional Birding Experiences
Food
The Hyppo: gourmet ice pops
High Springs Orchard and Bakery: Cookies, brownies, macaroons, tarts, assorted empanadas, spring rolls, summer rolls, Pad Thai, etc. Vegan, vegetarian, gluten-free options available.
Merchandise
At Fairy Lane: handmade treasures for kids and adults, fairies, mermaids, fairy houses and other unique items
Bird Brain Inventions: solar lit wind chimes, solar lit hummingbird feeders, sports logo magnets
Cross Creek Honey: Florida floral varieties of honey, beeswax candles, bath treats, other beeswax goods
Dragonshoard: Handmade silver and stone items, handcrafted signs, minerals and fossils and items made from them
Easy Journey Entertainment: face painting, temp. tattoos
Gator Jewelry Design: handmade jewelry
Green Grackle Studio: Jewelry and hair accessories handcrafted from resin and antique science illustrations that create a wearable natural history museum.
Holbrook Travel / Expedition Travel: Travel specializing in educational travel programs for groups and individuals, with trips focused on Lepidoptera, birding, photography, natural history, culture, ecotourism, and other special interests.
Lady Z's Treasure Box: Quality handmade jewelry and accessories utilizing natural elements (animal bone, stone, wood, feathers, etc.).
Natelle Draws Stuff: Jewelry & accessories, bags & purses, art prints, cards & stickers
Natural Treasures Farm & Nursery: Fruit and nut trees, herbs, vegetable starts, FL native and FL friendly plants
Nique's Boutique: Yarn & material creations: sewn/quilted purses and bags, towels and wash cloths, stuffed animals/toys, crocheted coasters, etc.
PlanetShelly: Fandom jewelry, self-published novels
Purple Star Clay: clay jewelry
Samm Wehman Art: Animal/butterfly artwork: custom pet portraits and canvas paintings, painted clam shells, wine glasses, mugs, prints, greeting cards, etc.
The Painting Sister: Painted wooden items: framed mirrors, bowls, jewelry, etc.
UF Entomology & Nematology Student Organization (UF ENSO): UF student organization selling department T-shirts to raise funds for the ENSO travel grant and other means of student/department support
Wide Eyed Designs: Stained glass art, needle felted art, and originally designed enamel pins
Museum Gift Shops – Collectors and Butterfly
Make sure to stop by the Museum Collectors Shop and Butterfly Gift Shop for unique natural history, science and butterfly-themed items. The perfect spot to get your wings for the Pollinator Parade! Members receive a 10 percent discount on all purchases in the Museum Gift Shops.
Payment Options
The Museum does not have an ATM, so visitors are encouraged to bring cash if they would like to purchase items from festival vendors (as they may or may not offer other payment options).
Flutter, flap and frolic! Volunteers are needed for this year's ButterflyFest at the Florida Museum of Natural History. As part of the festival, you will help increase awareness of Florida's butterflies as fun, fascinating ambassadors to the natural world and promote the conservation and preservation of backyard wildlife and habitats. No underage volunteers will be accepted. Volunteers must be 18 and older with the exception of enrolled Junior Volunteers.
Need to get in touch with the Volunteer Coordinator? Call Amy Hester at 352-273-2055 or email volunteers@flmnh.ufl.edu.
Sponsors
For information on becoming a ButterflyFest sponsor, please contact Kara Schwartz at 352-273-2047 or email kschwartz@flmnh.ufl.edu.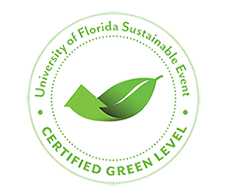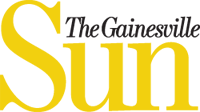 All ButterflyFest Events