GAINESVILLE, Fla. — The Florida Museum of Natural History is partnering with First Magnitude Brewing Co. on a new limited-edition beer to help conserve the critically endangered Miami blue butterfly.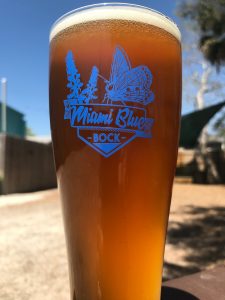 Miami Blue Bock, a medium-bodied, malty, golden lager, will debut during a special event Friday from 5 to 8 p.m. at First Magnitude, 1220 SE Veitch St. Entry is free. Drafts and six-packs of the beer will be discounted with the purchase of a $10 wristband. All wristband sales and a portion of the proceeds from beer, drinking glasses and T-shirt sales support the museum's Miami blue research program.
Cans of Miami Blue Bock, as well as drinking glasses and T-shirts, sport augmented reality features: After downloading the free Libraries of Life app, anyone can use a mobile device to scan the Miami Blue Bock logo for a 3-D projection of the butterfly, an audio narrative about its biology and photos of its life stages.
"We're really excited about offering a beer that educates the drinker," said Simon McClung, brewer's assistant at First Magnitude.
The brewery and other local bars will sell Miami Blue Bock through spring.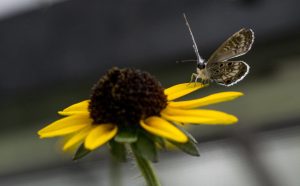 Once common throughout coastal southern Florida, the only remaining wild populations of Miami blues live in the Key West National Wildlife Refuge. The thumbnail-sized butterflies remain vulnerable to climate change, drought and hurricanes, said Jaret Daniels, director of the museum's McGuire Center for Lepidoptera and Biodiversity.
"Theoretically, one storm could wipe this butterfly out," said Daniels, an associate curator of Lepidoptera who oversees the Miami blue breeding program.
Museum researchers are rearing Miami blues and closely studying the butterflies' ecology to learn how to effectively re-establish it in the wild. The team plans to release larvae on protected lands this summer and monitor their response.
Because the butterflies are breeding well in the lab and still have wild habitat available, Daniels is cautiously optimistic they will make a comeback. What researchers learn from reintroducing Miami blues could also help improve conservation practices for other endangered species, he said.
"I think we have a moral obligation to save species like the Miami blue," Daniels said. "We're stewards of the planet, and this species is part of our natural heritage in the state."
For more information about the event, call 352-727-4677.
Writers: Emily Mavrakis, swriterintern@flmnh.ufl.edu; Natalie van Hoose, nvanhoose@flmnh.ufl.edu, 352-273-1922
Sources: Simon McClung, simon@fmbrewing.com, 352-727-4677; Jaret Daniels, jdaniels@flmnh.ufl.edu, 352-273-2022