By Bruce MacFadden | PCP PIRE Principal Investigator
The 2014 teacher cohort, participants in this year's Research Experience for Teachers in Panama, reconvened on December 5 and 6 in Albuquerque, NM for a final wrap-up session. This culminates a six month-long teacher professional development process, which first started with the pre-trip orientation in May, followed by the twelve-day long Panama trip. The session was hosted by Gary Morgan of the New Mexico Museum of Natural History (NMMNH), and Co-Principal Investigator for PCP PIRE.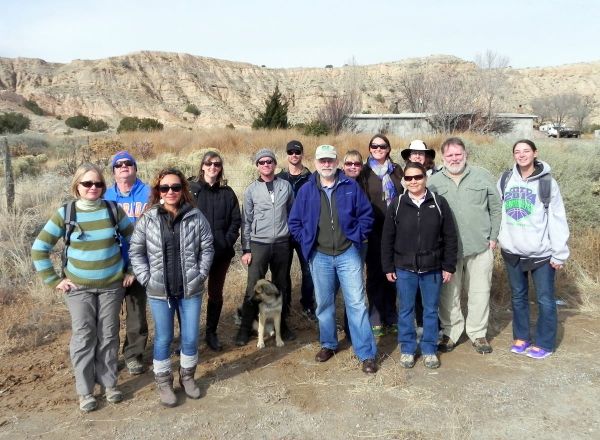 Attending the final wrap-up session were Principal Investigator Bruce MacFadden, GABI-RET [Great American Biotic Interchange – Research Experience for Teachers] Coordinator Claudia Grant, and teachers from Florida (Scott Flamand, Leigh Larsen, and Megan Hendrickson, New Mexico (Utahna Denetclaw and Hannalore Smith), and California (Jason Tovani, Stephanie Brown, Karen Schmidt, and Laura Taylor). Everyone participated in field work, met with education professionals at the museum and visited the classroom of middle school science teacher Utahna Denetclaw, New Mexico-based member of the 2014 cohort. Denetclaw teaches a paleontology class for middle-schoolers, which is a rare course offering for K-12 students. Bruce MacFadden and Gary Morgan each gave presentations and answered students' questions; they then yielded the floor for the students to present their work to their classmates and the visiting teachers.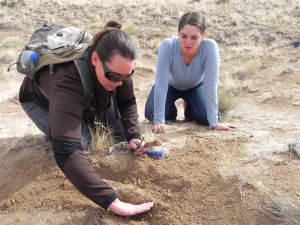 The second day of the gathering was also jam-packed with activities. The teachers headed an hour and a half north of Albuquerque to an area near Española, NM. Here they collected vertebrate fossils from the Chamita Formation for the research collections at the NMMNH. These fossil localities, which formed the basis of PI MacFadden's doctoral dissertation field area 40 years ago, are approximately the same age as those in the Alajuela Formation of Panama. The findings included fossil rabbits, beaver, a horse jaw (Dinohippus), camel skull and the toe bone of a giant giraffe-like camel (Megatylopus). This field trip was designed to give the teachers practical experience in intercontinental correlations and contemporaneous faunal distributions. We were also joined in the field by Gary's colleague Scott Aby of Dixon NM, who has done extensive geological and paleontological field work in this region.
During the two days, the teachers shared with one another how the trip to Panama had informed and influenced their science teaching, including a lively discussion with many creative and innovative ideas for the implementation of science lessons. It is gratifying to see the impact that the research experience has on each teacher, and how that impact is multiplied with each new set of students learning science in the classroom through the lens of paleontology.
NSTA Conference in Long Beach, CA
By Sean Moran | PCP PIRE Staff
This year's National Science Teachers Association (NSTA) and California Science Teachers Association (CSTA) combined meeting was held from Dec 4-6 in Long Beach, California. The conference brought together thousands of science teachers from around the country for three days of workshops, presentations and field trips held at the Long Beach Conference Center and a handful of area hotels. As representatives of PCP-PIRE and GABI RET, Rob Hoffman (Pajaro Valley Unified District Science Curriculum Coach), Jill Madden (7th grade science teacher at Cesar Chavez Middle School in Watsonville, CA) and I were there to present the project as a model for collaboration between scientists and teachers.
I began the presentation by introducing both the PCP-PIRE and GABI RET grants. In addition to the project goals, I explained the basic science underlying the two projects and then introduced the collaboration that developed as a result. I also talked a little bit about PaleoDelta and my role in providing content and support to Jason Tovani's high school paleontology class at the Delta School in Santa Cruz, California. Jill followed by presenting examples related to the benefits for teachers involved in the GABI RET and how they could be more widely applicable to similar projects. Lastly, Rob spoke about how all of these benefits ultimately improve the students' science class experiences by providing mentor visits, nurturing inspired and experienced teachers and providing new, real world examples in the classroom. The presentation and related materials are available to view here.
---
Por Bruce MacFadden | Investigador Principal PCP-PIRE
El grupo de maestros 2014, partícipes este año de la Experiencia de Investigación para Maestros en Panamá, volvió a reunirse el 5 y 6 de diciembre en Albuquerque, Nuevo México, para una última sesión de recapitulación. Esto culmina un período de seis meses de duración del proceso de desarrollo profesional de docentes, que comenzó con la orientación previa al viaje en mayo, seguido por el viaje de doce días a Panamá. La sesión fue organizada por Gary Morgan del Museo de Historia Natural de Nuevo México (NMMNH) y co-investigador principal del PCP PIRE.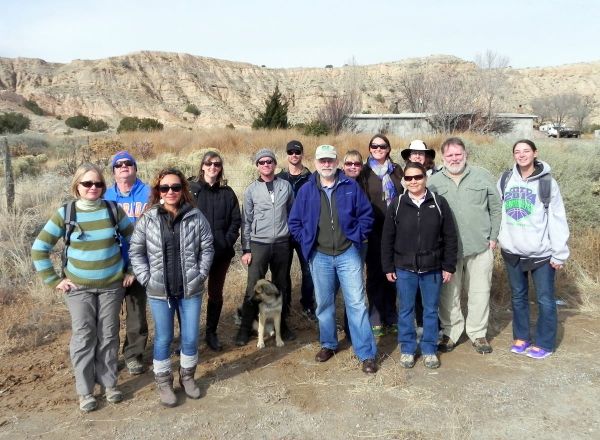 Asistieron a esta sesión final de recapitulación el investigador principal Bruce MacFadden, la coordinadora del GABI-RET [Gran Intercambio Biótico Americano – Experiencia de Investigación para Profesores] Claudia Grant, y maestros de la ciudad de Florida (Scott Flamand, Leigh Larsen y Megan Hendrickson), Nuevo México (Utahna Denetclaw y Hannalore Smith) y California (Jason Tovani, Stephanie Brown, Karen Schmidt y Laura Taylor). Todos participaron en las misiones de campo, se reunieron con profesionales en educación del museo y visitaron el aula del profesor de ciencias de escuela secundaria Utahna Denetclaw, miembro del grupo 2014 radicada en Nuevo México. Denetclaw enseña una clase de paleontología para estudiantes de los primeros años de educación secundaria, que es un curso raro para estudiantes de esa edad. Bruce MacFadden y Gary Morgan dieron presentaciones y respondieron a las preguntas de los estudiantes; luego cedieron la palabra a los estudiantes para que estos presenten sus trabajos a sus compañeros de clase y a los profesores visitantes.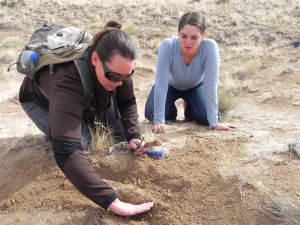 El segundo día de la reunión también estuvo repleto de actividades. Los maestros viajaron una hora y media al norte de Albuquerque a un área cerca de Española, en Nuevo México. Aquí colectaron vertebrados fósiles de la Formación Chamita para las colecciones de investigación del NMMNH. Estas localidades fósiles, que fueron los cimientos del área de estudio de la tesis doctoral del investigador principal Bruce MacFadden hace 40 años, son de aproximadamente la misma edad que los de la Formación Alajuela en Panamá. Los hallazgos incluyen conejos fósiles, castores, una mandíbula de caballo (Dinohippus), un cráneo de camello y un hueso del dedo del pie del gigante camello-jirafa (Megatylopus). Este viaje de campo fue diseñado para dar a los profesores una experiencia práctica en correlaciones intercontinentales y distribuciones contemporáneas de faunas. Se nos unió en el campo el colega de Gary, Scott Aby, de la ciudad de Dixon en Nuevo México, quien ha realizado una amplia labor de campo geológica y paleontológica en esta región.
Durante estos dos días, los maestros compartieron entre ellos sus impresiones sobre cómo el viaje a Panamá había informado e influido su enseñanza de las ciencias, esto incluyó un agitado debate con muchas ideas creativas e innovadoras para la implementación de clases de ciencias. Es gratificante ver el impacto que esta experiencia de investigación tiene en cada profesor y cómo este impacto se multiplica con cada nuevo conjunto de estudiantes que están aprendiendo ciencia en el aula de clases a través del lente de la paleontología.
Conferencia NSTA en Long Beach, California
Por Sean Moran | Personal del PCP PIRE
Este año, el encuentro conjunto de la Asociación Nacional de Maestros de Ciencias (NSTA) y la Asociación de Maestros de Ciencias de California (CSTA) se celebró del 4 al 6 de diciembre en Long Beach, California. La conferencia reunió a miles de profesores de ciencias de todo el país durante tres días de talleres, presentaciones y viajes de campo celebrados en el Centro de Convenciones de Long Beach y un puñado de hoteles en el área. Como representantes del PCP-PIRE y GABI RET estuvimos Rob Hoffman (instructor curricular de ciencias del distrito de Pajaro Valley), Jill Madden (profesor de ciencias del séptimo grado en la Escuela Cesar Chavez en Watsonville, California) y yo representando el proyecto como un modelo de colaboración entre científicos y profesores.
Comencé la presentación explicando en qué consisten las subvenciones PCP-PIRE y GABI RET. Además de los objetivos del proyecto, expliqué la ciencia básica que subyace a los dos proyectos y luego presenté la colaboración que se desarrolló como resultado. También hablé un poco sobre PaleoDelta y mi rol en el suministro de contenido y apoyo a la clase de paleontología de Jason Tovani en la escuela secundaria Delta en Santa Cruz, California. Jill continuó la presentación dando ejemplos relacionados con los beneficios para los profesores que participan en el GABI RET y cómo podrían ser ampliamente aplicables a proyectos similares. Por último, Rob habló acerca de cómo todos estos beneficios resultan en la mejora de la experiencia estudiantil en las clases de ciencias al proporcionárseles visitas de orientación, nutriendo e inspirando maestros y proveyendo nuevos ejemplos del mundo real en el aula de clase. La presentación y los materiales relacionados están disponibles aquí.