By Laura Beach | Soquel High School Biology Teacher Santa Cruz, CA
I've always loved to make stuff. I've been lucky enough to try my hand at various mediums like ceramics, watercolor, encaustic, chalk, pen, pencil, fabric, you name it; but I found where my true love lies is in working with wood, lead, paper, ink and old machinery that was in action long before computers were on the scene. The inspiration for my pieces has always come from the natural world. Mother nature's beauty, influence, and mystique have inspired me so much so that I chose two avenues to pursue: science and art, teaching high school biology and environmental science and heading up a small woodblock printmaking and letterpress studio.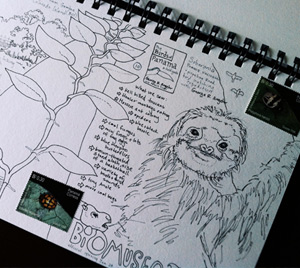 My interest and love of science and art have come from a lot of time spent outdoors and I've got my friends and family to thank for that! Through my studies and experiences, I've come to realize I'm attracted to the process side of things—carving the wood, hand-feeding each piece through the press, figuring out how things work and fit together, setting up experiments to answer questions–you never really know how it's going to turn out, until the end. It was exactly the process that I was lucky enough to experience firsthand in Panama this past summer—a truly amazing scientific process involving incredible scientists and international research. One aspect that really struck me after getting to spend time with these wonderful minds (and I have to say in some sweaty conditions out in the field) was how important their science notebooks are to their scientific process–it's something I have mentioned when teaching, but to actually see it for real, well, there is no substitute for that. It was hard to miss the beautiful and artistic compilation of all their thoughts, measurements and notes about samples collected that were carefully recorded in these mini works of art that oftentimes, span years of research and travel across continents and back.
Wanting to record my own experience, I decided to keep my own daily visual notebook, which really in the end served a dual purpose: 1) Experience the processes that scientists really do and 2) Practice drawing (between you and me, drawing has always been my limiting factor in my artwork–so many ideas waiting to get out of my head, but are held up by a perfectionist attitude). Like any other skill you want to be better at, it's all about the practice, so I assigned myself a mini challenge (can't be helped, I'm a teacher) and gave myself parameters to move past my snails pace of drawing:
I had to draw in a notebook with NICE paper (a smaller notebook made it seem doable)
I had to draw something small everyday (again, small made it less daunting of a task)
I could only draw in pen (no pencil because that would mean I had erasing capabilities and I often don't know when to stop) – whatever was put down on the paper, had to stay
I could add a little color in the form of watercolor washes
I have to admit that after a few days of drawing everyday, as agonizing sometimes as it was to sit down and start, in the end I realized I loved it, and the starting wasn't so agonizing anymore. Some of the results were a few small drawings from real specimens: Megalodon teeth and various plants, and a daily journal filled with images of amazing activities and many memorable experiences. The notebook experience among many experiences from the Panamanian adventure, will serve as inspiration for both my artwork and for the kids for the current school year!
If you are interested in checking out more artwork, come visit me at www.laurabeach.net
---
Por Laura Beach
Siempre me ha gustado hacer cosas. He tenido la suerte de experimentar en diversos medios como la cerámica, acuarela, tiza, lápiz, pluma, tela, lo que sea. Pero encontré que mi verdadero amor es el trabajo con la madera, papel, tinta y maquinaria vieja que funcionaba mucho antes de que los computadores entraran en escena. La inspiración para mis piezas viene siempre del mundo natural. La belleza de la madre naturaleza, la influencia y la mística me han inspirado tanto que es así que elegí dos caminos a seguir: la ciencia y el arte, enseñar biología y ciencias ambientales en una escuela secundaria y tener un pequeño estudio de grabado en madera y tipografía.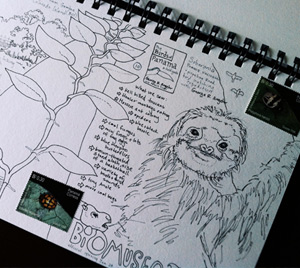 Mi interés y amor por la ciencia y el arte vienen de mucho tiempo al aire libre y debo agradecerle a mis amigos y familia por eso. A través de mis estudios y experiencias, me he dado cuenta que me atrae el proceso de las cosas—tallar madera, averiguar cómo funcionan las cosas y si encajan entre sí, organizar experimentos para responder preguntas—nunca se sabe cómo va a salir hasta el final. Era exactamente el proceso que tuve la suerte de experimentar de primera mano en Panamá el pasado verano. Un proceso científico verdaderamente sorprendente donde participan científicos e investigadores internacionales. Un aspecto que verdaderamente me llamó la atención después de pasar tiempo con estas maravillosas mentes (y tengo que decir, en algunas condiciones de sudor en campo) fue cómo sus cuadernos de ciencias son importantes para sus procesos científicos, esto algunas veces lo tengo que mencionar cuando enseño, pero realmente no hay sustituto para eso. Era difícil perder de vista la compilación hermosa y artística de todos sus pensamientos, mediciones, notas acerca de muestras recogidas que se registraron cuidadosamente en esos mini trabajos de arte que muchas veces tienen años de investigación y viajes a través de continentes.
Queriendo dejar constancia de mi propia experiencia, decidí mantener mi propio cuaderno que al final sirvió para doble propósito: 1) Experimentar el proceso que los científicos realmente tienen y 2) practicar el dibujo (entre nos, el dibujo siempre ha sido un factor limitante en mis obras, muchas ideas en espera de salir de mi cabeza pero son contenidas por mi actitud perfeccionista). Como en cualquier otra actividad en la que se quiera ser mejor, todo es acerca de la práctica, así que yo me asigné un mini reto (no lo puedo evitar, soy una maestra) y me puse unos parámetros:
Tuve que dibujar en un cuaderno de notas con BUEN papel (un cuaderno pequeño parecía funcionar)
Tuve que dibujar algo pequeño cada día (hacer algo pequeño lo hacía menos intimidador)
Sólo podía dibujar con pluma (sin lápiz porque eso significaba que podía borrar y a veces no sé cuándo parar). Lo que sea que estaba en el papel tenía que quedarse
Podía añadir un poco de color en la forma con acuarela.
Tengo que admitir que después de unos días de dibujar a diario, tan agonizante como fue a veces sentarme y empezar, al final me di cuenta que me encantó y la puesta en marcha no fue tan angustiosa. Algunos de los resultados fueron unos pequeños dibujos a partir de muestras reales: dientes de Megalodon, diversas plantas y un diario lleno de imágenes de actividades sorprendentes y muchas experiencias memorables.
La experiencia con el cuaderno entre otras muchas experiencias de la aventura panameña me servirá de inspiración tanto para mis obras de arte como para los niños durante este año escolar.
Si está interesado en conocer más de mi trabajo de arte, pueden visitarlo en www.laurabeach.net