By Luz Helena Oviedo
University of Florida students and PCP PIRE members participated in the fourth annual meeting of the Southeastern Association of Vertebrate Paleontology (SVP), held at the Florida Museum of Natural History in Gainesville May 6-8. Students were part of the host committee led by Dr. Richard Hulbert, and three students reported on research related to Panama.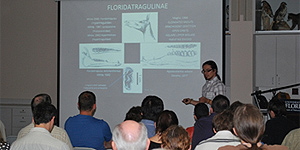 Graduate students Alex Hastings, Aldo Rincon and Carly Manz described their research based on fossils from the Panama Canal area. Highlights of their talks are below.
Phylogenetic and paleobiogeographic implications of new fossil caimans (Crocodylia, Alligatoridae) from the Miocene of Panama. Alex Hastings and Jonathan Bloch.
This talk discussed two new fossil discoveries which represent the oldest well-preserved cranial crocodilian fossils recovered from Central America. These fossils are partial skulls from the Miocene Culebra and Cucaracha formations collected by PCP PIRE members, Aldo Rincon and Utahna Denetclaw. One of these new fossils represents the most primitive caiman and provides support for shifting the origin of the caiman lineage from warm temperate high latitudes to the New World Tropics.
New early Miocene camelids (Floridatragulinae) from Panama: Filling the tropical ungulate fossil gap. Aldo Rincon and Jonathan Bloch.
In this talk, Aldo Rincon described two new species of small and long-snouted camelids previously only reported from subtropical areas in Florida, Texas and Mexico. His identifications were based on fossil jaws and isolated teeth he and several STRI interns have collected since the beginning of the Panama Canal expansion. The evidence he found also suggests that the Las Cascadas fauna may represent a distinctive early Miocene faunal province characterized by the arrival of immigrants from the north into a small continental basin directly connected with continental terrains.
Comparing the paleoecology of three subtropical to tropical early Miocene faunas in the North American continent. Carly Manz, Emily Woodruff and Aldo Rincon.
This talk outlined the main findings from an isotopic analysis in fossil herbivorous land mammals' teeth from Thomas Farm in Florida and Las Cascadas and Cucaracha formation in Panama. Carly and her colleagues used this type of analysis to compare mammalian diet and paleoclimate between these sites. Main findings support a C3-dominated diet from all faunas and a significant difference between the Florida and Panamanian sites in meteoric water sources. This suggests "that the closing of the Panamanian land bridge in the late Miocene may have created a change in precipitation sources on the southern North American continent."
See a complete list of abstracts.
---
Por Luz Helena Oviedo
Estudiantes de la Universidad de la Florida e integrantes del PCP PIRE participaron en la cuarta reunión anual de la Asociación de Paleontología de Vertebrados del Sureste (SeVP), llevada a cabo en el Museo de Historia Natural de la Florida en Gainesville del 6 al 8 de mayo. Los estudiantes fueron parte del comité anfitrión liderado por Richard Hulbert PhD., y tres de ellos presentaron su investigación relacionada con Panamá.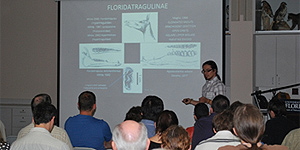 Los estudiantes de posgrado, Alex Hastings, Aldo Rincón y Carly Manz, describieron su investigación basada en fósiles del área del Canal de Panamá. A continuación los puntos más relevantes de las charlas:
Implicaciones filogenéticas y paleobiogeográficas de nuevos fósiles de Caimán (Crocodylia, Alligatoridae) del Mioceno de Panamá. Alex Hastings y Jonathan Bloch.
Dos nuevos descubrimientos que constituyen los cráneos de cocodrílidos más antiguos y con mejor preservación en Centroamérica, fueron presentados en esta charla. Estos fósiles consisten en cráneos parciales de las formaciones Culebra y Cucaracha del Mioceno, colectados por los integrantes del PCP PIRE, Aldo Rincón y Utahna Denetclaw. Uno de estos nuevos especímenes representa el caimán más primitivo y además respalda que el origen del linaje de los caimanes se pase de las zonas cálidas templadas a los neotrópicos.
Nuevos camélidos (Floridatragulinae) del Mioceno temprano de Panamá: llenando el vacío de los ungulados fósiles del trópico. Aldo Rincón y Jonathan Bloch.
Esta charla informó sobre dos especies nuevas de camélidos pequeños de hocico largo, las cuales hasta el momento han sido solo reportadas en áreas subtropicales de Florida, Texas y México. Aldo Rincón basó sus interpretaciones en mandíbulas y dientes fósiles colectados por él y otros pasantes de STRI desde el inicio de la expansión del canal de Panamá. Este estudio también sugiere que la fauna de Las Cascadas puede representar una provincia distintiva de la fauna del Mioceno caracterizada por la llegada de inmigrantes del norte a pequeñas cuencas directamente conectadas con terrenos continentales.
Comparando la paleoecología de tres faunas subtropicales y tropicales del Mioceno temprano en el continente norteamericano. Carly Manz, Emily Woodruf y Aldo Rincón.
Esta charla señaló los principales descubrimientos del análisis isotópico en fósiles de dientes de mamíferos herbívoros terrestres de Thomas Farm en Florida y de las formaciones Las Cascadas y Cucaracha de Panamá. Carly y sus colegas usaron este tipo de análisis para comparar la dieta de los mamíferos y el paleoclima de estos sitios. Los principales hallazgos respaldan una dieta dominada por plantas C3 en todas las faunas y una diferencia significativa entre las localidades de Florida y Panamá en cuanto a fuentes de agua meteórica, lo cual sugiere "que el cierre del istmo de Panamá en el Mioceno tardío pudo haber creado un cambio en las fuentes de precipitación en el sur del continente norteamericano."