Here we compare two fossil sites similar in age, ancient environment, and fauna to Montbrook:
The Gray Fossil Site and the fossil site of Langebaanweg in the West Coast Fossil Park.
These sites are important because they are situated around the transitional period between the Miocene and Pliocene epochs, giving us insight into how various animals were living in subtropical environments some ~5 million years ago.
Site Comparison:
| | | | | | | |
| --- | --- | --- | --- | --- | --- | --- |
| Site Name | Location | Discovery Date | Age | Ancient Environment | Faunal Assemblage | Visiting |
| Montbrook Fossil Site | Williston, Florida, U.S.A. | November 2015 | ~5 million years ago | Freshwater river system relatively close to a coast, likely surrounded by mix of woodland and grassland | Gomphothere, mastodon, turtles, alligator, fish, birds, saber-toothed cat, hyena dog, otters, snakes, frogs, birds, salamanders, short-faced bear, rhino, deer, pronghorn antelope, etc. | Accepting volunteers to excavate in the field and prepare/curate fossils in the lab. Public museum exhibit |
| Gray Fossil Site | Gray, Tennessee, U.S.A. | May 2000 | ~4.7 to 4.9 million years ago | Extensive Sinkhole pond formed via dissolution of limestone, surrounded by deciduous forest | Tapir, rhino, mastodon, red panda, turtles, snakes, frogs, salamanders,  saber-toothed cat, short-faced bear, ground sloth, alligator, camel, Eurasian badger, etc. | Entire museum devoted to the site/site tours with live excavation |
| Langebaanweg Fossil Site | Langebaan, Western Cape, South Africa | 1958 | ~5 – 5.2 million years ago | Subtropical climate with lush, riverine forests and open grasslands | Saber-toothed cat, short-necked giraffe, hunting hyena, African bear, aardvark, hippo, antelope, birds, elephants, etc. | Museum/site tours of excavation |
---
Gray 
The Gray Fossil Site is located in Gray, Tennessee, U.S.A. just outside of the Gray Fossil Museum, also known as, the East Tennessee State University and General Shale Brick Natural History Museum and Visitor Center, which was built thanks to the fossil discovery.
The site was discovered during attempted construction of a new highway through the locality in Spring of 2000. The Tennessee Department of Transportation quickly realized that an extensive bed of soft gray clay was unacceptable to place a road over as it would continue to settle with traffic and break the asphalt.
Several geologists visited the site on May 31st, 2000 and quickly discovered numerous fossil specimens in the exposed clay, many of which were the remains of tapirs. Excavations have been ongoing since and the extent of the site is unknown.
The numerous tapir specimens from the Gray Fossil Site gave rise to our Florida Museum Division of Vertebrate Paleontology "Tapir Challenge" where we collected 79 individuals from the Haile 7G locality, which is similar to the ancient environment of Gray, but younger (~1.9 – 2.2 million years ago). The Gray Fossil Site won the Tapir Challenge, as its total number of tapirs now exceeds 100, the largest such assemblage in the world.
Today, the site and museum are part of East Tennessee State University's (ETSU's) Center of Excellence in Paleontology and serve as a research center for students in the Geosciences and Biological Sciences.
More information:
Learn more about the discovery of the Gray Fossil Site [Book]: Moore, H. 2004. The Bone Hunters: The Discovery of Miocene Fossils in Gray, Tennessee. The University of Tennessee Press/Knoxville.
Learn more about fossil tapirs and geologic ages [Articles]:
Hulbert Jr., R. C., S. C. Wallace, W. E. Klippel, and P. W. Parmalee.  2009.  Cranial morphology and systematics of an extraordinary sample of the late Neogene dwarf tapir, Tapirus polkensis (Olsen).  Journal of Paleontology 83(2):238–262.
Hulbert Jr., R.C. 2010. A new early Pleistocene tapir (Mammalia: Perissodactyla) from Florida, with a review of Blancan tapirs from the state. Bulletin of the Florida Museum of Natural History 49(3): 67-126.
---
Langebaanweg
"The fossil site of Langebaanweg is located in the West Coast Fossil Park, approximately 150 km north of Cape Town (a 11/2 hour drive), and is world-renowned for its exceptionally well-preserved fossil faunal remains that date to the terminal Miocene/early Pliocene (circa 5.2 million years ago)."
"A national and international team of researchers are currently unraveling the fascinating and unique history of fossils from the West Coast Fossil Park and attempting to recreate the environment and climate of the west coast some 5 million years ago."
"At this time many animals that are now extinct, such as saber-toothed cats, short-necked giraffes, hunting hyenas, and African bears roamed the west coast which then had a more subtropical climate with lush, riverine forests and open grasslands."
The deeply buried fossil deposits were uncovered during phosphate mining in the Langebaanweg area. The mining started in 1943, initially at Baard's Quarry on Langeberg Farm, close to where the airforce training base is today. Here solid phosphate rock was mined for fertilizer and it is thought that many tons of fossils were crushed up along with the rock before scientists were made aware of their existence. The phosphates come from the Varswater Formation. In the early 1960's, the mining moved from Baard's Quarry to the nearby Varswater "C" and 'E' Quarries. Mining ceased altogether in 1993 when Samancor made a decision to close down their Chemfos operations at Langebaanweg as it was no longer economically viable.

— http://www.fossilpark.org.za/pages/background.html
More information:
West Coast Fossil Park
Fossil Pathologies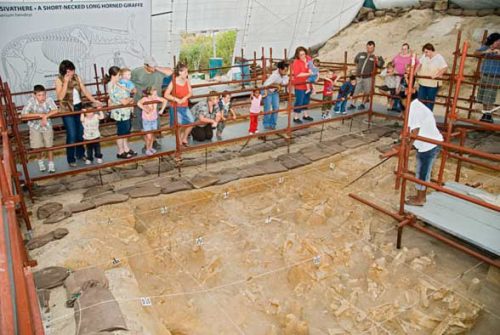 ---
Refresh yourself on the discovery of Montbrook here:  One Year Anniversary
Or visit the 'About Montbrook' page for an overview of the site and the faunal list – Currently over 100 different types of animals have been collected!