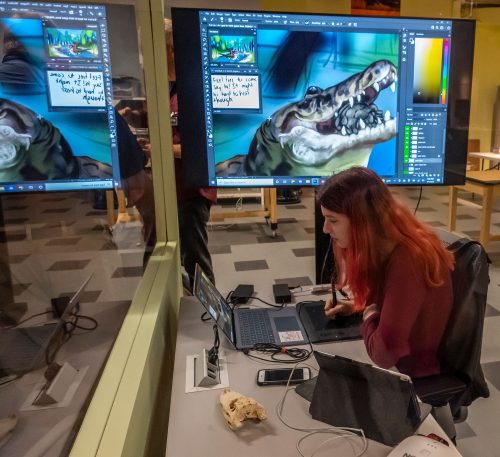 Paleontology has always been a topic of interest for me, but only now have I had the chance to combine the field with my art practice. I'm a digital illustrator who specializes in creatures and natural environments, so creating scientific paleoart seems obvious now, but until I was recently given an opportunity to illustrate an extinct alligator species, I hadn't thought about it at all. Regardless, I'm glad I was given the chance to bring this alligator to life.
I was also given the opportunity to work on this alligator illustration at the member's only preview event for the opening of the Fantastic Fossils exhibit at the Florida Museum of Natural History. The exhibit space was packed as I scribbled away, and I managed to get quite a bit of work done before the event ended, even with all the interruptions that I greatly enjoyed.
All kinds of people asked me about my work and what I was doing, and I even made some friends with a few kids. My art practice ended up inspiring them, and I think that was the most rewarding part of the whole process. It was so enjoyable, in fact, that I returned a second time, continuing the alligator during the exhibit's standard visiting hours. As of writing this, I have somewhat finished the body of the alligator, considering there are still several anatomy tweaks that need to be done, and soon I'll have moved on to the process of detailing the animal's environment. I'll see where this journey takes me, however long and winding, because–just like life–art is always a work in progress.