Batrachosauroides dissimulans
Quick Facts
Common Name: none
An extinct giant salamander with a possible length exceeding 3 feet (1 m).
Age Range
Scientific Name and Classification
Batrachosauroides dissimulans Taylor and Hesse, 1943

Source of Species Name: Taylor and Hesse (1943) neglected to provide an etymology for their species name. The name presumably derives from the Latin word 'dissimulare' meaning "concealed or hidden," and is most likely related to the hard, calcitic matrix that initially obscured many features of the holotype before undergoing extensive preparation and being etched with weak acid (Taylor and Hesse, 1943).
Classification: Amphibia, Lissamphibia, Batrachia, Caudata, Urodela, Salamandroidea, Batrachosauroididae
Alternate Scientific Names: none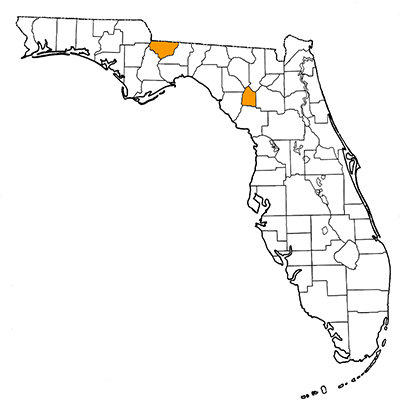 Overall Geographic Range
This species was originally described from the Fleming Formation, San Jacinto County, Texas (Taylor and Hesse, 1943). Specimens have so far only been found in the Texas Coastal Plain (including UF 2013; see Fig. 3) and northern Florida (Auffenberg, 1958; Estes, 1969), where it is the only amphibian described from the Willacoochee Creek Fauna (Bryant, 1991). However, other species of Batrachosauroides have been found in the early Eocene (Wasatchian) of North Dakota (Estes, 1969) and the late Oligocene (Orellan) of Wyoming (Setoguchi, 1978), expanding the age of the genus back to more than 50 million years ago and its range far away from coastal regions. Members of the family Batrachosauroididae have also been in the late Cretaceous of Canada as well as the Eocene of Germany (Estes, 1969), though the genus Batrachosauroides is known only from the Cenozoic of North America.
Florida Fossil Occurrences
Florida fossil sites with Batrachosauroides dissimulans:
Discussion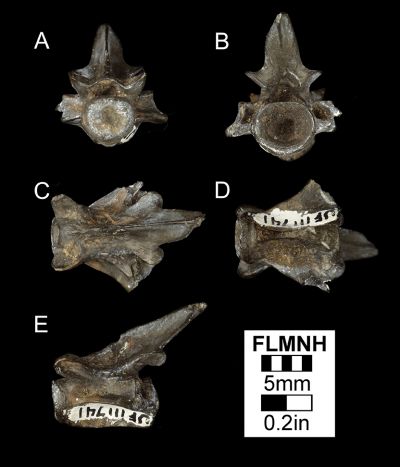 Batrachosauroides dissimulans is notable for being the only known Florida salamander that represents a family that is now entirely extinct (Hulbert, 2001). The Cenozoic record of salamanders and newts is generally poor compared to many other groups. Batrachosauroides dissimulans is represented by a small number of specimens throughout North America, for example, with Florida fossil sites each bearing only a single vertebra. The holotype was a skull housed at the Texas A&M University Museum. It was deformed by diagenesis but preserved nearly all cranial elements. However, the specimen has since been lost (Holman, 2006) and researchers must now rely on the original figures and descriptions by Taylor and Hesse (1943) for the comparison of cranial elements. While the holotype lacked any vertebral articulations, Auffenberg (1958) assigned a collection of vertebrae to the species on the basis that they were the only other salamander material found in the same beds as the holotype specimen. He proceeded to use the vertebrae and description of cranial elements to distinguish B. dissimulans from all other salamander families and erected the family Batrachosauroididae.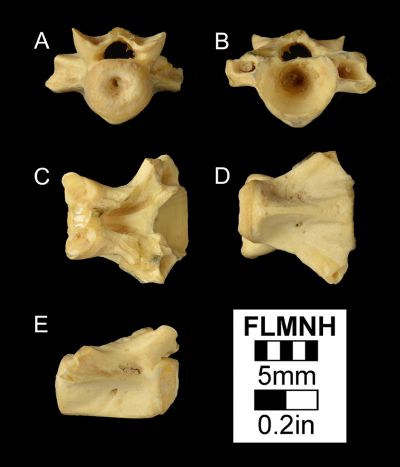 Batrachosauroides is remarkable for its size: it possesses large, elongate vertebrae that lack transverse processes and potentially has reduced limbs (Holman, 2006). Size alone is enough to easily distinguish vertebrae of this species from other fossil Florida salamanders. B. dissimulans may have reached a length of up to three feet in life, similar to the modern genus Amphiuma, which it also resembles cranially (Auffenberg, 1958). On this basis, it is thought that B. dissimulans may have also been primarily aquatic, swimming in a pattern of undulations, possibly like a snake, while possessing vestigial, functionless limbs similar to the genus Amphiuma. The similarities are bolstered by the finding that all fossils of B. dissimulans presently known hail from low-energy aquatic environments, such as those inhabited today by Amphiuma and Siren, which are two modern genera of salamanders.
Auffenberg (1958) distinguished Batrachosauroides from all other families of salamanders based on cranial characters, including its teeth. Holman (2006) noted that some of the cranial features of B. dissimulans are indicative of "an active, voracious predator," and the large maxillary bones in this species are indicative of neoteny, providing further support for the hypothesis that this species had reduced limbs like Amphiuma.
Sources
Original Author(s): Paul E. Morse
Original Completion Date: December 14, 2012
Editor(s) Name(s): Natali Valdes
Last Updated On: February 26, 2015
Auffenberg, W. 1958. A new family of Miocene salamanders from the Texas Coastal Plain. Quarterly Journal of the Florida Academy of Sciences 21(2):169-176.

Bryant, J. D. 1991. New Early Barstovian (middle Miocene) vertebrates from the Upper Torreya Formation, eastern Florida panhandle. Journal of Vertebrate Paleontology 11(4):472-289.

Estes, R. 1969. The Batrachosauroididae and Scapherpetontidae, Late Cretaceous and Early Cenozoic salamanders. Copeia 1969(2):225-234.

Holman, J. A. 2006. Fossil Salamanders of North America. Indiana University Press: Bloomington, IN. Pp. 156-159.

Hulbert, R. C., Jr. 2001. The Fossil Vertebrates of Florida. University Press of Florida: Gainesville, FL. Pg. 116.

Setoguchi, T. 1978. Paleontology and geology of the Badwater Creek area, central Wyoming: Part 16, the Cedar Ridge Local Fauna (late Oligocene). Bulletin of the Carnegie Museum of Natural History 9:1-161.

Taylor, E. H., and C. J. Hesse. 1943. A new salamander from the Upper Miocene beds of San Jacinto County, Texas. American Journal of Science 241(3):185-193.


This material is based upon work supported by the National Science Foundation under Grant Number CSBR 1203222, Jonathan Bloch, Principal Investigator. Any opinions, findings, and conclusions or recommendations expressed in this material are those of the author(s) and do not necessarily reflect the views of the National Science Foundation.

Copyright © Florida Museum of Natural History, University of Florida