Join the Museum for a fun-for-all-ages celebration of its newest featured exhibit, Permian Monsters: Life Before the Dinosaurs and explore the world before dinosaurs roamed the earth. Meet paleontologists and geologists who work every day to uncover the secrets these ancient remains reveal about past life on Earth.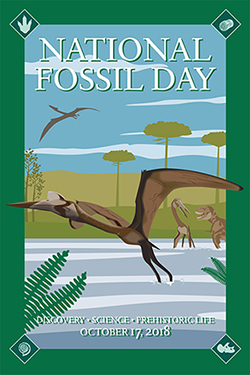 Enjoy this FREE, fun-for-all-ages event with hands-on activities, fossil displays and a dig pit. Bring your objects for identification and talk to members of Florida fossil clubs to learn what specimens can be found around the state as an early celebration of National Fossil Day!
Please note that while the opening celebration activities are free, there is an admission charge for the Permian Monsters exhibit.
Food Vendor: Mayflower Cellars
Florida Museum Micropaleontology
Gunther Lobisch (bringing Florida fossils)
Valerie First (bringing hominid fossils)
Permian Monsters: Life Before the Dinosaurs

Sept. 29, 2018-May 5, 2019
Step back in time 290 million years when distinctive creatures dominated life on land and sea, and learn about the greatest extinction the world has ever seen. This unique exhibition brings the past back to life with fossilized skeletons and full-sized replicas of the animals that ruled the world before the age of dinosaurs, in a time known as the Permian. Gain a glimpse into the period with paintings from award-winning paleo-artist Julius Csotonyi. See models of giant insects, bizarre-looking sharks and strange reptiles with mammal-like characteristics. Meet the top predator of the time, the giant saber-toothed gorgonopsid, and sift through interactive dig pits.
Stay connected for news on exhibit openings by following us on social media or subscribing to our newsletter below!