The Florida Museum offers two rental spaces for events. Rent one or both, depending on your needs. Your guests will be able to explore our permanent exhibits for free, and if you want to offer your guests an additional adventure, you can rent the Butterfly Rainforest and/or our featured exhibit.
Denny Gallery
Our primary rental space is perfect for sit-down dinners, parties with dancing, receptions and presentations. The room has a drop-down screen, LCD projector and sound system, and can seat up to 160 with a small dance or awards area, depending on exhibit and table configuration. Rental of Denny Gallery includes use of Galleria space.
Thompson Gallery
Featuring the Wall of Wings display, this area is an intimate space ideal for cocktail hours, small dinners and lectures. The room has an LCD projector and drop-down screen, and can seat 50 for a dinner or hold around 100 for a reception.
Optional Upgrades
Butterfly Rainforest exhibit
Make your event even more exciting by adding Butterfly Rainforest admission. You may even wish to hold your wedding ceremony in the Rainforest! Please note the Butterfly Rainforest exhibit may only be added to a gallery rental and cannot be rented on its own. The Butterfly Rainforest will be open for the first hour of the event and pricing includes up to 160 guests exploring (~80 for wedding ceremonies). Optimal rental dates are during observation of Daylight Saving Time.
Discovery Zone exhibit
Discover a world of wonder by opening the Beverly and Jon Thompson Discovery Zone for your guests! This interactive-based and technologically advanced exhibit sparks a sense of curiosity about the surrounding world and also introduces fundamental science and cultural heritage concepts. Subject to availability; open for the first hour of events only.
Featured Exhibit
The Museum also hosts featured exhibits throughout the year that may be added to your gallery rental for your guests to explore.
Current exhibit: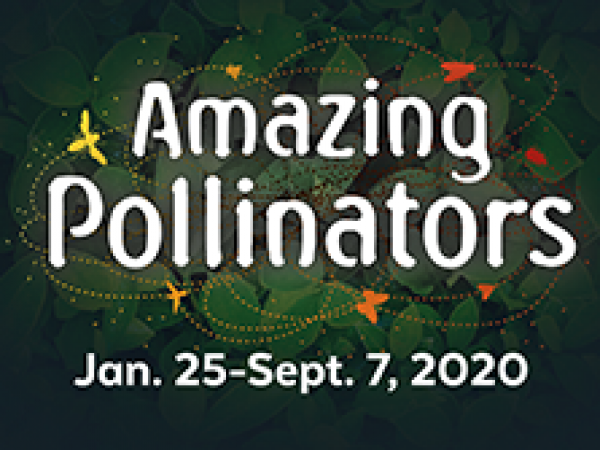 Amazing Pollinators (Jan. 25-Sept. 7, 2020) – $250
Take on the role of pollinators like bats, bees, beetles and butterflies in this immersive exhibit that highlights their benefits to Earth's ecosystems and our food supply. Visitors can become their favorite pollinators and embark on up to 48 short missions in environments like a desert, farm, rainforest, glow-in-the-dark nocturnal room and more! Visit the game station to play parlor games with a twist, such as mason bee mancala and invasive species shuffleboard. This is a fantastic exhibit for team-building activities.

Upcoming exhibit:
Do animals always need to be the strongest, the biggest, and the fastest to survive? Or can it sometimes be advantageous to be small or slow? In Survival of the Slowest, meet animals that have survived for millions of years despite being very slow, and learn about the puzzling sides of evolution and adaptation. Meet live animals, including a two-toed sloth, tarantula, tortoise, iguana, chameleon, horned frog, and more.
Request a Quote
Questions? Email rentals@flmnh.ufl.edu (preferred) or call 352-273-2045.