Becky Messcher
Student Research Assistant 
Email: rmessche@ufl.edu
Twitter: @bio__beck
I'm currently a senior undergraduate student and research assistant in the Kawahara lab at UF. My main duties lie in the molecular lab, where I perform DNA extractions, PCR, DNA quantification & qualification, etc. for moth and butterfly phylogenetic projects. In addition to these projects, I am completing an NSF REU project on conservation of silk genes within Lepidoptera. Although molecular biology is my main love in the lab, I enjoy helping out with the lab's wing voucher volunteers and engaging in outreach projects such as those with the Thompson Earth Systems Institute when opportunities arise.
Hailey Dansby
Student Research Assistant 
Email: hailey.dansby@ufl.edu 
I'm an undergraduate student studying English and am interested in the relationship between humans and the natural world, particularly insects. Currently I assist in research using meta-barcoding methods to detect cryptic species. I also assist with lab outreach and education.
Erin Jane Lapasaran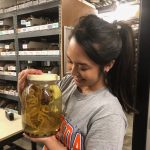 Digitization Project Assistant & Volunteer Coordinator
Email: elapasaran@ufl.edu
Twitter: @ejvlap
I am a senior undergraduate student pursuing a B.A. in Anthropology. After graduation, I hope to continue my work in natural history collections and their research applications. I currently work in digitizing pinned collections and recruiting/training volunteers for our department. I am also designing a new workflow to digitize fluid-based larval collections.