Nick Homziak, Ph.D.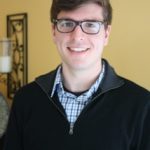 Graduated Spring 2022
Email: nhomziak@ufl.edu
Website
My research focuses on the taxonomy and systematics of moths in the family Erebinae. This subfamily is distributed globally and is most diverse in the tropics. Outside of the holarctic , these moths are poorly studied and few resources exist to identify them. Those resources that do are often cumbersome for non-experts to use. A recent phylogeny by Zahri et al. (2012) established strong support for relationships between the subfamilies of the Erebidae. Although this study is comprehensive, many of the relationships below the subfamily level are not well supported. I am exploring next generation sequencing techniques, specifically anchored hybrid enrichment to develop a robust tribal level phylogeny of this subfamily. Erebine moths possess some of the most sophisticated tympana (ears) within the lepidoptera, and many possess wing patterns hypothesized to startle predators when displayed. A well-supported phylogeny will facilitate future studies of the evolution and taxonomy of this interesting group of moths.
Previous Education
I graduated from the University of New Mexico in May of 2013 with a B.S. in Biology, a B.A. in Spanish, and an Economics minor. For my undergraduate honors thesis, I revised the erebine genus Heteranassa, which is native to the southwestern United States and northern Mexico. Although these moths are commonly encountered in desert habitats in this region, species-level identifications still require the use of vague original descriptions, which many specimens do not cleanly fit. The aim of this revision was to assess relationships and validity of the species in the genus, and provide improved means of identifying Heteranassa specimens. The findings of this study are currently being submitted for publication.
Publications
Homziak, N.T., and J. Homziak. 2006. Papilio demoleus (Lepidoptera: Papilionidae): A New Record for the United States, Commonwealth of Puerto Rico. The Florida Entomologist, 89, 485-488.
Homziak, J. and N. T. Homziak. 2010. Two potential food plants and notes on the habitat of the Haitian tailed blue, Pseudochrysops bornoi (Comstock and Huntington 1943) (Lycaenidae) in Guánica, Puerto Rico, USA. Caribbean Journal of Science. 46, 324-328.


Ryan St Laurent, Ph.D.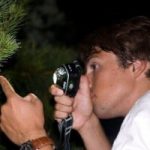 Graduated Spring 2021
Email: rstlaurent@flmnh.ufl.edu
ResearchGate
I work with an obscure family of moths called the sack-bearers (Mimallonidae). These moths have not been the focus of any systematic treatments since the 1920s, and so there is currently a great deal that we still need to learn about them. Mimallonids are only found in the Americas and have a strange larval behavior of constructing portable cases which they cart around much like a hermit crab carries its shell. I am broadly interested in studying the classification, taxonomy, and natural history of the sack-bearers. Currently, I am developing a comprehensive classification of the entire family based on phylogenomic data, something that has not been done until now. With a sound systematic understanding of the family to guide my way, I hope to study the life history of the odd caterpillars, their relationships with host plants, and determine what we can learn from these moths about the evolution of Lepidoptera as a whole.


David Plotkin, Ph.D.
Graduated Fall 2020
Email: dplotkin@ufl.edu
My research involves the systematics and morphology of emerald moths (Lepidoptera: Geometridae: Geometrinae). Although most emerald moths have green wings, the particular shade of green is highly variable within the subfamily, resulting in significant diversity in wing color and pattern, including a few instances of phenotypic plasticity. Geometrine wing color is believed to be highly influenced by the expression of a unique pigment called geoverdin; further study of geoverdin will shed light on the evolution of color in this remarkable group of moths.


Ana Paula Carvalho, Ph.D.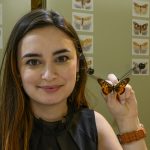 Graduated Fall 2020
Email: apsdecarvalho@gmail.com
Website
ResearchGate
I am interested in butterfly sexual dynamics, especially on how male strategies to prevent female re-mating, like mating plugs, can be a result of sexual conflict. I want to analyze the relationship between the morphology of these strategies and the butterfly phylogenetic history in order to understand how these traits evolved. I also want to investigate what factors (ecological, biological, environmental, behavioral) are related to the presence of the mating plugs, why some closely related species diverge on the presence and absence of such structures and how the strategies affect male and female reproductive success.
Education
I graduated from Universidade Federal de Santa Maria, Brazil, in January 2012 with a B.S. in Biology. I have a M.S. in Animal Biodiversity also from Universidade Federal de Santa Maria, Brazil (2014). My previous research was focused on inventories of butterflies from grassland areas, coastal habitats and urban parks in Southern Brazil. I also used Species Distribution Modeling to predict the possible distribution of the endangered and very rare butterfly Stichelia pelotensis Biezanko, O. Mielke & Wedderhoff, 1978. My main objective with this model was to find environmentally suitable places for this species in an aim to suggest areas for conservation.
Publications
Carvalho, A. P. S., Mota, L. L., Kawahara, A. Y. Intersexual 'arms race' and the evolution of the sphragis in Pteronymia butterflies. Insect Systematics and Biodiversity, 3(1): 1-13, 2019.
Carvalho, A. P. S., Orr, A. G., Kawahara, A. Y. A review of the occurrence and diversity of the sphragis in butterflies (Lepidoptera, Papilionoidea). ZooKeys, 694: 41-70, 2017.
St Laurent, R. A., Carvalho, A. P. S. Report of diurnal activity in Mimallonoidea with notes on the sexual behavior of Lacosoma chiridota Grote, 1864. The Journal of the Lepidopterists' Society, 71(1): 12-15, 2017.
St Laurent, R. A., Carvalho, A. P. S. A new genus of Andean Mimallonidae (Mimallonoidea), with the descriptions of four new species. The Journal of the Lepidopterists' Society, 71(2): 92-108, 2017.
Carvalho, A. P. S.; Piovesan, G.; Morais, A. B. B. Butterflies (Lepidoptera: Papilionoidea) of grassland areas in the Pampa biome, southern Brazil. Check List, 11(5): 1-6, 2015.
Carvalho, A. P. S.; Morais, A. B. B. Borboletas associadas a ambientes de restinga no extremo sul do Brasil (Lepidoptera: Papilionoidea). SHILAP. Revista de Lepidopterología, 43(171): 349-363, 2015.
Lemes, R.; Carvalho, A. P. S.; Ribeiro, T. C.; Morais, A. B. B. Borboletas de áreas verdes urbanas de Santa Maria, sul do Brasil (Lepidoptera: Papilionoidea). SHILAP. Revista de Lepidopterología, 43(169): 95-111, 2015.
Carvalho, A. P. S; Gottschalk, M. S.; Morais, A. B. B. Identificação e Catalogação de Borboletas (Lepidoptera: Hesperioidea e Papilionoidea) da Coleção Entomológica da Universidade Federal do Rio Grande. EntomoBrasilis (Vassouras), 6: 227-231, 2013.


Chandra Earl, Ph.D.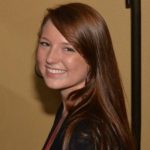 Graduated Summer 2020
Email: sunray1@ufl.edu

Harlan Gough, Ph.D.
Graduated Summer 2020
Email: goughh@ufl.edu

Chris Johns, Ph.D.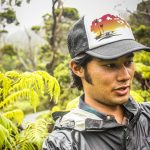 Graduated Fall 2017
Twitter
Instagram
Lary Reeves, Ph.D.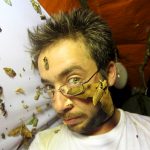 Graduated Fall 2017
Email: laryreeves@gmail.com
Instagram
Twitter
I have broad interest across a variety of fields including entomology, herpetology, community ecology and biodiversity conservation, that converge on my current research project: the development of molecular methods for identifying faunal communities and detecting the presence of species. All animals, through the actions of blood and tissue feeding invertebrates, the shedding of hair and skin cells, saliva, waste products, decomposition, etc. – deposit DNA into their environment. For a period of time, this DNA persists and can be sampled, ultimately leading to the identification of the species from which the DNA was derived. These methods can be used to rapidly profile entire vertebrate communities, as well as determine the presence of target species – like the Burmese python in the Everglades.