Amanda Markee
Molecular Lab Manager 
Twitter: @kkbugtime
Email: amarkee@floridamuseum.ufl.edu
I'm a full-time bug enthusiast interested in conservation genetics, population ecology, and evolution. Im currently managing lab personnel for the Kawahara Lab and helping with molecular projects pertaining to phylogenetics, community ecology, and biogeography. Outside of my research, I am interested in science outreach in the context of museums, diversity in STEM and open access to science.
Education
I graduated from New College of Florida with a B.A in Biology in the spring of 2019. My previous research involved the conservation of an imperiled South Florida butterfly, the Florida Duskywing skipper, using molecular markers as a genetic tool for assessing three known populations. Another research project I previously worked on involved a taxonomic revision of a rare genus of assassin fly, Microphontes (Londt, 1994), in which we described four new species from Namibia and South Africa.
Publications
Laurel Kaminsky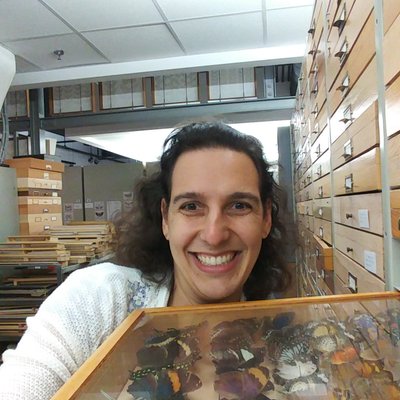 Lepidoptera Digitization Coordinator
Twitter: @LepLichenLaurel
Email: lkaminsky@floridamuseum.ufl.edu
I am the Digitization Coordinator at the McGuire Center for Lepidoptera and Biodiversity. My responsibilities involve every aspect of digitization including but not limited to: 1) Design and implement workflows for imaging, transcription and georeferencing; 2) Manage all data and images generated from digitization and upload onto online data portals; 3) Train and supervise all personnel and volunteers in best practices for digitization and natural history collection management.
In addition to Lepidoptera digitization, I maintain an active research interest in Florida lichens and fungi, working on papers and field oriented keys.  In my spare time I enjoy collecting fungi, biking, and making jewelry.