Amazing Pollinators is temporarily closed. For more information, visit our Reopening Procedures page.
Jan. 25-Sept. 7, 2020
$8 adults, ($7 Fla. residents & seniors), $5.50 ages 3-17, free to UF students & Museum members.
GET YOUR GAME ON! Take on the role of eight different pollinator groups like bats, bees, beetles and butterflies in this immersive exhibit. Enter the maze to embark on educational missions as you navigate habitats like a desert, farm, and rainforest. Level up as you learn about pollinators' benefits to earth's ecosystems, wildlife and our food supply. Visit the game station outside the maze to learn more about pollination while playing parlor games with a twist such as mason bee mancala or invasive species shuffleboard.
This is a bilingual exhibit available in English and Spanish. Esta es una exhibición bilingüe disponible en inglés y español.
Exhibit Highlights:
Navigate the maze: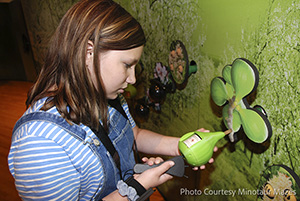 Take part in a unique, playable experience and navigate nine immersive environments like a rainforest, desert and farm in this fun, family-friendly exhibit.
Forty-eight maze missions give visitors the opportunity to step into the wings of bats, bees, butterflies and more in search of interactive flowers to pollinate!
After selecting a mission, players make their way through the maze to learn about their chosen pollinator and target plant species.
Note: Guests are welcome to explore the maze on their own but mission boards are needed to participate in any of the missions.

The maze missions are ideal for visitors ages 10 and older. Younger guests can be helped by their guardian.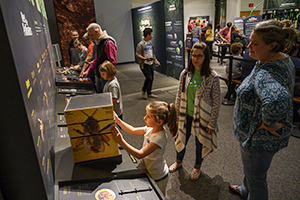 Meet the Pollinators:
Learn about eight different pollinator groups: bats, bees, beetles, birds, butterflies, flies, moths and wasps.
Interactive components allow guests to build their own powerful pollinator.
Pollination Game Parlor:
Play parlor games with a pollinator twist like mason bee mancala and invasive species shuffleboard.
Flight Zone:
This area lets guests take on a mini-mission in the maze and fly pollinators to their target flowers.
In addition to animals, wind and water also help with pollination.
Flowers attract pollinators by color and scent. Some flowers have hidden patterns and colors visible only to pollinators that can see in the ultraviolet spectrum.
More than 75% of all flowering plants are pollinated by animals.
In the U.S., pollination produces nearly $20 billion worth of products annually including an estimated one-third of all food and beverages.
Chocolate midges, flies smaller than a pin head, are the only creatures known to pollinate the cacao plant.
Hummingbirds are the most common avian pollinators.
There are more than 4,000 native bee species in the U.S.
More than 300 species of food-producing plants depend on bats for pollination, including the agave plant, from which tequila is made.
Bees don't only live in hives: Mason bees construct nests from mud while leafcutter bees create a shelter with leaves, resin and sand.
Hummingbird hearts beat 1,200 times a minute. They have to drink several times their weight in nectar every day in order to survive.
Butterflies taste with their feet and are found on every continent except Antarctica.
Some species of butterflies and moths mimic the color and patterns of distasteful or poisonous species for survival. Similarly, some flies masquerade as bees and wasps.
Acknowledgements
Amazing Pollinators was made with support from the Florida Museum, Minotaur Mazes, and sponsored in part by contributions from Visit Gainesville/Alachua County, University of Florida Student Government and the Florida Division of Cultural Affairs.