The Florida Museum of Natural History announced the 2021 winners of the Austin and Bullen Awards for student research and significant contributions to the development of museum collections and programs.
The Florida Museum's University Teaching Committee gave Ian Ausprey and Ana Paula dos Santos de Carvalho the 2021 Austin Award for their research on birds and butterflies, respectively. Lisa Duffy received the 2021 Bullen Award for her research on ancient Mayan cuisine and food processing techniques.
The Austin Award is named for Oliver L. Austin, a former Florida Museum ornithology curator, and recognizes students conducting research in the natural sciences, especially those studying organism, population and ecosystem studies by completing notable fieldwork and using Florida Museum collections.
The Bullen Award honors former Florida Museum archaeology curator Ripley P. Bullen and recognizes students conducting research on the anthropology of Florida or the Caribbean Basin, with preference given to studies conducted in the Florida Museum's programs and collections.
Funding for the awards is provided by the Louis C. and Jane Gapenski Endowed Fellowship.
2021 Austin Award: Ian Ausprey
Ausprey, an avian ecology doctoral candidate, researches bird populations in the Andes Mountains of northern Peru. He studies birds in the region's cloud forests to better understand how their diversity is impacted by changes in land use. His innovative research measured the amount of light various bird species encountered in their environment and found a correlation between eye size, light intensity and behavior.
His findings also suggested that eye size is a good predictor of birds' vulnerability to changes in their habitat. Larger-eyed birds that thrive in dim environments are more likely to struggle to adapt to the bright light associated with farms and pastures. Species with smaller eyes tend to adapt better to these changes, which offers an explanation for why land development causes certain species to disappear from these areas.
Scott Robinson, Ordway Professor of Ecosystem Conservation at the Florida Museum, chaired Ausprey's Ph.D. committee and nominated him for the award, citing his "embedded scientist" approach that involved local communities in his research.
"Right now we're losing birds at a rapid rate, especially in these higher elevations where a lot of the natural history of most species is unknown," Robinson said. "For Ian to gather such valuable data that offers insight into which birds are vulnerable and which aren't, and entirely in collaboration with local communities, is really extraordinary."
Ausprey's work was funded by the Katherine Ordway Chair of Ecosystem Conservation.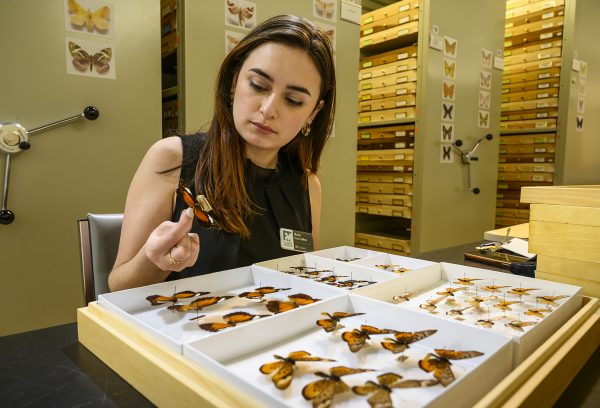 2021 Austin Award: Ana Paula dos Santos de Carvalho
Carvalho, a Lepidoptera doctoral candidate, researches sexual competition to learn whether conflict between male and female reproductive interests leads to greater diversity. As part of her dissertation, she studied brush-footed butterflies, a tribe in which many males deploy waxy plugs to block females from mating with other males.
Charting the evolution of these mating plugs, Carvalho did not find a strong link between their presence and the emergence of new species. Her findings suggest sexual conflict may not drive the evolution of new butterfly species, and other factors, such as habitat, may play a more prominent role.
Akito Kawahara, associate curator of the Florida Museum's McGuire Center for Lepidoptera and Biodiversity and University of Florida associate professor, chaired Carvalho's Ph.D. committee and nominated her for the award, praising the unique nature of her research.
"We don't know much about mating systems in other animals and the way these butterflies interact with each other is incredible," Kawahara said. "Ana's work provides insight into how animals evolve and also change how they interact with others of the same species. She's very deserving of the award."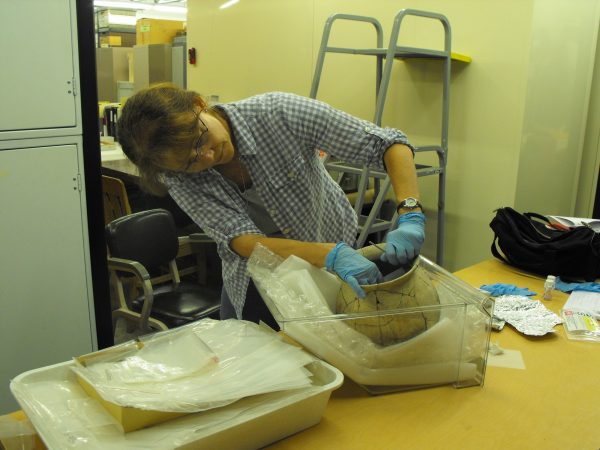 2021 Bullen Award: Lisa Duffy
Duffy, an anthropology doctoral candidate, researches the cultural, social and economic customs and practices of the Maya in relation to the processing and consumption of food, also known as foodways. To do so, she conducted residue analysis on pottery and ground stone artifacts in the museum's collection, and others collected from Maya sites in Belize and Guatemala, to determine which chemicals they had absorbed.
Identifying these chemicals and examining starch grains allowed Duffy to pinpoint which ingredients were used. She found evidence of chocolate, chili peppers, corn and tobacco, among others. Her multidisciplinary research was also able to reveal broader implications of Mayan food systems, including how ingredients were processed, identifying ritual versus household tools and determining which plants were available locally and which were imported.
Kitty Emery, Florida Museum curator of environmental archaeology and chair of Duffy's Ph.D. committee, nominated her for the award. She said Duffy's findings suggest all members of Mayan society had access to special foods, such as chocolate, and used a variety of vessels, not just the upper class as previously believed.
"The ancient Maya are often assumed to have had a 'royal diet' for the rich and a 'plebian diet' for the lower classes. Her findings give us a much richer image of their daily and ceremonial lives," Emery said. "Lisa has a real dedication to the time-consuming details of data analysis needed to reconstruct something as complicated as a recipe with all the steps of processing, cooking and presentation."
---
Sources: Scott Robinson, bmacfadd@flmnh.ufl.edu;
Akito Kawahara, kawahara@flmnh.ufl.edu;
Kitty F. Emery, kemery@flmnh.ufl.edu