North Captiva rises from the Gulf of Mexico between Cayo Costa and Captiva Islands. Its northern boundary is Captiva Pass and its southern boundary is Redfish Pass.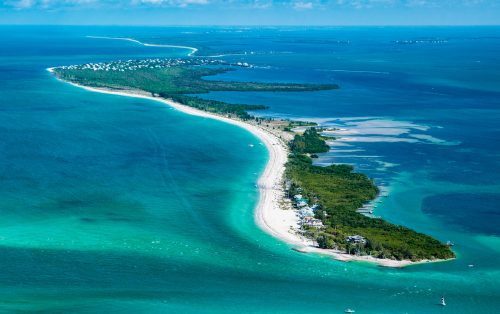 For residents and visitors, the island is a subtropical paradise accessible either by boat or by private airplane. The harbor provides visiting boaters with direct access to at least two restaurants, two small shops, an ice cream parlor, the Safety Harbor Club, the North Captiva Island Club, and golf carts.
Islanders have invested in conservation minded development, using battery-powered golf carts on crushed shell and sand paths shaded by native vegetation. Shell mounds provide elevation for rare, tropical hammock vegetation such as gumbo limbo, mastic trees, and strangler figs.
North Captiva was attached to Captiva Island until the 1921 hurricane blew out Redfish Pass. The new pass was 4,127 feet wide but by 1977 it had narrowed to 660 feet. North Captiva Island is geologically dynamic. At least three other passes have opened and closed during the past 1500 years including Packard Pass, Captiva Pass, and Charley Pass, the latter forming during Hurricane Charley in 2004. It refilled within five years. After Redfish Pass opened in 1921, the separated north part of Captiva Island was referred to variously as Upper Captiva and North Captiva.
One archaeological shell ridge extends east-west over 650 feet in length and 130 feet in width on the Pine Island Sound side. Over 16 feet in height, this site has been disturbed by trenching for underground utilities and by erosion. Another shell midden on North Captiva may have been associated with the east-west shell ridge occupation.
A long, connected barrier island resembling Captiva Island and North Captiva Island appeared on early maps. A 1757 map by Francisco María Celi referred to Boca Del Cautivo, Spanish for "entrance of the captive" (male gender). This marked a pass from the Gulf of Mexico to Pine Island Sound in the vicinity of today's Captiva Pass. A map published by the English in 1775 showed one long island situated between Boca Captivo and Boca Seco. These are today's Captiva Pass and Blind Pass. Neither "Captivo" nor "Captiva" exists in the Spanish language but Boca Seco in Spanish means dry mouth or opening, suggesting a shallow pass.
In 1833, the English-speaking American investors of Sanibel Island named the northern island "Captive" with an "e" on the end. In 1837 John Lee Williams referred to an island, "Capativa," extending about seven miles down the coast. He wrote, "It was, with Sanybal, formerly occupied by a tribe of Muspa Indians." Historians question the accuracy of his statement as the name Muspa referred to a town at Cape Romano south of Marco Island. Confirmation for the Cape Romano location comes from reliable Spanish maps and the log of Juan Lopéz de Velasco, whose detailed descriptions accurately described geographic features apparent today. Nevertheless, it may be possible that native persons calling themselves descendants of Muspa were by the mid-1700s through 1835 working at Cuban fishing operations on North Captiva Island.
By the 1870s, a captain and several employees had established a permanent fishing village on North Captiva Island at what is today Safety Harbor, a sheltered cove on the bay side of the island. The U.S. Commission of Fish and Fisheries asked George Goode, an ichthyologist (fish scientist), to conduct a survey of the fisheries in the area. On North Captiva he found Captain Pierce and 30 fishermen, mostly Conchs (a term for people from Key West), Bahamians, and Americans. The North Captiva Island fishing station produced 660,000 pounds of salted mullet and 49,500 pounds of dried mullet roe that year. Their catch was shipped to Cuba where prices in the 1870s were four cents a pound for salted mullet and five cents a pound for the cured mullet roe.
By the late 1800s, tourists were beginning to arrive in the greater Charlotte Harbor region via railroad, which in 1886 came as far south as Punta Gorda. From there, vacationers continued by sailboat or steamer to the more remote destinations such as Captiva Island. The arrival of the railroad at Fort Myers in 1904 and at Gasparilla Island in 1905 entered into the record a number of tourist brochures and travel ads telling tall tales about a mythical pirate.
In 1903 an article in Florida Magazine reported, "We found on a tiny crescent key, a little village of palm thatch shacks. This proved a 'fish ranch,' and half a hundred Spaniards, men, women, and children, only 2 or 3 of whom spoke any English, constituted the inhabitants of the hamlet; the captain of the ranch assured us that the island had been used for its present purpose for 90 years past, beginning far back."
Homesteading on upper Captiva Island was sparse before 1900. In 1911 the Blind Pass ferry from Sanibel Island to Captiva Island began. A bridge was built in 1918. The far north end of upper Captiva Island had two homesteaders. Judge Powell, whose brother had shot (but not killed) Lincoln's Secretary of State William H. Seward and who was a conspirator in the larger plot to assassinate Lincoln, homesteaded land adjacent to the government reservation at Captiva Pass. A homestead claim of the Bain brothers was located next to it.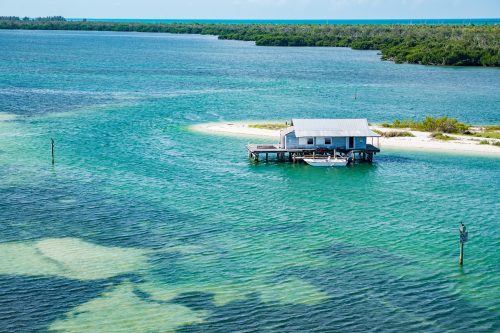 In the early 1900s an ice house was built on a sandbar near Safety Harbor, raised up on pilings. Ice houses were made possible by the advent of ice factories powered by electricity. In 1891, an ice factory had been built in Punta Gorda near the southernmost terminus of the Florida Southern Railway line. This combination of ice and transportation changed the way commercial fishermen conducted business. They no longer had to salt-preserve fish; they could ship fresh fish on ice. The ice house was listed on the National Register of Historic Places in 1989.
Fishermen working for the fish companies were offered housing for themselves and their families in fish houses (small buildings on stilts over the water) associated with the ice houses. Some fishermen just set up camp near the fish houses. Punta Gorda Fish Company captains owned their boats and furnished their own fuel. Captain J.T. Rose made his rounds delivering 300-pound blocks of ice from the ice factory dock at Punta Gorda to his company's ice houses. He would also deliver ice and supplies to the fishermen as he picked up their fish for delivery to the ice house every other day. At the ice houses the freshly caught mullet, trout, pompano, and bottom fish were weighed and separated. In exchange, the captain received a receipt known as a "fish ticket" for the fish caught. The money due the fishermen was divided equally among them with the captain receiving a full share plus one third of each man's share. At the train station dock in Punta Gorda, the fish were packed aboard trains and shipped to northern destinations.
Robert Edic recorded the memories of Bill Hunter, who fished around North Captiva in the 1930s: "I probably caught the first redfish ever caught out of Redfish Pass… I caught as high as 1,800 to 2,000 pounds a day out of that pass. May, June, and July was all I fished there." Other seafood was plentiful and he remarked how he never ate redfish, cobia, or other big game fish. He said he could get all the clams he wanted, right in back of his house. He just stepped down barefooted. When scallops were plentiful, he could make twelve or fifteen dollars a day in the 1930s collecting scallops at a dollar a bushel. He said Captiva Pass was the best place to get them because there were more scallops there than anywhere else.
During the Second World War, the barrier islands were unoccupied as fighter pilots conducted aerial gunnery target practice over them. In the 1960s, Florida native Phil Kinsey and his wife Roberta purchased a large tract of land on North Captiva Island, subdividing lots. They sold 150 lots; many for $25 down and $25 a month.
In the 1970s, when North Captiva Island faced dredge-and-fill development of the kind that threatened the ecological health of the island, the State of Florida acquired over 350 acres covering nearly half the island. Protected portions of the island are today part of the Florida State Park System and are managed through Cayo Costa State Park.
---
This article was taken from the Friends of the Randell Research Center Newsletter Vol 14, No. 4. December 2015.