Mason Island is a mangrove island located in the eastern part of Pine Island Sound about five miles northwest of St. James City. It is state-protected and managed by the Florida Department of Environmental Protection, and is not open to the public.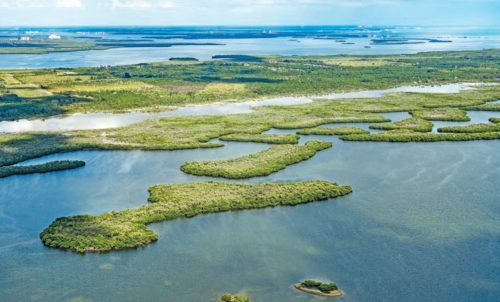 Mason Island is about one mile long from north to south. It is about one-half mile wide at its widest point. It has two parts connected by a thin corridor of mangroves running north-south. The northern part of the island is a small, circular mangrove key estimated to be about 700 feet in diameter. The southern part is a trapezoidal shape about 1320 feet long (north-south) by 1200 feet wide (eastwest) tapering to about 500 feet wide at its southernmost end.
Mason Island has a very old shell midden ridge nearly two acres in area, described by one archeologist as extremely large compared to other shell midden ridges in the greater Charlotte Harbor region. The ridge is vegetated by tropical gumbo limbo, papaya, buttonwood, strangler fig, and indigo berry.
Mason Island has suffered more vandalism than any other site in the Pine Island Sound. State law enforcement has been required. In recent years, perpetrators were apprehended and prosecuted for illegal shell mining. Damaged areas were cleaned and the vertical walls profiled, measured, photographed, and mapped, and pits were refilled in specific ways to alert future archaeologists that certain parts had been disturbed.
Archaeology of Mason Island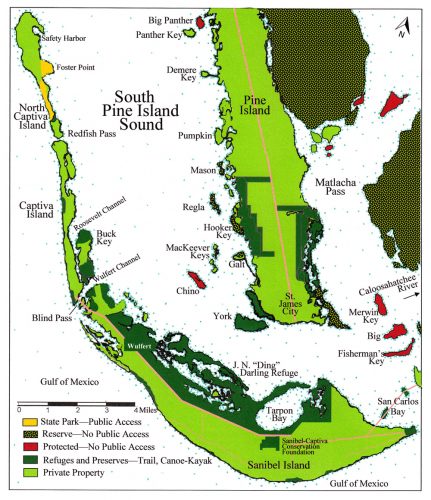 The earliest radiocarbon date from Mason Island falls in a range between 380 and 230 B.C. on a shell from a disturbed portion of a ridge. During this time, Mason Islanders would have been contemporaneous with people living on Josslyn Island, where more than seven feet of shell midden were deposited, and with people on Sanibel Island, Useppa Island, Cabbage Key, and Burgess Island. Other sites in northern Charlotte Harbor were also occupied during those decades. Sea level was about two feet lower than present sea level, according to geologic evidence from Sanibel Island. A lack of occupational data from 230 B.C. through A.D. 620 on Mason Island prevents inferences for that duration but it does not mean it was not continuously occupied, just that no formal archaeological studies on undisturbed matrix have been completed yet.
Another human occupation of Mason Island may have occurred between A.D. 620 and 1110, based on radiocarbon date ranges taken in a profile sample of the shell midden mound in a different area of the island. The initial evidence from Mason Island suggests that the human occupants engaged in short-term fish and shellish collection whereby processing activity occurred on Mason Island's mounded ridge of shells; however, the structure of the deposits does not indicate intentional, long term habitation as if it had been a central village site, such as Josslyn Island or Demere Key. The Mason Island site also may have been associated with a collecting station on a nearby island such as Regla Island, and could have possibly been associated with a prehistoric burial site in the vicinity.
Historic Era on Mason Island
According to archaeologists, a twentieth-century settler's occupation was once centrally located along the aboriginal shell ridge, with some historic-era habitation debris such as glass fragments and rusty nails partially visible on the surface. A 1944 aerial photograph shows two houses or shacks, a dock and a boat, and possible net spreads. This occupation appeared on aerial photos through at least 1958, but is not visible today.
---
This article was taken from the Friends of the Randell Research Center Newsletter Vol 18, No. 3. September 2019.