Buck Key is a former barrier island, now isolated from the Gulf of Mexico by the southern part of Captiva Island. The two islands are separated by Roosevelt Channel. Its topography consists of beach ridges, flat, open sunny areas in the center of the island, and lowland mangrove forests at its edges.
Three archaeological sites exceed ten feet in elevation. Its tropical hardwood hammocks include rare, endangered, and threatened species of plants and animals growing far more lushly than they would in other environments, including the tropical habitats of the Florida Keys.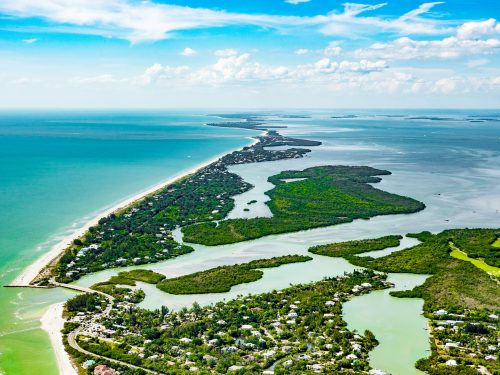 Geologists describe Buck Key as a "relict emergent barrier island," where relict means surviving from an earlier period. The northern part of Buck Key has the typical characteristics of a barrier-island washover fan while the southern end has apparent finger ridges, also known as storm ridges. According to geologists, the Buck Key land formation accumulated mainly between ca. A.D. 440 and 1010.
Three habitation sites show evidence of discrete, functional areas that could have been a Calusa village, including a living area, a possible ceremonial area, and an activity area for tool making. The native people left evidence of post hole locations, recognized from differences in color, texture, and constituents of the soil compared with the surrounding soil. They also left evidence of cooking activities with burned shell, ash, and animal bone, along with sand-tempered plain and Glades Tooled potsherds. These occupational deposits were eroded and covered with what appeared to be storm-derived shell. One activity area showed evidence of shell tool production in various stages. A radiocarbon date for that area yielded a range between A.D. 610 and 845, a time when a similar shell tool-manufacturing site is known on Useppa Island. Animal bone artifacts were also found, some related to fishing. Comparing these samples to other pieces of worked bone from sites in Pine Island Sound helped archaeologists develop a classification system for bone artifacts in fishing cultures.
The archaeobotanical finds at Buck Key revealed a great deal of variety for such a small island, with at least five plant communities represented. Remains of edible fruits of sea grapes indicate a coastal strand habitat. Charred twigs of red, black, and white mangrove trees, along with buttonwood, indicate that a mangrove zone was visited by island inhabitants. Tropical hardwood hammocks are represented by mastic trees. Some cultures use mastic sap for glue, and its ripe fruits are prized for their flavor. Myrsine was also recovered. Miccosukee and Creek Indians blend it with tobacco, though its use by Calusa people is uncertain. Transition area plants, including nicker bean, were represented, as were upland pineland habitats.
Buck Key's occupation between A.D. 660 and 1430 means that people may have traded with, visited with, or made decisions about their homeland along with people living at the same time on Pine Island, Josslyn Island, Burgess Island, Mason Island, Useppa Island, Demere Key, and Galt Island. The burial ground at Buck Key was looted for many years by local residents in the Fort Myers area. Dozens if not hundreds of human remains were removed during the twentieth century. A small, undisturbed portion was investigated by archaeologists, revealing that intact burials had been mindfully placed in small, diffuse groups on a sand ridge, then covered with sand between A.D. 1000 and 1160. The Buck Key burial site is now under protection of Florida Statute 872.02, which prohibits disturbance of unmarked graves. All Buck Key sites, whether disturbed or undisturbed, are under federal and state protection.
The Seminole Wars and the Civil War of the 1800s may have turned Buck Key into a hideout, or at least a hunting ground, as military vessels sailed, patrolled, and traded along routes in Pine Island Sound and at ports up the Peace, Myakka, and Caloosahatchee rivers. The George Ormsby family homesteaded the southern end of Buck Key in 1897, planting citrus and other tropical fruits. George's brother William homesteaded 67 adjoining acres. The Ormsbys were largely responsible for organizing the first Buck Key school. It opened in 1897 with Fannie Porter teaching, and attracted twelve students from Buck Key, Captiva Island, and Wulfert on Sanibel Island. It was the only public school available in the area until 1901. The family left the island after 1914.
Today residents and visitors can canoe the mangrove creeks and wade the nearby grassflats of Buck Key, knowing that most of the island has been protected, allowing native plants and animals to thrive.
---
This article was taken from the Friends of the Randell Research Center Newsletter Vol 15, No. 4. December 2016.