Cabbage Key lies one mile east of Cayo Costa's southern end. Mangroves and cabbage palms cover its 111 acres. Shell middens blanket the sandy elevations, which peak at 38 feet.
No formal archaeological work has confirmed occupation dates, but from surface collections donated by Taylor Stults, archaeologists believe the period 500 B.C. to A.D. 500 is represented. This was an era of rapid accumulation of shell middens on Useppa, Burgess, Josslyn, Pine Island, and Big Mound Key. The Stults collection also shows that the island was home to Spanish Cuban fisherfolk during the late 1700s and early 1800s.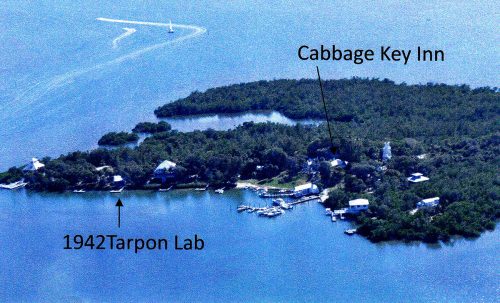 Cabbage Key appeared on charts in 1859 and 1899 as Guanal Key and Palmetto Island. The first owner was Otto Stellrich from 1899 to 1905. The island reverted to state ownership after he failed to pay the two-dollar annual tax. After 1905, various persons tended groves, raised hogs, and brewed moonshine there.
In 1936 Alan Rinehart, a producer for Paramount Pictures, purchased the island, building a seasonal residence that is today the Cabbage Key Inn and Restaurant. His wife Gratia, the great-granddaughter of Emory Houghton who founded Corning Glassworks in 1851, hosted her cousin Katherine Hepburn. The Houghton family members were publishers of school textbooks and testing supplies, as well as senators, ambassadors, woman suffragettes, family planning advocates, philanthropists, writers, and sculptors.
Alan's mother, author Mary Roberts Rinehart, occupied her own cottage near the main house. She wrote her first successful novel in 1908 entitled The Circular Staircase , combining a murder mystery, horror, and humor. A Broadway play based on one of her novels inspired the character Batman. She was credited with the phrase, "The Butler Did It," a Broadway lyric referring to her work. She was the first female war correspondent, the first female best-selling mystery writer, and the fi rst journalist to interview the Queen of England.
Beginning in 1938, the Rineharts provided a facility on Cabbage Key for a series of tarpon studies led by Charles Breder, Curator and Director of Fishes and Aquatic Biology at the American Museum of Natural History. The work was of interest to taxonomists, embryologists, ecologists, and comparative invertebrate morphologists. In 1967, Dr. Breder became the Director of Mote Marine Laboratory.
In 1944 Jan and Larry Stults purchased and re-named the island and operated "The Inn and Studio at Cabbage Key" until 1969. Taylor Stults, one of three children, recalls riding on the school boat to a one-room schoolhouse on Punta Blanco from 1944 to 1951. The Stults family renovated the former tarpon lab, naming it Studio Cottage. In 1969 the Beck family bought the island and established the Dollar Bill Bar, where visitors signed and attached their dollars to the walls. Robert and Phyllis Wells purchased the island in 1976. Today they still live on the island and operate the restaurant and inn. Patrons still sign and tack dollar bills on the walls of the restaurant and bar. Periodically the Wells peel them all off and donate the money to charities.
Rob quit his job as Dean of Admissions at High Point College in North Carolina to live on the island with Phyllis and their children. Son Ken confirms, "It was a wonderful place to grow up, taking a Boston Whaler to school every day." Ken obtained his degree in hospitality and restaurant management, and with his parents now oversees the Cabbage Key Inn & Restaurant. His brother Robert III has a degree in finance, and manages the Tarpon Lodge at Pineland. The Wells have been wonderful neighbors, supporting the Randell Research Center in numerous ways. Their assistance with this article is greatly appreciated.
Today, Cabbage Key is still charming and alive with history. Some visitors are well known: Tony Bennett, Walter Cronkite, Ed McMahon, Ted Koppel, John F. Kennedy Jr., Hulk Hogan (who ran aground in his boat), Rob Lowe, Julia Roberts, Kevin Kostner, and Jimmy Buffet, about whom the manager said, "He'd sit here all day and pick at his guitar." Owner Phyllis Wells observes, "Cabbage Key is sort of an attitude." Her husband Rob Wells, Jr., remarks, "Some people will come to Cabbage Key and say how much they love it, then make suggestions to improve it. But we have no intention of changing it."
---
This article was taken from the Friends of the Randell Research Center Newsletter Vol 12, No. 2. June 2013.