As part of our celebration of the RRC's 25th anniversary, we invited Bill Marquardt, RRC's co-founder and first director, to summarize some of the key events in its history.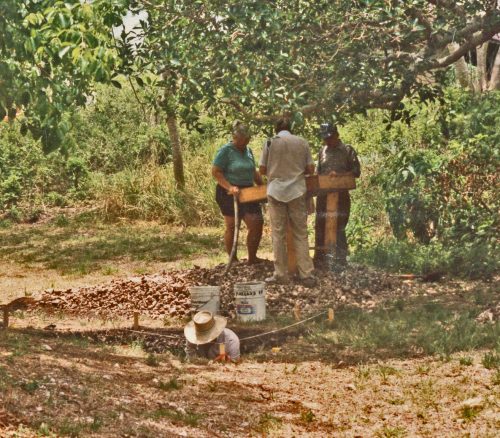 By asking a simple question, Patricia Randell stimulated the first archaeological excavations at the Pineland archaeological site, where she and her husband Donald and son Ricky lived. It was the fall of 1987. I had dropped by to visit with the Randells, who had purchased much of the massive Pineland archaeological site with the intention of protecting it until it could be properly investigated, and who had funded a mapping project on nearby Josslyn Island that I had done in 1983.
As we sat on the front porch sipping iced tea, Pat asked, "How old are these mounds? People ask me that all the time, and I feel like an idiot telling them I don't know."
To try and answer Pat's question, I returned with Karen Walker in May 1988. Karen's experience as a coastal archaeologist and zooarchaeologist meant she was prepared to direct excavations and organize an open-air field lab. A small crew of local volunteers worked under our direction to dig four excavation pits over a 12-day period. Based on that preliminary work, we obtained 10 radiocarbon dates showing that the site was occupied at least from AD 300 to 1400. It was a start.
Today, a generation later, we know a great deal more about the archaeology, history, and ecology of Pineland and about southwest Florida in general. A substantial step forward was taken in the early 1990s when the State of Florida funded a series of grants that allowed us to work more extensively at Pineland and to involve school children in classroom programs and field trips to the site. Between 30 and 40 volunteers assisted us on a daily basis in a wide range of tasks.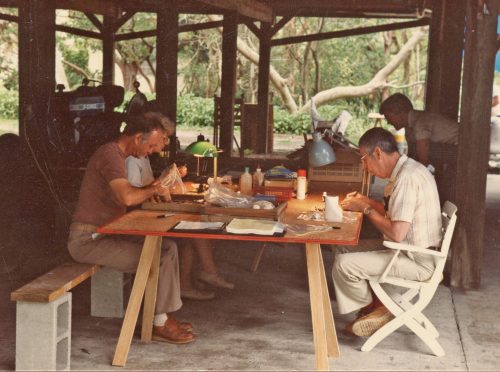 At the time, the country was gearing up to commemorate the Columbian Quincentenary – the 500th anniversary of Columbus' "discovery" of the New World in 1492. Our project was conceived to be a counterbalance by learning and teaching about the Native Americans encountered by Columbus and various other Europeans. It was known as "The Year of the Indian" project although, in fact, it succeeded so well that it extended over several years.
The project resulted in several published books, a video program, and many public talks. We collected oral histories with elderly fisherfolk and with previous Pineland landowners. We incorporated some of the new knowledge into a permanent exhibit at the Florida Museum of Natural History in Gainesville. These were things we expected to do when we sought the grant funding. What surprised us was the impact the project had on local children and adults.
We noticed that our visitors – young and old – weren't just learning about the Native Americans who had lived at Pineland, they were also gaining an appreciation of the estuaries, the mangroves, the mudflats, and the intricate relationships between the plants, animals, and people that are still important today. Our visitors were hungry for such information and genuinely excited to learn. It finally occurred to us that many of our visitors – adults and kids alike, including many teachers – were newcomers to Southwest Florida. From the time that Don and Pat Randell had moved to Pineland in 1968 to the onset of our project, Lee County's population had tripled and the Randell's land acquisitions had helped preserve the unspoiled nature of Pineland.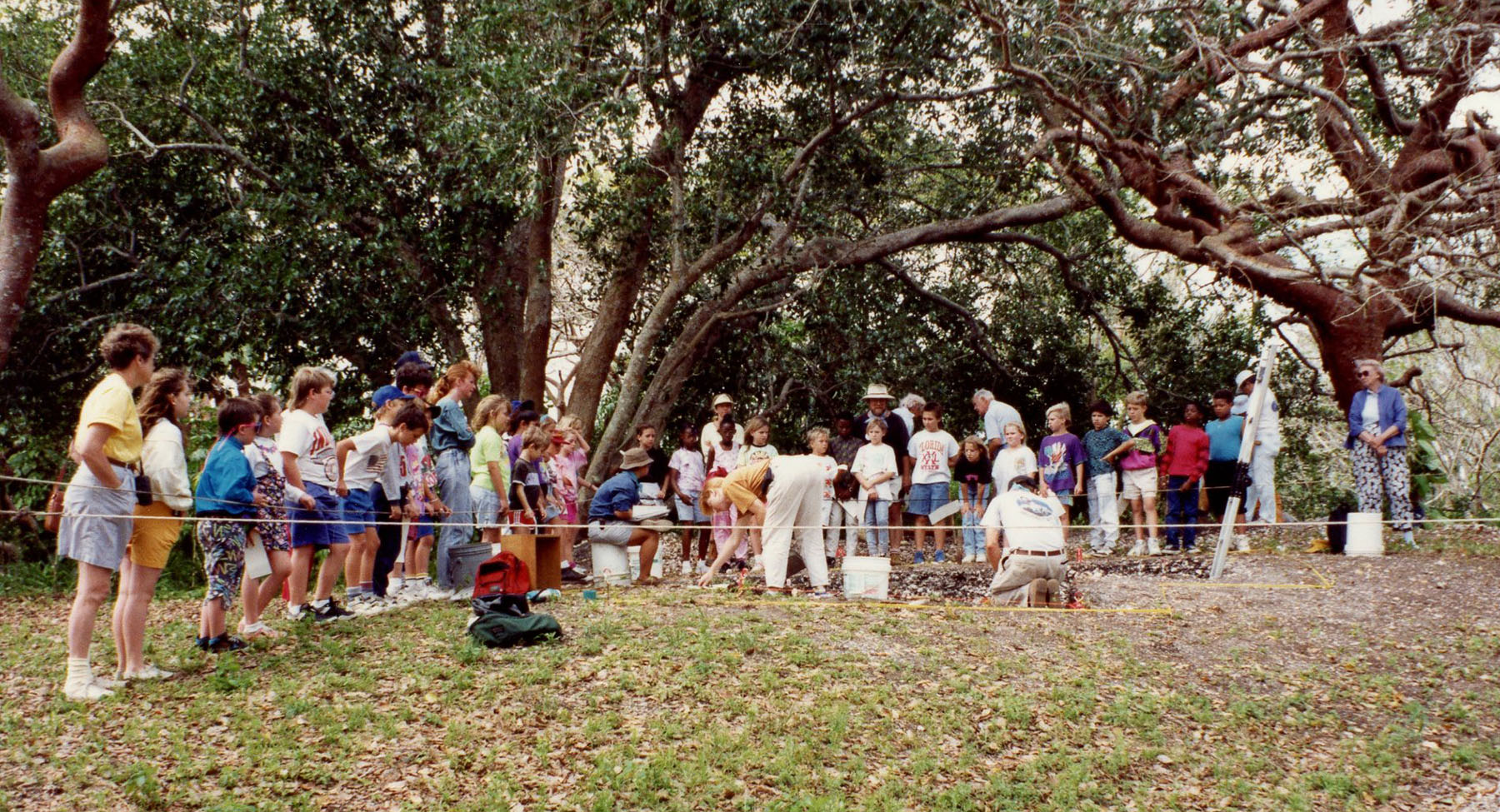 We weren't the only people who noticed the effects. Don and Pat quietly observed the excitement going on and made a significant decision. In 1992 they began a conversation with the University of Florida about donating 53 acres of the Pineland site so that a center for research and education could be established and operate into the future. On May 25, 1994, the Randells signed an agreement to donate their land: one third by June 30 of that year, then another third in 1995 and the final third by June 30, 1996.
Although the decision to gift the land was made in 1993 and the agreement was signed in 1994, the Randell Research Center did not become reality until July 1, 1996. That makes July 1, 2021 our 25th anniversary!
Various events are being planned to commemorate our anniversary during the coming months. Look for more information in future newsletters and on our web site. In the next newsletter, I'll describe the eventful period 1997 to 2008, the first decade of the RRC's existence. Finally, Part 3 will cover 2009-2021 with a look to the future.
More
---
This article was taken from the Friends of the Randell Research Center Newsletter Vol 20, No. 2. July 2021.