Lt. Colonel Donald (Don) H. Randell was born on November 23 in 1909, the year the United States recognized the centennial of Abraham Lincoln's birth by replacing the Indian Head one-cent coin with one bearing the likeness of the assassinated president.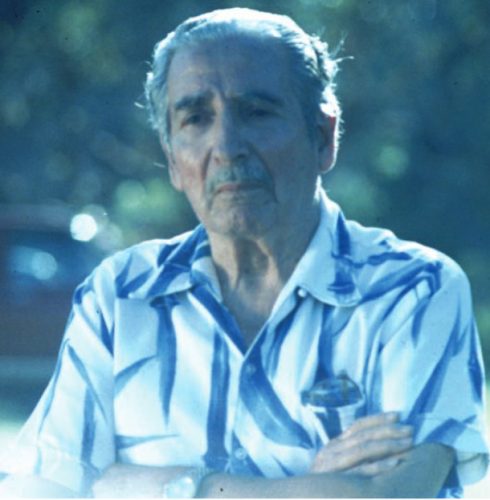 Don was born in Newark, New Jersey in a house built by his grandfather, the same home where his father had been born 23 years prior. He was an only child, one lovingly doted upon by aunts, great aunts, grandparents, and his mother and father alike.
In an autobiography prepared for his grandchildren when he was 80 years old, Don described his father, Frederick Lewis Randell, Jr., as "remarkable" with a "sunny disposition" and "stunningly handsome." His father found a career in the early era of the automobile industry, first through professional driving, then later by acquiring an interest in a repair garage in New York, necessitating a move from New Jersey for Don and his mother.
His mother, Elizabeth Louise Belsner, herself the youngest of eight children, sheltered and pampered Don as he blossomed during his elementary school days. He was chosen to attend a select junior high school based on an IQ test given to all grammar school students in Manhattan. Recalling this honor, Don wrote, "I believe that I already had a rather exaggerated opinion of myself due to having been the only child in my world of adults but the test results convinced me that I was indeed something special. This almost religious belief has tinctured my actions ever since although I know better. I still keep working at it."
On December 24, 1922, when Don was only 12 years old and she was but 32, his mother died suddenly of pneumonia. Don writes, my world "collapsed."
It was his Aunt Lillian May Randell (Aunt Lil) who, with her sister Edith, picked up the pieces for Don and convinced Don's father that the pre-teen boy would be better off with her in Newark where she maintained an apartment, providing care to her own mother and aunt. Finances were tight and Aunt Lil supplemented funds from Don's father with work as a substitute teacher and librarian while seeing to it, despite his reluctance, that Don attended George School, a co-ed prep school near Philadelphia.
It was also Aunt Lil who decided that a summer camp experience would well serve a preteen boy who, at a loss over the death of his mother, was in need of peers, discipline, and contact with the outdoors. Kamp Kiamesha, in northern New Jersey, which he attended for nine summers through his college years, helped shape Don's future. It was at Kiamesha that he nurtured an interest in snakes, particularly venomous snakes and their capture, which would startle and impress his acquaintances throughout his life. While the bravado of snake capture served to elevate him in reputation among the boys of his camp, he also concedes in his writing to having particularly enjoyed learning about butterflies and moths. He was instrumental in equipping the nature study hall with displays and teaching aids, and, with a small group of other boys, building a hide-out cabin in the woods unbeknownst to camp administrators. Later, the cabin was discovered and deemed so lovely it became a chapel.
His camp experiences instilled in Don a desire for a career that would get him outdoors so that when he graduated George School in 1928 and was accepted to Princeton University, class of 1932, he chose to major in geology. Don also chose to be one of 90 of his class of 650 to sign up for ROTC, noting in his memoir, that war seemed a "remote possibility." In his junior year, with the Depression worsening and some of his class- mates departing, Don changed his major to economic geology, deciding it would afford him more marketable skills. Still, he carefully chose a senior thesis that required a venture into a New Jersey mountain quarry. While there, he camped and collected copperheads and rattle- snakes, which he took to his college lodgings.
In 1932, just after graduation, Don took his first trip to Florida, inspired by a fifty-cent bet with a classmate who boasted that while Don could handle Jersey rattle- snakes, the Florida variety would prove unmanageable. The two young men stayed at the family home of friend Mary Brickell, on Biscayne Bay, at what was then the terminus of the Tamiami Trail. The young men purchased a cheap used boat and, with verve and luck, navigated to Bimini in a harrowing but exciting voyage that Don recalls in his memoir. He does not mention, however, whether or not he won the bet which took him to Florida, a place he summarized as "a paradise to me."
A graduation gift from his aunts and his father enabled Don to travel to Europe aboard the Red Star Line's Minnetonka steamer, and then to Paris by rail. He haunted "the museums," contemplated becoming a writer, and formed friendships that would last his lifetime. Between 1933 and 1940 Don garnered his first professional job in the mailroom of U.S. Trust, a Wall Street bank, advancing to the Investments Department while completing night classes at the American Institute of Banking. He also committed time to Army Reserve officers' meetings and Army Extension Courses, gaining a promotion to First Lieutenant, and completed Battery Officer training.
Then, on Columbus Day, October 12, 1940, Don met Patricia Crandon, a young woman from Miami, Florida working in the New York modeling business. He was smitten by her beauty and charm but especially by the fact that she was undeterred by, and calm around, his snakes. After consenting to being ordered to active military duty, Don married Pat in 1941 and moved with her to Washington, D.C. to work with military procurement. Several moves to military installations finally led to Pat's returning home to Coral Gables, Florida with their young son, Crandon. In August of 1943, Pat gave birth to their daughter, Deborah. Don's military service then took him into active duty in Europe in 1944, where he served in the 26th Infantry Division under the command of General George Patton. Don's duty in Europe included performing artillery reconnaissance missions by spotter plane, which earned him the Bronze Star.
Once back in the States, Don bought a boarding house in East Orange, New Jersey with a loan from Aunt Lil and the G.I. Veterans Mortgage Plan, allowing his family modest support as he sought employment. Before long, Don was working for the Home Insurance Company in New York City, where he analyzed markets and stocks, an emerging field. "The Future of Analysts' Societies," an article by Don published in 1951 in the Analysts Journal, a publication of The New York Society of Security Analysts, put forth his views on cooperation, training, data gathering, and exchange of opinion in the profession. His article "A Reappraisal of the World's Economy" published in 1959 by the same journal includes a section on the implications of national debt that foreshadows contemporary concerns.
As retirement approached, Florida beckoned and in 1968 Don, Pat, and son Ricky moved to Pineland. In these early years, Don served on the Board of the Pine Island Chamber of Commerce and Citizen's Advisory Committee of the Lee County Board of County Commissioners.
By 1974, Don and Pat were being recognized for their roles in the Pineland community, and were interviewed by Randy Wayne White for the Ft. Myers News Press. Randy was given a tour of what was then 20 acres that the Randells had acquired. As Don pointed out ancient pottery on the surface and the sand burial mound at the eastern edge of his lands, he stated to Randy "I don't dig in the mounds. I hope to have an expert do that someday."
When George Luer, a local archaeologist, investigated the remnants of the Calusa canal that bisected his property, Don was with him in the field and he soon took George to survey Josslyn Island, a 9-acre archaeological site Don had acquired. Dr. Michael Hansinger, a scholar of Florida's past and, like Don, a member of the Association of Former Intelligence Officers, joined George in recommending that Don seek a professional archaeological reconnaissance by the Florida Museum of Natural History.
In 1983, Don funded archaeological mapping of Josslyn by Bill Marquardt, and from then on Don and Pat became generous backers of archaeological studies, public outreach, and education. Unlike many others before him, Don had recognized the mounds as evidence of an extensive culture and stopped all digging in the mounds by "treasure hunters." In a 1994 interview, Don reflects that he was "appalled to see the extent of the damages done to priceless monuments of the past."
Don's insatiable intellect was invigorated as clues and evidence to the significance of the Pineland site were unearthed, and he and Pat appreciated seeing children from across Lee County visiting the site to learn about the archaeology and ecology of the area, particularly during the "Year of the Indian project" of 1990 and 1992.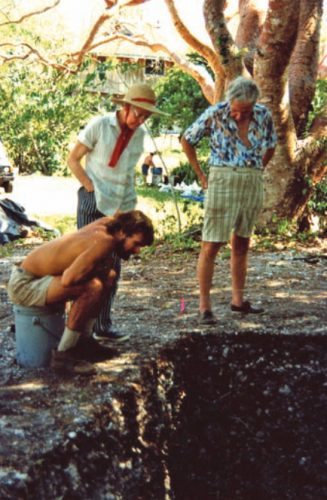 In 1994 Don and Pat deeded 56 of their 80 acres at Pineland to the University of Florida Foundation. At a gala dinner recognizing the gift, Dr. John Lombardi, then President of the university, stated, "Don and Pat Randell's donation of this valuable archaeological site will enrich the academic community, the university and the world." Dr. William Marquardt, who had led the archaeological work since 1983, expressed a more personal sentiment, "I'm deeply honored that you are turning over the land that you love."
When asked why they chose to make such a significant gift, Don stated, "We are giving this property because we are convinced that steps should be taken to preserve some of the past for posterity, and we want to see a place set aside where people can learn about what is being lost." On July 10, 1995, at 85 years old, Don passed away. At his request, his ashes were spread on the Pineland property.
At the beginning of his autobiography, Don wrote to his grandchildren that he had slept as a child under a hand-stitched "sampler" which read, "Our lives are albums written throughout with good or ill, with false or true. And when the Blessed Angels read the story of your years, God grant they read the good with smiles and blot the ill with tears." He then offers his hope that "God grant that when the time comes to make your own accounting to your descendants, there will be more smiles than tears." If the smiles of students on field trips, the smiles of tourists finding "real Florida," and the smiles of those of us privileged enough to work at the Randell Research Center are in any measure like those of Angels, Don's accounting is overflowing with "good," and more is yet to come.
---
This article was taken from the Friends of the Randell Research Center Newsletter Vol 10, No. 4. September 2011.