From January 9 through February 9, 2017, a team of archaeologists from the Florida Museum of Natural History and the University of Georgia excavated on Mound Key. Located in Estero Bay near Fort Myers Beach, Mound Key was the capital town of the vast Calusa kingdom at the time of European contact in the 1500s.
As reported in the June, 2016 RRC Newsletter, we are investigating how the Calusa were able to feed a large population and exert control over such a large area without being farmers who could produce, store, and distribute surplus foods.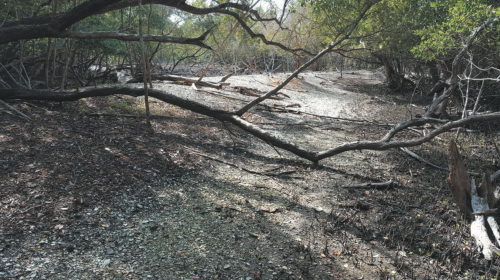 Part of the answer, we thought, was the large enclosed areas on either side of the mouth of Mound Key's great canal. These large features, called "water courts" by archaeologists since Frank Cushing first used the term in 1896, could have been fish traps, or perhaps short-term fish or shell- fish storage ponds. We placed trenches through the surrounding berms, and verified that they were purposely constructed, probably around A.D. 1200. On the shell ridge near the water courts, we found evidence of large-scale cooking of thousands of oysters. These so-called "earth ovens" are used by fisher-gatherer- hunter people throughout the world. A fire is built over a layer of old mollusk shells and allowed to burn down. Then embers from the fire are spread out and fresh mollusks are placed on top — in this case, oysters. Finally, green tree branches are spread on top of the oysters, which steam open in a matter of a few minutes, ready to eat.
Much more will be known once the detailed analysis has been done and the radiocarbon dates have come back from the laboratory, but it looks as though we were able to successfully investigate the constructed berms that surround the watercourts and get good information from the ridges above the court. The waterlogged deposits are being carefully water-screened using a series of nested screens, in order to capture organic materials of all sizes.
Two discoveries were not expected. First, there is an extensive oyster midden that lies beneath the courts and which is a couple of feet below current sea level. This means that people were living on Mound Key when sea level was much lower than today's. The second surprise was that waterlogged levels yielded un-charred seeds, wood, palm-fiber cordage (probably from Calusa fish nets), and even fish scales — extraordinary organic preservation. This is only the third known southwest Florida coastal site with preserved cordage.
Participants in the January project included Karen Walker, Nathan Lawres, and me from the Florida Museum, University of Florida, and Victor Thompson, Isabelle Holland Lulewicz, Brandon Ritchison, Matt Colvin, and Michiel Kappers from the University of Georgia.
Dr. Michael Savarese (Florida Gulf Coast University), a geologist specializing in conservation paleobiology, has also played an important role in the project. He and his students from FGCU have cored deposits both at Mound Key and the surrounding oyster reefs in Estero Bay, and have been able to provide a long-term perspective on geological history, environmental fluctuations, and human effects on the environment in Estero Bay and Pine Island Sound.
We are again indebted to Ted, Todd, and Tim McGee for graciously allowing access to their property and use of their dock. The research was sponsored by a collaborative research grant from the National Science Foundation and a grant from the National Geographic Society, with additional funding assistance from the John S. and James L. Knight Endowment for South Florida Archaeology, Florida Museum of Natural History. Participating institutions are the University of Florida, University of Georgia and Florida Gulf Coast University.