We know students participating in our Discovering the Calusa field trip to the Calusa Heritage Trail enjoy learning about archaeology, the estuary, and the Calusa Indians but discerning if our activities are effective in teaching specific concepts requires assessment.
This season we are surveying students about their engagement and learning ways we can improve. And, a note from a principal provided some evidence we are meeting our teaching goals.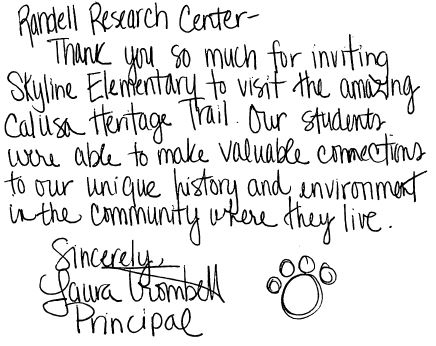 In December, over four days, all the Grade 4 students of Skyline Elementary School took part in the field trip with Principal Laura Trombetti participating one day. Soon after she sent a thank you note and wrote that students were able to make "connections" between history, environment, and their community.
Developing connections is vital to archaeological understandings and to understanding the interplay of humans and the environment through time. We are delighted Ms. Trombetti provided the positive feedback! Thank you to our members and donors who make these field trips possible through contributions to our endowment and our operating funds.