Dear Friends,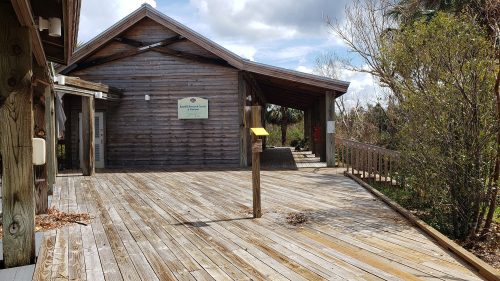 First, we want to assure everyone that all of our staff made it through the storm in good health. Some did sustain damage to their homes. We are still in the process of contacting year-round volunteers to see how they fared.
As you may be aware, Pine Island and southwest Florida, as a whole, were devastated by the winds and water that came with Hurricane Ian on September 28. The road to Pine Island via Matlacha was destroyed and power, potable water, and internet services were lost. Many people lost something; some lost everything.
People, homes, and businesses will be the first priority in the rebuilding efforts in southwest Florida. That's as it should be. At the same time, we are making plans to dig out and build back up when the time is right.
After the access road to Pine Island was re-established, we made some preliminary assessments of the Randell Research Center grounds. The visitor center (teaching deck, classroom, gift shop, command center, restrooms, and stairs to picnic area) appears to be in good shape. The pavilion was built to withstand 150 mph winds and there doesn't seem to have been any water intrusion issues inside the building. The trail itself has suffered lots of damaged and destroyed vegetation. As you might imagine, using heavy machinery in an archaeologically sensitive area needs to be done with finesse and good planning. Our maintenance area on the east side of the trail took a hit as well; the shed and pole barn suffered damage from high winds and downed trees.
As far as the Ruby Gill House goes, we are waiting for instructions and permission from UF Environmental Health and Safety before entering the house to do any clean up or salvage, but we know that water entered the house, and the floors are in very bad condition. The winds in the area were extreme so the structural integrity of the house itself needs to be assessed.
The Randell Research Center, including the Calusa Heritage Trail, is closed to all public access until further notice. Our website will be updated as things progress. Currently, RRC faculty and staff are pursuing different avenues for funding our clean-up efforts and opening back up to the public. We will keep you updated on our progress. Please also know that the Florida Museum of Natural History will be engaged in efforts to support the RRC and greater Pine Island communities.
We're including a few photographs of the grounds in their post-Ian state.
All the best,
Charlie Cobb, Director
Michelle LeFebvre, Assistant Director
Annisa Karim, Operations Manager
Donate
Gifts of support will assist with expenses related to restoration and recovery efforts to the RRC visitor center after Hurricane Ian.
Support the Center
Subscribe