We've had a lot of visitors this year, with regularly scheduled Wednesday tours well attended through the season. But beginning in March, kid's tours really bring the Calusa Heritage Trail to life.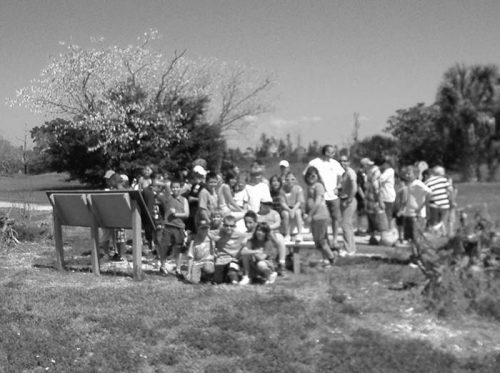 More than a dozen large school groups visited the site this spring, with an average group size of about thirty. They came from Gulf Elementary, Trafalgar Middle, Challenger Middle, and Tropic Isles Elementary schools. Sanibel fourth-graders were brought over by boat by the Sanibel-Captiva Conservation Foundation, and of course we always see our own island kids from Pine Island Elementary; they have lunches and water in hand, and they are always ready to learn.
Groups are given an overview of the site on the pavilion deck, where we talk about our organization, then discuss the prehistory of our area and the Pineland site. Students then have a brief lecture in our classroom on the Calusa, their material culture ("What do you guys find here?"), archaeology, and historic preservation. Then we walk the Trail, where we stop at each of the interpretive signs and talk about the different aspects of Calusa history and the archaeological significance of the Pineland Site. Along the way, we talk about the native plants and plentiful birds on the site.
It's very gratifying to hear how much the kids already know about the Calusa, and how much more they learn while they are with us. Some have had school visits, where we go to the schools to prepare them with some basic knowledge, but others are very lucky to have teachers who are passionate about teaching the history and heritage of our region. Some groups have some extra time to spend with us, and we offer hands-on archaeology activities such as an atlatl demonstration, or screening real midden material to look for artifacts.
Many other educational visitors are not public school students. We have seen a lot of home-school groups this year, as well as local civic organizations such as the Cape Coral Yacht Club, the Miata Club of Fort Myers, and kayak, garden, and nature clubs. A Florida Gulf Coast University Visual Anthropology class visited for the day; students toured the site and got a behind-the-scenes look at archaeological labwork. A life-long-learning group came to visit from St. Petersburg, and a group of Red Hat ladies toured the site and then enjoyed a nice lunch at Tarpon Lodge across the street.
Of course, all of these programs are way more than I can handle on my own, so a big thank-you to all the volunteers and docents who made these visits possible, especially Joanne Bielfelt, Jim Cherfoli, Bill Godek, Alice Walters, and most especially Diane Maher, who has done an astounding seven school tours so far this year, as well as worked in the office and in the bookstore every week. Also thanks to Mercy Runyon in the store, who was always willing to kick in the sales tax for kids' purchases!
We have several groups of kids visiting this summer for a day of "Archaeology Camp", so the fun's not over at the Trail.
---
This article was taken from the Friends of the Randell Research Center Newsletter Vol 7, No. 2. June 2008.