After a nearly four-month closure, we were excited to safely welcome our members and community back to the Florida Museum. With gratitude for their continued support, the Museum treated members to preview days before opening its doors to the general public. Guests enjoyed the Butterfly Rainforest and other perennial favorites like the Northwest Florida cave and Florida Fossils exhibit.
"Our security team is thrilled to have guests return to the museum," said Stephen Drury, the Florida Museum's lead security guard. "We invested a great deal of time and careful consideration for both guest and staff safety into designing our new policies and procedures. Securing the safety of our guests and the Museum's collections are the most important parts of our jobs in security."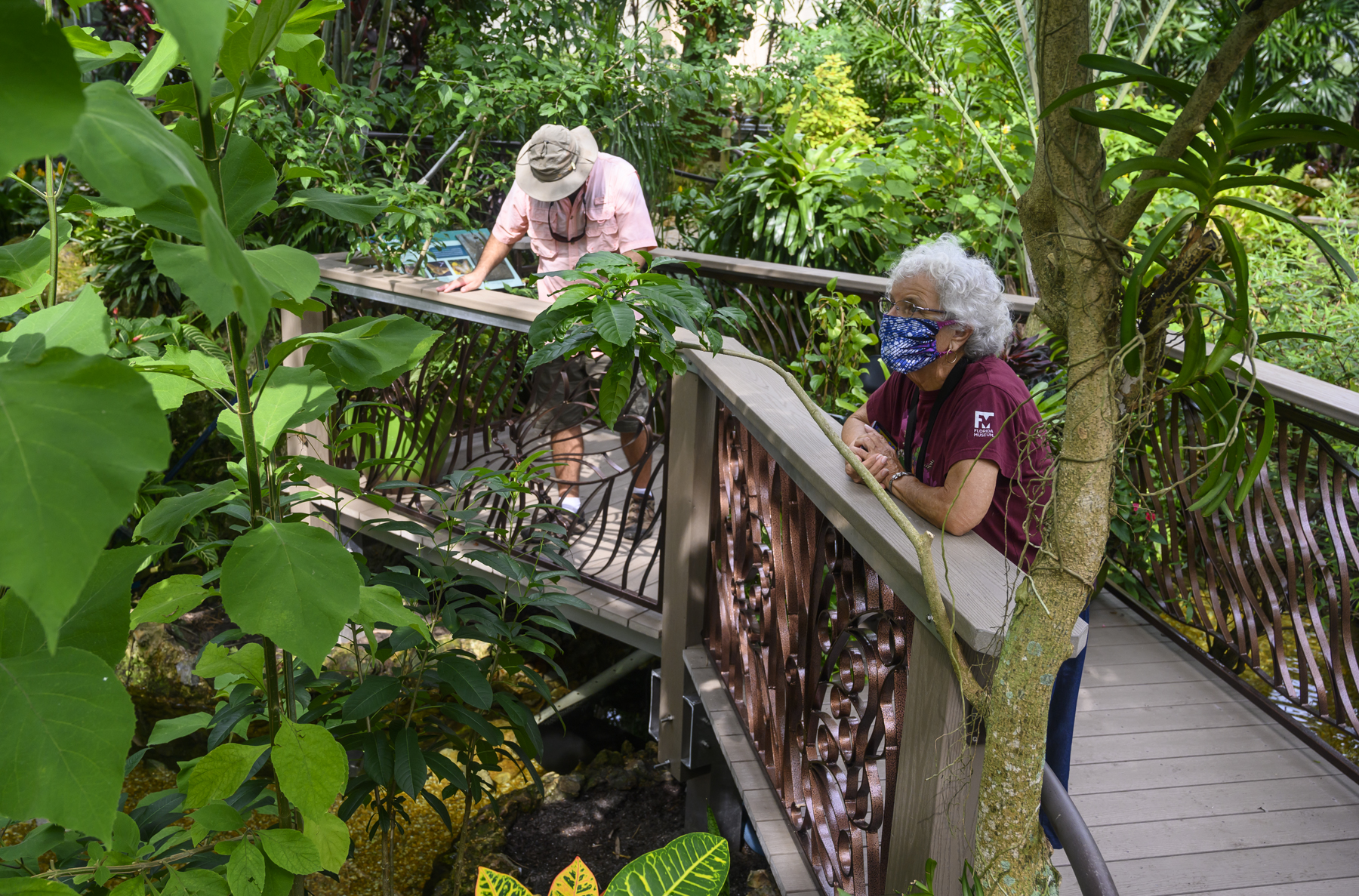 Longtime members and volunteers Jim and Sibet Grantham were among the first visitors during our special Members Only days. Jim Grantham has volunteered more than 700 hours since joining the museum in 2013 and has helped the museum in multiple roles, from pinning butterfly specimens to leading school tours as a docent. In 2019, he was a winner of the James Pope Cheney Volunteer of the Year Award.
The Granthams said their favorite parts were seeing familiar faces and our new additions to the Butterfly Rainforest, including recently introduced koi and new bridges. Sibet Grantham also said the Women of the Everglades exhibit was especially memorable. The exhibit was created in February to mark the centennial anniversary of women's suffrage by featuring pioneers of Florida conservation activism May Mann Jennings, Minnie Moore-Wilson and Marjory Stoneman Douglas.
"Walking through the entire museum space was a visually beautiful experience beyond the exhibits," Sibet Grantham added. "There was a sense of talented artists and scientists working together to create what we saw."
The Granthams also said the one-way walkway that has been added to improve guest safety still enabled them to follow their usual route through the museum.
"When we visit, we usually go straight to the Butterfly Rainforest and after we come out, we usually look at the cocoons and chrysalises, so those parts weren't any different," Jim Grantham said.
The museum is open seven days a week, from 10 a.m. to 5 p.m. Monday-Saturday and from 1 p.m. to 5 p.m. on Sunday. Visitor parking is free of charge for the summer and a rigorous cleaning protocol has been implemented.
The Granthams recommended visiting the Butterfly Rainforest exhibit in the morning to take advantage of cool temperatures and ample walkway space.
"Ask the staff in the rainforest questions because they have so much they can teach you," Jim Grantham added.
"After being gone so long, it was just so much like coming home after a long trip," he said.  "I look forward to returning soon, and then, someday, as a volunteer again, too."
---
Learn more about visiting our Women of the Everglades exhibit.
Learn more about our new safety procedures.