GAINESVILLE, Fla. — In honor of the centennial anniversary of women's suffrage, a new Florida Museum of Natural History exhibit highlights the Everglades and three women who laid the foundation for its conservation: May Mann Jennings, Minnie Moore-Willson and Marjory Stoneman Douglas.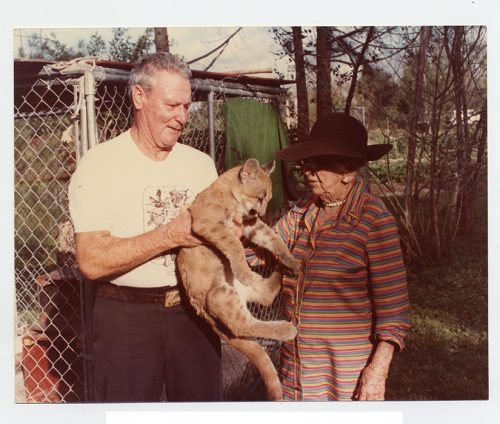 The "Women of the Everglades: Activism and Conservation" gallery exhibition features historical images of the women and details their accomplishments and the causes they championed with the help of real artifacts. Guests can learn how despite being inspired by different causes, Jennings, Moore-Willson and Douglas helped pioneer conservation at a time when women's policy-making role was limited.
Stephen Drury, Florida Museum security manager and a University of Florida museum studies graduate student, created the exhibit as part of his program. He said he selected this topic to highlight the influence that individual efforts can make.
"I think what is most impactful in this exhibit is what these women were able to achieve for Florida's environment during a time when their role in society was suppressed," Drury said. "Without their individual and collective efforts, the Everglades region may have been completely developed for commercial and agricultural purposes."
Jennings helped make the Everglades a tourist destination by spearheading the creation of the Royal Palm State Park near Homestead. The park and visitor center became the eastern entrance for Everglades National Park which was established in 1947. She also co-founded the Florida Forest Association and was a founding member of the Florida Audubon Society. Jennings Hall on the UF campus is named after her.
Moore-Willson secured legislation in 1913 to preserve 100,000 acres of the Everglades for the Seminole people. She immersed herself in their culture and published a book about their history and culture, "The Seminoles of Florida."
Douglas began advocating for Everglades conservation in the 1920s and founded the environmental group Friends of the Everglades in 1969. The organization is still active today to preserve the region's ecosystem. Her 1947 book "The Everglades: River of Grass" is considered her greatest work and was instrumental in changing public opinion of the region, according to the exhibit.
"It is my hope that people realize that regardless of the specific cause, the Everglades and nature as a whole need our stewardship," Drury said. "I hope people will be inspired to care about this unique ecosystem that is now critically threatened by climate change and sea level rise."
The exhibit features a display of Douglas' book, postcards from Royal Palm State Park and Seminole dolls from the Florida Museum South Florida Archaeology and Ethnography Collection.
It also includes photos from the P. K. Yonge Library of Florida History at UF's George A. Smathers Libraries, HistoryMiami Museum, University of Miami Libraries, University of Florida International Libraries, the State Library and Archives of Florida and the National Park Service.
For more information, visit www.floridamuseum.ufl.edu/exhibits/everglades or call 352-846-2000.
-30-
Writer: Nikhil Srinivasan, 352-273-2034, nsrinivasan@flmnh.ufl.edu
Source: Stephen Drury, 352-273-1820, sdrury@flmnh.ufl.edu
Media contact: Paul Ramey, APR, 352-273-2054, pramey@flmnh.ufl.edu