GAINESVILLE, Fla. — The Florida Museum of Natural History recently recognized Tedd Greenwald and Jim Grantham as winners of the 2019 James Pope Cheney Volunteer of the Year Award.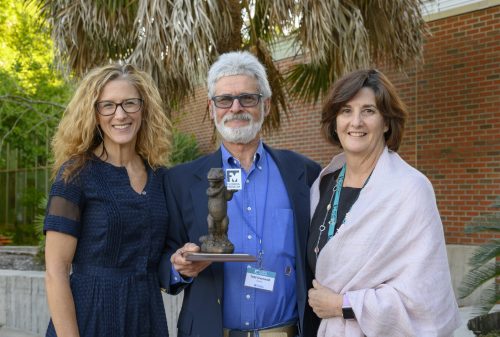 The award is presented annually to distinguished museum volunteers who show outstanding interest in museum collections, effort toward the educational advancement of children and enthusiastic support for the museum and volunteer communities.
Greenwald was recognized for his work with education and outreach while Grantham was recognized for his volunteering and contributions to digitizing the Lepidoptera collection.
Greenwald joined the museum in 2015 and has volunteered more than 600 hours in multiple roles. He's primarily served as a docent, leading field trips for children and adults, and has also helped in the collections. He also helps as a photographer for events like Collectors Day and ButterflyFest.
"I love all areas equally but if I had to pick one it would be working with the first- and second-grade students," Greenwald said. "I'm hoping I can get them to care about living things."
Greenwald also volunteers as an outreach docent and helps with programs outside the museum.
"Tedd is a hit with our guided tours and programs, he is always thinking of ways to enhance our programs and is famous for bringing objects and animals from his own yard to share with visitors and other docents," said Florida Museum school programs coordinator Dianne Behringer, who nominated Greenwald for the award. "My favorite was the 5-inch-long centipede!"
Grantham has volunteered more than 700 hours since joining the museum in 2013. He's helped the McGuire Center for Lepidoptera and Biodiversity in multiple roles including digitization of specimens and volunteering in the "Butterfly Rainforest" exhibit.
"I couldn't give up anything, helping grade schools plant butterfly plants in their gardens may be the most joyful but I love it all!" Grantham said.
Grantham has also displayed his collection of floaty pens at the museum's Collectors Day event for more than 30 years.
"Jim truly loves the museum and its research and educational missions," said Florida Museum Lepidoptera digitization coordinator Laurel Kaminsky, who nominated Grantham for the award. "Through imaging with LepNet, Jim's volunteer work has helped showcase the joy of nature and the ongoing scientific research in the McGuire Center."
The volunteer award is named in honor of James Pope Cheney, a Florida Museum docent for 14 years before his death in 2004.
"As an institution, the museum is truly lucky to have so many individuals who are willing to donate their time to so many facets of the museum," said Amy Hester, Florida Museum volunteer coordinator. "Tedd and Jim truly epitomize the spirit of the museum volunteer with their passion for inspiring people and their willingness to go above and beyond in all they do."
In 2018, more than 500 adult volunteers contributed over 33,000 hours to the museum, the equivalent of more than 15 full-time employees. The award winners and Leslie Klein, a volunteer who completed 50 years of volunteering at the museum, were recognized during a March 27 reception.
For more information on museum volunteer opportunities, email volunteer coordinator Amy Hester at ahester@flmnh.ufl.edu or visit www.floridamuseum.ufl.edu/volunteers.
-30-
Writer: Nikhil Srinivasan, 352-273-2034, nsrinivasan@flmnh.ufl.edu
Source: Amy Hester, 352-273-2055, ahester@flmnh.ufl.edu
Media contact: Paul Ramey, 352-273-2054, pramey@flmnh.ufl.edu