Mammal Collections

The undergraduate volunteers in the mammal collections learn a variety of skills as they assist with curation and daily operations of a growing research and teaching collection.  They help with preparing scientific specimens, labeling and organizing cataloged specimens, preparing loans, pest management, outreach, and other duties.
Due to the COVID pandemic, we have suspended volunteers in the collection at this time.  But potential volunteers should still feel free to contact Dr. Mathis and inquire about future volunteer opportunities!

---
Reed Lab
The undergraduate volunteers in the Reed Lab are top notch!  Proficient in many molecular genetics techniques, included DNA extraction, PCR, and gel electrophoresis, our undergraduates work hard to generate data for ongoing projects in the lab.  Many of our undergraduates have also been trained to take high-resolution images of mammal specimens and have gained skills working with software, like Photoshop and Lightroom.  In addition to the work they do in the lab, the undergraduates also attend a weekly lab seminar where we read and discuss peer-reviewed articles.  Below is more information about our current undergraduates.
Nerming Briones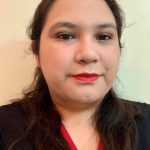 Nerming started working at Reed's Molecular Lab in 2019, under the mentorship of Dr. Aida Miro. She's been specifically involved in the louse project, analyzing mtDNA and building phylogenetic trees. After finishing her undergraduate in Anthropology, she is planning on applying to graduate school and continue being involved in research. She says she learned many skills that would help her in her future career, and it wouldn't have been possible without the amazing people at the Mammals department.
Luna Leone

Luna began as a volunteer undergraduate researcher in the Mammal range, where she assisted post-doctoral researcher, Dr. Aida Miro, with cataloging donated lice specimens. She also assisted graduate student Niyomi House with gathering morphological data on the louse specimens for her thesis. To do this, she helped CT scan lice at the UF Nanoscale Research Facility.
After she graduated from UF with a Bachelor of Science in zoology, Luna was hired to assist Dr. Miro with the genetic portion of the louse study. She has used several programs such as CIPRES, Geneious, and iTOL to generate Excel sheets to compare differences in the COI and Cytb mtDNA sequences of the lice specimens and discover which phylogenetic tree model best represents the data. Furthermore, she used the collection locations to visualize the prevalence of different lice clades around the globe. This information will provide more insight on the coevolution of lice with humans as they colonized different parts of the world and how lice may differ in response to that.