Directed by William Marquardt, Curator Emeritus, in 1989, The South Florida Archaeology and Ethnography Program began an ambitious archaeology/education project in cooperation with the Lee County School System, Nature Center of Lee County (now known as the Calusa Nature Center and Planetarium), and the Fort Myers Historical Museum (now known as the Southwest Florida History Museum).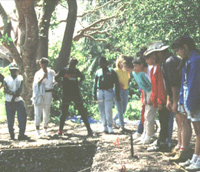 The project, called "The Year of the Indian," was funded mainly by grants from the Bureau of Historic Preservation, Florida Department of State. The project featured three extensive excavation seasons with over 25,000 hours of volunteer assistance; two local museum exhibits; a summer program for children; a multimedia slide show; a speaker series; hands-on classroom demonstrations and site visits for elementary school students; teacher training; curriculum development; and artifact replication research.
In 1992, the Project was awarded a National Endowment for the Humanities grant and another State of Florida grant to complete the analysis of excavated materials and produce four publications and a video program on the Calusa and their environment.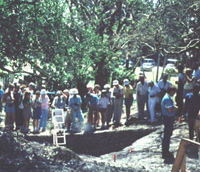 The first book, New Words, Old Songs, written by Charles Blanchard, is the story of Southwest Florida's native people, written for a popular audience. The second book, Fisherfolk of Charlotte Harbor, Florida, by oral historian Robert Edic, presents a human-scale explanation of southwest Florida's net-fishing tradition, told through interviews with senior fisherfolk. The third book, The Archaeology of Useppa Island, is a synthetic report on archaeological excavations as well as historical and oral historical research on Useppa Island. The fourth, a detailed compendium of archaeological and historical information about the Pineland Site Complex, entitled The Archaeology of Pineland: A Southwest Florida Coastal Site Complex, A.D. 50-1710, co-edited by William Marquardt and Karen Walker, will be published in 2012. The video, The Domain of the Calusa: Archaeology and Adventure in the Discovery of South Florida's Past, won the "Best Documentary" award at the eighth annual Film and Video Awards program of the Louis Wolfson II Media History Center. The Wolfson Center awards recognize excellence in film and television produced in and about Florida. "The Domain of the Calusa" is available in DVD format. Click here for ordering information for our books and videos.