William Marquardt
Curator Emeritus                                                                                                                                                       
Dr. Bill Marquardt has had a long research legacy with the Florida Museum as the Curator of South Florida Archaeology and Ethnography and Director of the Randell Research Center, a research and education facility located in Pineland, Florida. He received his Ph.D. from Washington University, St. Louis in 1974. He has done archaeological research in Florida, Georgia, South Carolina, Kentucky, Missouri, New Mexico, and Burgundy (France). At the Florida Museum, he curated the South Florida archaeological and ethnographic collections. Since 1983, he has directed the Southwest Florida Project, focused on the ancient domain of the Calusa Indians (present-day Charlotte, Lee, and Collier counties). He also curated of the permanent exhibit People of the Estuary: Six Thousand Years in South Florida in the Florida Museum's Hall of South Florida People and Environments.
Karen J. Walker
Past Collections Manager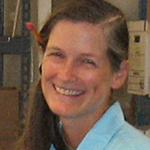 Dr. Karen J. Walker is an environmental archaeologist who received her Ph.D. from the University of Florida in 1992. She served as a faculty scientist and collection manager for South Florida Archaeology and Ethnography (SFAE) at the Florida Museum of Natural History. She was a co-founder (with W. Marquardt) of the Randell Research Center (RRC) at Pineland in the 1990s and recently served as its co-director (with Cynthia Bear). She undertook (late 1980s) and completed (1992) a major zooarchaeological study of the Charlotte Harbor Estuarine System and over the next three decades continued a focus on coastal Southwest Florida with a historical ecology approach. Her published articles cover diverse topics such as Calusa diet, ancient fishing technology, climate and sea-level fluctuations, storms, twentieth-century logging camps, and nineteenth/twentieth-century archaeology of Useppa Island. She has contributed significantly to the understanding of human-environment relationships through time at numerous sites but especially at the Pineland Site Complex and the Useppa Island and Mound Key sites. Her substantial collections and exhibits work also largely focused on SW Florida and the RRC but included significant improvements in the SFAE's ethnographic collection. Dr. Walker retired at the end of 2021.