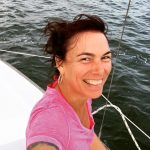 Traci Ardren
Traci is a professor of anthropology at the University of Miami.  Her research focuses on issues of identity and other forms of symbolic representation in the archaeological record, especially the ways in which differences are explained through gender. Current preoccupations include the role of cuisine in identity formation in the later periods of Prehispanic southern Florida, as well as the ways plants agitate humans. Traci co-directs the Matecumbe Chiefdom Project looking at the political organization and environmental adaptation of the Prehispanic occupants of the Florida Keys.  She has also published on the tree island of the Florida Everglades, and the coastal shell middens of Lemon Bay. She is currently writing a history of the Tequesta settlement and a study of Queen Antonia of the Calusa, one of the overlooked female translators of early Indigenous-European interaction.  Traci grew up in and around the Ringling Museum of Art and the many ways in which objects are allowed to convey our wants and needs is a lifelong fascination.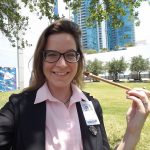 Sara Ayers-Rigsby
Sara specializes in cultural resources management and historic preservation. As the Director for the Florida Public Archaeology Network's Southeast/Southwest Regions, Ayers-Rigsby is responsible for designing educational outreach and programming for Florida's southernmost 9 counties which comprise half of the state's population. Prior to beginning her role as Southeast/Southwest Regional Director for the Florida Public Archaeology Network, she spent 10 years working as an archaeologist throughout the United States, with a regional focus on the archaeology of the southeast and Mid Atlantic. She earned her M.A. in Archaeology for Screen Media from the University of Bristol, UK, and her B.A. in Classical Archaeology from Trinity College, Dublin, Ireland. She is certified as a member of the Register of Professional Archaeologists (RPA). Her research interests include public outreach and archaeology, resiliency, archaeological compliance legislation, and industrial archaeology in Florida. She loves visiting state parks, historical sites, and house museums in south Florida and is always thrilled to talk to others about them.
Ann S. Cordell
Ann retired in 2017 as manager of the Ceramic Technology Laboratory at the FLMNH, UF, Gainesville, where she currently holds a courtesy research scientist appointment. She studies prehistoric and historic aboriginal pottery from Florida, the southeastern US, and the Caribbean, with a specialization in petrographic analysis. Her work in southwest Florida has refined and elaborated our substantive and chronological understanding of aboriginal pottery in this region.
Christian Davenport
Christian Davenport is the Historic Preservation Officer for Palm Beach County and Associate Graduate Faculty at Florida Atlantic University. Through his county position he strives to protect cultural resources by implementing the best planning, development and resilience practices to ensure they are preserved for future generations. His academic focus is on the historical ecology of wetland and coastal environments spanning the Kissimmee River Valley, Okeechobee Basin, Northern Everglades regions and coastal portions of the south Florida.  He accomplishes these diverse goals by employing remote sensing techniques ranging from photogrammetry, LiDAR, Terrestrial Laser Scanning, GPR, GIS and traditional excavations. His current research interests include exploring/establishing the relationship between prehistoric monumental constructions and the smaller tree island sites.
Natalie De La Torre Salas
Natalie A. De La Torre Salas is the public archaeology outreach coordinator for Florida Public Archaeology Network's Southwest region. She is certified as a member of the Register of Professional Archaeologists (RPA), a member of the Latin American and Caribbean Network of Women for Disaster Risk Reduction (LAC) and a member of Randell Research Center's Advisory Board. She earned her M.A. in Public Archaeology from University College London, UK, and her B.A. in Anthropology from University of Puerto Rico-Rio Piedras Campus, PR. Her research interests include disaster risk management of cultural heritage, public outreach, decolonial theory and digitization and dissemination of archaeological collections. One of her goals with FPAN is to develop programs and public outreach for Latinx communities in SWFL. She is also the founder and co-host of the podcast Ecos Patrimoniales which has become a one-of-a-kind online space for people from Latin America and the Spanish-speaking Caribbean to share stories about topics related to cultural heritage, archaeology and lessons learned for reducing disaster risk of cultural heritage and communities.
Megan Ennes
Dr. Megan Ennes is the Assistant Curator (Professor) of Museum Education in the Florida Museum of Natural History at the University of Florida. A former museum educator, her research focuses on the use of online learning in museums as well as how to support the professional development of museum educators. She also examines how museums can support the science interests and career aspirations of members from historically excluded groups.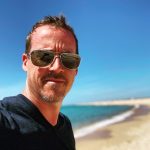 Scott Fitzpatrick
Dr. Scott M. Fitzpatrick is a Professor in the Department of Anthropology and Associate Director of the Museum of Natural and Cultural History at the University of Oregon. He is an archaeologist who specializes in the prehistory and historical ecology of island and coastal regions, particularly the Pacific and Caribbean. Much of his research has focused on prehistoric colonization events, seafaring strategies, adaptations to smaller islands, exchange systems, and human impacts on ancient environments. He has published several books and more than 140 journal articles and book chapters, much of it based on active field projects he has conducted in western Micronesia and the southern Caribbean. Dr. Fitzpatrick is the founder and co-editor of The Journal of Island and Coastal Archaeology (Routledge/Taylor & Francis), an Associate Editor for Archaeology in Oceania, and serves on the editorial boards for the Caribbean Journal of Science and Journal of Archaeological Science: Reports.

Nate Lawres
Nathan Lawres is Assistant Professor of Anthropology and Director of the Antonio J. Waring, Jr. Archaeological Laboratory at the University of West Georgia. He specializes in the study of fisher-gatherer-hunter societies, particularly those situated in aqueous landscapes. In his studies, he focuses on taking a community archaeology approach to engage more holistically with descendant communities, ensuring the work being down is meaningful to them as well as the scientific community. In a broad sense, he is interested in human-environment relations, particularly in how understandings of reality (i.e., ontologies) affect how people live within and interact with their lived world. He is also interested in the intersections of archaeological practice and planning and development, working with colleagues to evaluate ways to shift the priorities afforded to archaeological resources to increase their preservation for future generations.
Elise V. LeCompte
Elise is Registrar of the Anthropology Division of the Florida Museum. She has an M.A. in anthropology and chemistry and is a conservation technician. She participated in the 1992 excavation of waterlogged wood, cordage, and seeds from Old Mound at Pineland. She managed the Southwest Florida Project laboratory in Gainesville, receiving incoming artifacts and supervising the initial curation of the Pineland artifact collections. She worked with Bill Marquardt to re-organize all of the museum's South Florida collections, including conservation and rehousing of the Key Marco Collection. She participated in the NEH-sponsored Pineland collection rehabilitation and has in many ways supported our efforts to improve the Florida Ethnographic Collection.
Darcie A. MacMahon
Darcie is Associate Director of the Florida Museum, in charge of Exhibits and Public Programs. Trained as an archaeologist, she has been involved in numerous excavations and has directed several collections improvement projects. She headed the team that created the first permanent exhibit in the Museum's Hall of South Florida People and Environments, working with curator Bill Marquardt. The two collaborated on a traveling exhibit and a poster exhibit on Florida's Gulf Coast fishing tradition, and co-authored the book, The Calusa and Their Legacy. Darcie also helped design the Calusa Heritage Trail, an interpreted walking trail at the Pineland Site Complex.
Lee A. Newsom
Lee is an environmental archaeologist, paleoethnobotanist, and wood anatomist. She works with preserved plant remains from archaeological and paleontological sites, and is generally directed toward trying to unravel some of the deep history and inter-complexities of the human-environmental relationship. She received her Ph.D. in Anthropology from the University of Florida in 1993 and currently serves as Associate Professor of Anthropology at Pennsylvania State University. With Margaret Scarry, she undertook the first systematic archaeobotanical research on multiple sites and time periods in southwest Florida. Their co-authored chapter on Pineland paleoethnobotany appears in Monograph 4.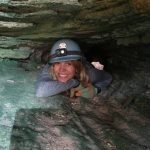 Jessica Oswald
Jessica is a research assistant professor at the University of Nevada, Reno (UNR) in Dr. Julie Allen's Lab. She is also a consultant staff affiliate at the Florida Museum of Natural History (FLMNH). Previously, Jessica was a postdoctoral researcher at UNR, FLMNH, and Louisiana State University Museum of Natural Science. She earned her PhD at the University of Florida. She studies how diversity and species distributions change across temporal and spatial scales. She is leading many FLMNH projects focused on using ancient DNA from archaeological and paleontological material to place taxa in a phylogenetic context. The central focus of her research is understanding the causes of extinction in birds and the phylogenetic relationships among lost and living species.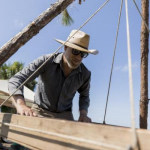 Victor D. Thompson
Victor Thompson is Professor of Anthropology and Director of the Laboratory of Archaeology at the University of Georgia. He is an archaeologist who specializes in the application of archaeological science to the study of collective social formations and the historical ecology of wetland and coastal environments. In this work he strives more and more to connect to issues related to community archaeology and the descendent communities whose ancestral lands that he studies. He engages globally with scholars who share research interests in archaeological science, as well as island and coastal archaeology. Broadly, his research utilizes approaches derived from collective action theory and historical ecology to understand Native American histories and European colonialism. He employs a number of methods in his work including the analysis of monumental architecture, radiocarbon analysis, shell midden archaeology, stable oxygen isotopes, remote sensing, and Geographic Information Systems. As Director of the Laboratory of Archaeology, he is engaged with NAGPRA (Native American Graves and Repatriation Act, https://www.nps.gov/subjects/nagpra/index.htm) to make sure that ancestors cared for by UGA are treated respectfully and repatriated to the their descendent communities.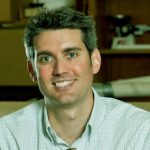 Neill Wallis
Neill is Associate Curator of Florida Archaeology and Bioarchaeology at the Florida Museum of Natural History. His research program is focused on the emergence of village life and associated sociopolitical complexities, and the role of regional connectivity and integration in these developments within precontact Florida and the Southeast. Most of his major field and lab projects are focused on Woodland period (ca. 1500 BP) villages and civic-ceremonial centers of northern peninsular Florida (e.g., Garden Patch and Spring Warrior). For the past several years he has also been investigating the importance of Mississippian-related pottery production and consumption in the rise of sociopolitical complexity in southwestern Florida through a geochemical and petrographic sourcing study.