We are committed to education at the broadest level, from elementary school children to senior citizens, from hands-on local educational opportunities to the internet. Learning about one's surroundings and history is not just for children – the excitement extends to adults of all ages.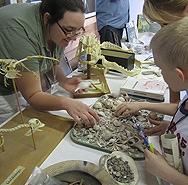 As our experience at Pineland has shown, many newcomers are fascinated by Florida's environment and history and are eager to learn about them. Our Randell Research Center at Pineland has become a destination for "heritage tourists" and "eco-tourists." In addition to the Calusa Heritage Trail, open daily, exciting programs and special events are offered, and volunteers are welcome to participate in supervised archaeological excavations.
See the Randell Research Center's Events Page for information on upcoming events or call 239-283-2062 for information on programs, volunteer opportunities, and group tours.