IAPS Books is the publishing outlet of the University of Florida's Institute of Archaeology and Paleoenvironmental Studies.
In addition to publishing books and videos on South Florida archaeology and history, IAPS Books also distributes the Florida Museum's award-winning video series, "Expedition Florida."
New from IAPS Books:
Randell Research Center Popular Series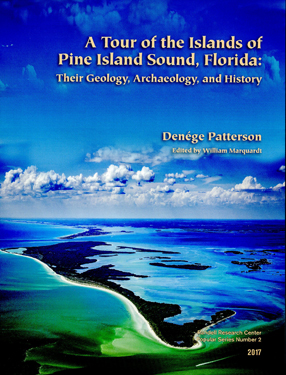 A Tour of the Islands of Pine Island Sound: Their Geology, Archaeology, and History
Randell Research Center, Popular Series # 2
Patterson | 2017
$29.95 softcover | ISBN 1-88148-19-8
viii + 152 pp., illustrations, bibliography, index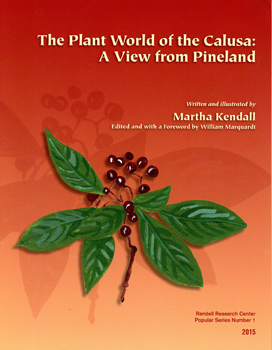 The Plant World of the Calusa: A View from Pineland
Randell Research Center, Popular Series # 1
Kendall | 2015
$24.95 softcover | ISBN 1-881448-18-1
vii + 66 pp., illustrations, bibliography, index

---
Videos
Brown | 1995
$12.95 | ISBN 978-1-881448-17-4
DVD format, run time: 29:15
Domain of the Calusa is an award-winning documentary program about South Florida's Calusa Indians: the native coastal Indians of southwest Florida. Named "Best Documentary" by the Louis Wolfson II Media History Center in 1996, this exciting program introduces a powerful, complex, and artistic Native American society with which few Americans are familiar, even in Florida.
The Calusa — a people whose dominion stretched from the Atlantic to the Gulf, from Lake Okeechobee to the Florida Keys. A people whose impressive earthworks, engineered canals, elaborate ceremonies, and intricate art were built on a foundation not of farming but fishing. A people who understood the land and waters so well that they prospered for over a thousand years without ever having a disastrous impact on their environment.
Archaeological sites left by the Calusa and their predecessors dot the southwest Florida coast, yet little has been known of these people until recently. Venture once again into the Domain of the Calusa. Witness the intrigue and conflict as sixteenth-century Spanish ambition collides with the indomitable Calusa spirit. Follow anthropologist Frank Cushing to the steaming mangrove muck of Key Marco in 1896, as he excavates one of the most remarkable collections of Native American artifacts ever found. Join today's archaeologists, who are striving to restore the lost heritage of the mysterious Calusa as they learn lessons that may help today's people.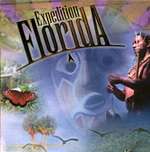 Expedition Florida: From Exploration to Expedition (26 min.), The Wild Heart of Florida (27 min.), Wild Alachua (27 min.)
Gaines, Robitaille | 1999
$24.95 | ISBN 1-881448-15-0
DVD format, run time approx. 90 minutes
Winner of four Emmy Awards and the Edward R. Murrow Award for radio feature writing, the Florida Museum of Natural History's Expedition Florida project introduces audiences of all ages to the natural wonders of Florida's past and present with the hope of conserving and preserving them for future generations.
Inspired by producers Leslie M. Gaines and Stephen Robitaille, Ph.D., the program is designed to take vuewers on a journey that explores Florida's natural beauty. Personal encounters with these natural sights and sounds help viewers develop a sense of place about Florida and its rapidly vanishing habitats and wildlife.
This combination DVD includes the first three half-hour films in the Expedition Florida Series:
From Exploration to Exhibition, released in 1999, takes viewers behind the scenes as teams of scientists, curators and artist transform remarkable discoveries into museum exhibits.
The Wild Heart of Florida was released in 2002. It is based on an anthology of Florida nature writing by the same name, which was edited by author and photographer Jeff Ripple and his colleague Susan Cerulean, and was published by University Press of Florida.
Wild Alachua, also released in 2002, introduces viewers to the cultural and natural history jewels of North Central Florida, including the Florida Museum of Natural History's Butterfly Rainforest, Devil's Millhopper State Geologic Site, Dudley farm Historic State Park and the historic Cross Creek home of Marjorie Kinnan Rawlings, author of "The Yearling." In 2005, 110 public television stations in 50 markets aired this film via American Public Television distribution.
Other Books
Edic | 1996
$35.00 hardcover | ISBN 1-881448-10-X
xiii + 178 pp., illustrations, bibliography, index
Fisherfolk of Charlotte Harbor, Florida is a fascinating and historically accurate account of one of Florida's oldest industries: net-fishing. Through conversations with the author, the fisherfolk provide from their own experiences the rich detail that makes this study so important.
As the twentieth century ended, so did many historic fishing traditions in Charlotte Harbor, Florida. Anthropologist and oral historian Robert Edic set out to rescue this unique heritage from oblivion. In the process, he gives us a glimpse of the lives of Gulf coast fisherfolk in the early part of the century.
Edic interviewed some of the last traditional fisherfolk of Charlotte Harbor. Most were born before 1918, and their words and images evoke a life in the days before power boats, monofilament nets, and modern sport fishing. Intimately acquainted with the coastal environment, these senior fisherfolk also remind us of the fragile balance between people and the harbor's habitat. Through their eyes, we see again and again how the fishery resources of the harbor have been altered by the modern world.
Fisherfolk of Charlotte Harbor, Florida not only recreates a long-ago era, it sounds an alarm. In Charlotte Harbor, as perhaps in many places, the vanishing of traditional ways heralds more profound and far-reaching changes to our natural world.
Robert Edic collected oral histories of fisherfolk in southwest Florida for more than 10 years. Trained in anthropology, Edic also experienced the commercial fishing life firsthand, working at the Boca Grande Fishery on Gasparilla Island for four years.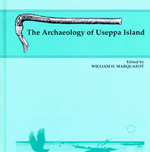 Marquardt | 1999
$35 hardcover | ISBN 1-881448-07-X
$20 softcover | ISBN 1-881448-08-8
x + 253 pp., many illustrations and photographs, index.
The Archaeology of Useppa Island will be enjoyed by anyone interested in Florida's past. From as early as 10,000 years ago, the place we now know as Useppa Island (in southwest Florida near Fort Myers) has been visited by people. As sea level rose, Useppa became an island about 6,500 years ago, beginning a tradition of seasonal use by fishing people that would last for six millennia.
Abandoned about 800 years ago, it was re-occupied in the eighteenth century by Spanish-Cuban fisherfolk who fished with Native Americans. This era came to an end in the 1830s when the U.S. asserted control and deported Indians to the West. Useppa played important roles in the Seminole Wars, the Civil War, and the early-20th-century Florida Land Boom era.
A prime destination for the tarpon fisher, it was also the residence of Barron Collier, who built a broad-based development, transportation, resort, and communications business. It served briefly in 1960 as a training camp for Cuban expatriates, and in the 1960s and early 1970s as a fishing resort. The last quarter of the twentieth century saw the restoration of the island and its emergence as the Useppa Island Club.
The reader will learn about the remarkable archaeology, history, and ecology of this tiny island, a place that played pivotal roles in military, economic, and social developments that affected millions of people. Detailed reports of archaeological findings and rich historical accounts are illustrated with many drawings and photographs.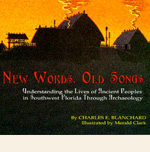 Blanchard | 1995
$19.95 hardcover | ISBN 1-881448-02-9
$9.95 softcover | ISBN 1-881448-03-7
viii + 136 pages, many illustrations, index
New Words, Old Songs: Understanding the Lives of Ancient Peoples in Southwest Florida Through Archaeology is the spellbinding saga of 12,000 years of human life on the shell islands and mangrove coasts of southwest Florida. It is an engaging, informative, readable, and authoritative "window" into south Florida's past.
Charles Blanchard's elegant prose and Merald Clark's irresistible drawings bring the ancient native peoples of southwest Florida to life and show how archaeology allows us to understand the past. The text is engaging and informative, and archaeological concepts are explained in laymen's terms. This is a book that can be enjoyed by both children and adults interested in learning more about archaeology or American Indians. It is also appropriate for teachers who want a simple, interesting book for classroom use.
Charles Blanchard has navigated big water in open canoes for most of his adult life, mapping and recording his routes and landfalls for their archaeological significance. He makes his living as an educator, writer, cultural resource surveyor, and musician. He lives and works in Connecticut, Florida, and Nevada.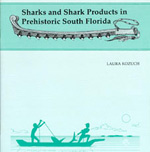 Kozuch | 1993
$5 softcover |ISBN 1-881448-01-0
viii + 49 pp., illustrations, index
Sharks and Shark Products in Prehistoric South Florida is a comprehensive exploration of the economic uses of sharks by precolumbian natives of south Florida.
Laura Kozuch provides a fascinating account of the role of sharks in the culture and economy of south Florida's Native Americans. A zooarchaeologist, Kozuch shows that sharks were regularly hunted by south Florida Indians, for whom they provided meat, shark-liver oil, and teeth for tools and trade. She reviews shark-fishing technology around the world, describes archaeological findings in south Florida, and offers interpretations relevant to the role of sharks in native social and economic systems.
Laura Kozuch received her M.A. and Ph.D. degrees from the University of Florida, specializing in environmental archaeology and zooarchaeology. She is currently a curation and archaeological collections specialist for the U. S. Army Corps of Engineers in St. Louis.
Ordering Info
Sales Tax: Florida residents add appropriate sales tax.
Shipping: Add $5.00 for first item, $1.00 for each additional item for shipping.
Payment: Check, money order, or purchase order only. Sorry, no credit cards.
Make Check Payable to: UNIVERSITY OF FLORIDA FOUNDATION.
Send Payment To: IAPS Books / PO Box 117800 / Gainesville FL 32611-7800
Inquiries: Telephone 352-273-1917 / Fax 352-392-3698
Dealers: Wholesale discounts are offered on all titles. Write for Dealer Bulletin, or email William H. Marquardt, Curator Emeritus.