The Importance of Patchwork and Dolls
Seminole and Miccosukee people design their dolls to represent special characteristics of their culture by dressing them in traditional clothing. These traditional garments are created with the use of patchwork. Taweekaache (tah-wee-GAH-chee), which means "design" in the Mikasuki language, is how Seminole and Miccosukee women refer to patchwork.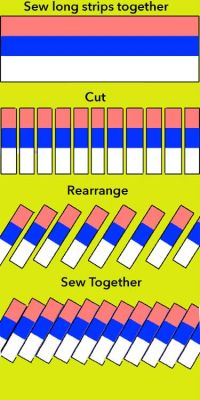 What Kind of Clothes are These Dolls Wearing?
Most female dolls wear two pieces of clothing, a skirt and cape.  Most male dolls wear either a big shirt or the rancher style, which consists of a jacket, shirt, and trousers. The style of dress did not evolve for dolls, but the fabric did. This change reflects what was happening within the Seminole and Miccosukee culture during the early 20th century.
Meaning Behind the Designs
Some of the patchwork designs are inspired by important legends and nature stories of the Seminole and Miccosukee. A few designs represent powerful elements like water and fire. The earliest forms of patchwork are the designs of  "Fire," "Rain," and "Rain and Storm." Over the years patchwork evolved from simple two-color designs to the now intricate multi-colored designs. Today there are many different designs and variations of Seminole and Miccosukee patchwork.
How is Patchwork Created?
These simple geometric patterns consisted of two colors and are created by using transformational geometry (see Figure 2). This process creates patterns using translation, rotation, and reflection.  Long strips of patchwork are created and then sewn into clothing. A person must be extremely skilled and have the patchwork pattern planned out before starting. This is a very delicate process, incorporating the skill of accurate measuring width, cutting, and sewing.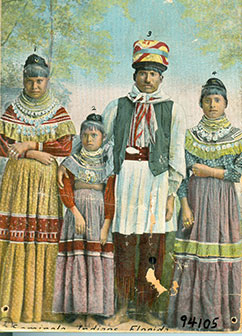 Who First Started Making Patchwork?
There is no evidence as to when or who first made patchwork, but it is documented in photographs around World War I (1914-1918). The introduction of hand-cranked sewing machines during the late 19th century allowed Seminole and Miccosukee women to create and design patchwork. Another reason that patchwork became popular is because the dyes used to create the calico and printed fabrics were scarce because they were imported from Germany.

Early Dolls
When did Patchwork Show Up on Dolls?
Patchwork on doll clothing came about in 1933, when Deaconess Harriet Bedell started working with the Seminole and Miccosukee at the Glade Cross Mission in Everglades City, Florida. Bedell encouraged the Seminole and Miccosukee to make patchwork and name their designs. She thought that this would make their work more appealing to tourists.
Seminole and Miccosukee dolls were sold at the Mission's store and by mail order. Bedell was very strict about what was sold at the Glade Cross Mission store; this included the patchwork as well. There were only seven designs that Bedell deemed traditional of the Seminole and Miccosukee cultures. These designs were "Fire," "Lightning," "Man-on-Horse," "Wave," "Tree," "Mountains," and "Arrowheads." Rickrack was not found at the mission, because Bedell considered it unauthentic.
1920-1930s